The team from New Zealand decided to wait until they were in a position where they had nothing to lose before they began playing, according to Andy Bull.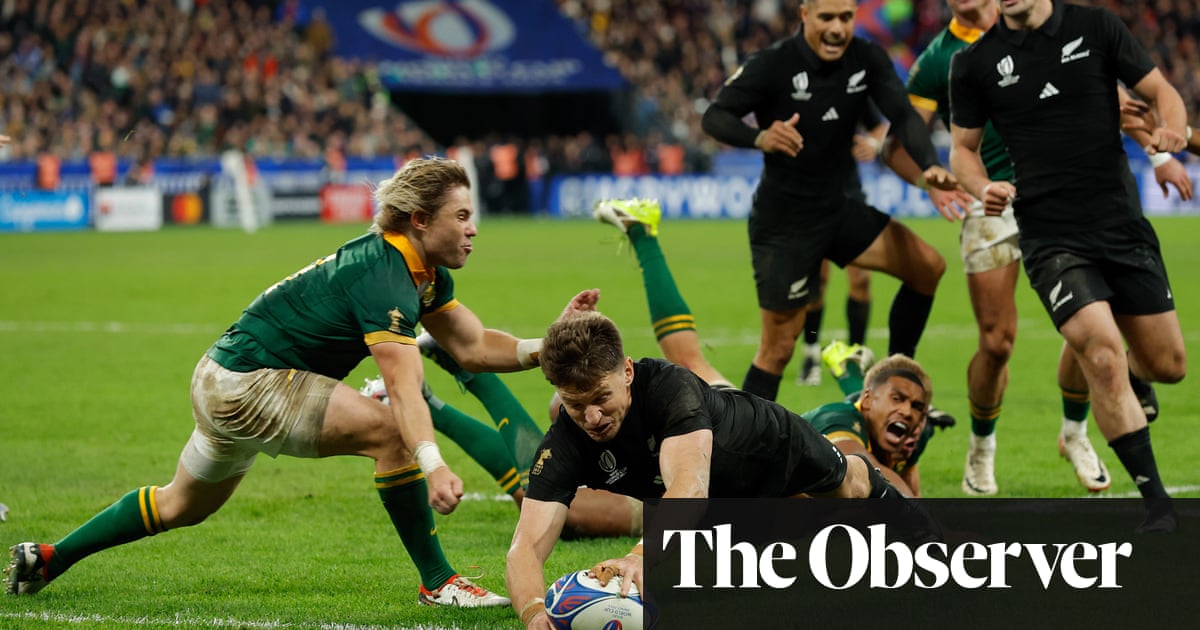 I
After facing a potential loss to South Africa, the All Blacks finally showed confidence in their ability to defeat them. Their performance had been lackluster in the first 30 minutes, similar to their previous matches. Suddenly, they were down a player and trailing by nine points when the referee, Wayne Barnes, upgraded their captain Sam Cane's yellow card to a red card. In the next moment, Handré Pollard scored his third penalty, putting South Africa ahead 12-3. It has never been done before for a team to come back and win a World Cup final after being behind at half-time. New Zealand knew they couldn't continue playing this way if they wanted to win.
The team had already played for 10 minutes with one less player, as Shannon Frizell was removed from the game in the second minute. To make matters worse, they had made mistakes in two lineouts within South Africa's 22-meter area, which was equal to the number of lineouts they had lost in the entire tournament leading up to the final. They had gotten caught up in trying to physically overpower the Springboks, and it was having a negative impact on their game. Perhaps it was due to the fact that there were seven South African players on the bench waiting to join the game, or maybe it was because of the memory of their previous 35-7 loss to South Africa at Twickenham. It could have been a combination of both factors.
During a press conference on Thursday, the head coach of the team, Ian Foster, was asked about the previous warmup match. Foster brushed off the question with a laugh, explaining that two of his players were given penalties in the first half and a third was sent off early in the second. He joked, saying that they played with 14 men and 13 for some parts of the game. He also mentioned that they tried a certain strategy but didn't like it, so they will be trying a different one this week. However, this time there was only one yellow card and the red came 10 minutes before halftime instead of five minutes after.
Cane became the first player to ever receive a red card in a World Cup final. The decision was harsh, as Cane had little time to react while going in high on Jesse Kriel. However, injuries caused by these types of tackles are even more severe. A new study published on Tuesday showed a correlation between the length of a player's career and the risk of developing CTE, a brain disease. The study, which examined 31 former players, found that the risk increased by 14% each year. While this moment may have negatively impacted the game, it will ultimately improve the sport.
Furthermore, with nothing left to risk, New Zealand began to showcase the style of rugby that could have potentially secured them the victory. This is the same kind of rugby that these players have been honing since their youth, playing for their schools and local clubs in various conditions such as wind, rain, and mud. From city parks to rural fields, they have played on pitches in front of notable institutions like Christchurch Boys High, Auckland Grammar, Feilding High, Ponsonby, Otago University, and other parts of the country where children aspire to become All Blacks and compete in matches like this one.
The sequence of catch-pass-catch-pass became so seamless that it felt like one fluid motion. Mark Telea was the catalyst, effortlessly evading defenders with his nimble footwork. It took three players to bring him down each time he had possession – one to miss on either side and the third to successfully tackle him. This was a standout game for Telea. In turn, Richie Mo'unga was inspired to display his signature wizardry on the field – elusive runs, fancy maneuvers, and quick hand movements.
Jordie Barrett, Beauden, and Scott were working together seamlessly, causing chaos and making daring plays. Jordie was particularly impressive, with his ability to catch passes and return them with ease. When Siya Kolisi was penalized and South Africa was down to 14 players, the All Blacks saw an opportunity and pushed harder. Instead of taking penalty shots, they opted to kick to the corner and attempt a maul to score.
In the 55th minute, a remarkable feat was achieved by the team. Even Jonah Lomu's team in 1995, consisting of notable players such as Jeff Wilson, Zinzan Brook, and Frank Bunce, had never accomplished it before. They managed to score a try against South Africa in a World Cup final. This was a first for the Springboks, who had gone over 300 minutes without conceding a try in any cup final over the span of 30 years. However, this triumph was short-lived as the referee, Barnes, called them back for a knock-on in the lineout. But three minutes later, in a truly impressive display, they scored another try when Telea re-entered the game and Beauden Barrett capitalized on his off-load. This time, the try was officially counted.
The score was now only separated by one point. However, things took a heartbreaking turn. New Zealand had two opportunities to secure the win – one with Mo'unga's conversion attempt, and another with Jordie Barrett's long-range penalty. As a child, playing in the backyard World Cup final against South Africa, these are the moments you never miss. But as an adult, life doesn't always go according to plan. In the end, this final belonged to someone else's fairy tale.
Source: theguardian.com