Siya Kolisi inspires South Africa to keep finding point of difference | Jonathan Liew
S
Kolisi confidently sings the national anthem, but to merely state this would not do justice to his powerful rendition. With his head thrown back and chin thrust forward, he opens his mouth to reveal every tooth, tongue, and bit of energy gel he consumed before the game. For the captain of South Africa's rugby team, this is more than just a routine pre-match ritual. It's a crucial moment to gain an advantage. And in the world of South African rugby, no detail is too small to be ignored.
How does this translate into action? Possibly you witness it during the 76th minute of an intense and physical World Cup final, as Jordie Barrett sprints through open space with two teammates beside him, and you, Pieter-Steph du Toit, know that if you don't quickly and effectively tackle him – using your arms and controlling his movements – then New Zealand will likely gain significant ground. Despite your tired lungs and numerous tackles throughout the game, this is a crucial moment that requires your immediate and flawless execution.
In the 78th minute, as Dalton Papali'i sprints down the touchline, a flash of black disappearing into the distance, you, Faf du Klerk, have only a moment to act. What will you do with your one hand? Where should you grab on his ankle for the most leverage? If you aim too high on the calf, his leg may resist. Aim too low on the boot and you may miss completely. Time is running out. It must be you, it must be now, and it must be flawless.
These are just a few of the thousands of little victories that earned South Africa the greatest victory of all. Victory over France by a point. Victory over England by a point. And now victory over New Zealand by a point. Three devastated opponents who all reckoned they had it won. Call it fortune, call it caprice, call it the tyranny of fine margins. But for some reason this South Africa team seems to find itself on the happy side of those margins more than anybody else.
At times, the rugby team of South Africa can give the impression – albeit falsely, but convincingly – that they are the sole force keeping this divided country together. With 12 official languages, various ethnicities and backgrounds, and a history of privilege, along with ongoing instability and incompetent leaders, it can seem like a mere utopian performance, a temporary escape into a perfect version of South Africa. However, it is a powerful origin story, similar to what any sport has to offer. And when one is so committed to their mission, they may do whatever it takes to achieve it. This could mean making a crucial tackle or attempting a deceptive move to deceive the referee into believing they were not offside. It could also involve making a clutch kick or confidently claiming that substituting a injured player was a calculated tactical decision.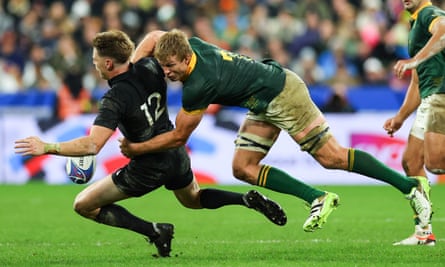 On the outside, in the concourse of the stadium, excited fans are rushing down the stairs and embracing each other. A television crew from New Zealand is filming their post-game coverage with the solemnity and seriousness of a funeral. Meanwhile, inside the stadium, the field is starting to show the effects of six intense matches played in just 14 days, with bare and worn patches resembling the carpet of a taxi office.
This competition started during a hot summer and concluded in a cold rainstorm, which has tired and aged us all. Looking back, it no longer feels like just one tournament, but rather a whole series of them.
Despite facing challenges such as extreme heat, heavy rain, bedbug infestations, and various pressures and struggles, the enduring rugby union team of South Africa persevered. They refused to give up and found ways to adapt, learn, and use every advantage they could. They never lost sight of their identity and purpose.
This was in many ways a deeply confusing final, a palimpsest of subplots and subjective judgments that somehow encapsulated perfectly the riddle of modern rugby. Because these days there are actually two games going on out there: the time-honoured game of runs and passes and kicks and tackles, and a shadow game of deception and projection, of dark arts and subtle persuasion, one that takes place not just on the field but in the TMO room and the analysis room and the press conference dais and the referee's ear.
South Africa have many worthy rivals when it comes to the first game, but when it comes to the second they are without equal. It may not have been the most romantic or straightforward outcome. But in a weird way, the sport of rugby union has the champion it richly deserves.
Source: theguardian.com