The year 1999 is mentioned, but the South African team is unable to get revenge on their old rivals. | Written by Geoff Lemon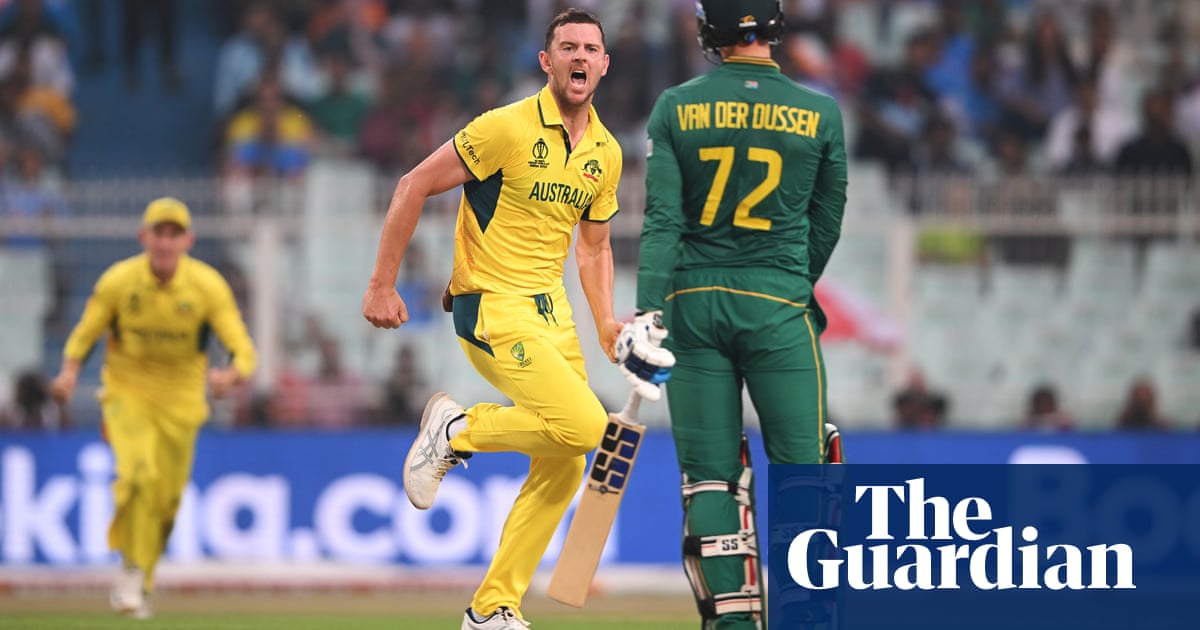 I
In the realm of history repeating itself or not, this was a partial rhyme – some similar vowel sounds, some sympathetic consonant sounds, mirroring those in 1999. Most of the elements were present: a strong South Africa, a World Cup semi-final, a score of 213 enough to advance Australia. This rendition wasn't quite as heart-wrenching: the final batting pair were at seven wickets down instead of nine, and the game was finished with 16 balls remaining rather than two. However, it was close enough for a feeling of nostalgia to reverberate through the present, for those who recall the event.
On occasion, luck can come to you in unexpected ways. In the World Cup, Australia's fast bowlers had initially performed well, but then struggled against every opening partnership they faced for the past six weeks. South Africa had consistently scored high in their previous five matches, ranging from 311 to 428. However, when the captains flipped the coin, it landed in Temba Bavuma's favor. This brought a sense of relief and triumph for the South African team, as it seemed fate was finally being kind to them.
Pat Cummins reluctantly admitted that he had desired the opportunity to bat. However, the conditions in Kolkata were vastly different from those of the tournament thus far. In anticipation of rain, the entire playing surface was covered with white tarpaulins, giving it more of an appearance of an ice rink than a cricket field. The temperature was surprisingly cool, unlike the hot and humid weather that most bowling teams have endured. The sun was not visible, and the sky was filled with a combination of smog and clouds, reminiscent of India's crowded cities throughout the tournament. Despite these challenges, the ball still had a voice in the humidity.
Mitchell Starc had a good swing, Josh Hazlewood had a good seam, and they both worked well together. Starc was able to aim for the off stump and the area just outside of it, getting the edge of Bavuma's bat and then Markram's. In the meantime, Hazlewood maintained a good length and didn't give any opportunities for drives. When a ball looked like it could be hit, Quinton de Kock attempted to hit it over mid-on but instead sent it high in the air. Pat Cummins ran back and caught the ball, celebrating before he even hit the ground, as if he were searching for a missing white ball in the cloudy sky.
In the first eight overs, ten runs were scored and the tension was unbearable. The fielding was exceptional, with players diving inside the circle and preventing potential fours from being scored. Travis Head and Marnus Labuschagne were among those making impressive plays. David Warner also made two impressive catches at cover point, first to his right and then to his left. He also made a spectacular catch at backward point after a good initial catch by Josh Inglis behind the stumps. The fielding was precise and energetic, resembling a well-oiled machine.
Rassie van der Dussen struggled to make an impact on 30 deliveries before desperation set in and he took a swing at the 31st. Hazlewood had not given him the opportunity to do so with his length. The ball went straight to Steve Smith at slip and South Africa's strong plan to bat first, build a solid foundation, and then launch a powerful attack at the end, was quickly falling apart. They were now forced to come up with a new strategy on the spot. Despite a nearly flawless performance in the first 11.5 overs, the game was already in Australia's favor.
Unfortunately, things did not go as smoothly as expected. The 45-minute delay due to a false prediction of rain actually worked in South Africa's favor, allowing their batters to readjust and focus. Miller and Klaasen were able to adapt and perform well in their roles. Miller's score of 101 was an impressive display of resilience. However, the early setback proved to be the deciding factor, leaving South Africa playing catch up for the rest of the match and ultimately leading to their final score of 212.
The strong batting performance by Head and Warner in the beginning of the chase set the tone for the rest of the match. They scored 60 runs in just six overs, which was more than a quarter of the target, putting the bowling team on the back foot. Kagiso Rabada had a difficult over, giving up three sixes, which was his most expensive over ever. Although South Africa's spinners put up a good fight, they didn't have enough to defend.
One lesson Australia can learn from their previous match is the power of a moment of excellence and intense concentration. This can throw off even the strongest opponents, who may struggle to recover. While there may be similarities to their 1999 performance, such as Cummins scoring the winning four points instead of two, ultimately it was the collective efforts that made the difference and not just one detail. Despite not being perfect, Australia still managed to come out with a win due to enough things going their way.
Source: theguardian.com