The potential disaster has been avoided, but England's Rugby World Cup victory hides underlying issues.
I
In the upcoming weeks, the Rugby Football Union's expert panel will gather under the condition of anonymity to assess the team's performance in the World Cup. Players will be asked for their input, presentations will be given to board members, and necessary actions will be taken.
To save time, categorize this campaign as "disaster avoided". A veteran team, filled with pride, gave their all but fell short to the eventual winners. Bill Sweeney, the RFU chief executive, praised their management of expectations.
Credit goes to Steve Borthwick for creating a plan within a short period of 10 months, which led his team to come within one point of beating the Springboks. However, it would be naive to believe that English rugby has fully recovered. Making it to the semi-final after a disappointing Six Nations and a poor warm-up campaign was a testament to determination, providing a foundation to improve upon. However, it does not hide the significant issues that exist within the domestic game.
Several experienced players are retiring from representing their country. However, Borthwick has a group of younger players to rely on for the upcoming Six Nations tournament next year. One standout player is Ben Earl, who shone for England in France. While Borthwick prefers gradual changes rather than sudden ones, the team will still be going through a transition period. Even the coaching staff will see changes, with Felix Jones, who recently helped South Africa win their second World Cup, joining and Kevin Sinfield expected to leave.
Sweeney stated that Steve and the coaching team joined in December and their careful approach to planning and preparing the team was evident. He praised Steve for his excellent work and mentioned that they had always anticipated a long-term partnership with him, and feel that he has excelled in this tournament.
Borthwick faces the challenge of essentially starting from scratch. While he was successful in taking a short-term approach for the World Cup, it will not be sustainable in the long term as fans will not tolerate a gameplan that results in England giving away 93% of their possession. The team's lack of attacking prowess was evident in their bronze final victory over Argentina, and there is still work to be done in order for Borthwick to rebuild a strong connection with supporters.
Sweeney stated that winning is crucial in building a strong bond between the team and the fans. He believes that the players are eager to have a close relationship with the fans and do not view themselves as separate from them. As they entered the tournament, their goal was to reconnect with the fans, which is also a top priority for Steve. They are open to exploring various methods to achieve this goal.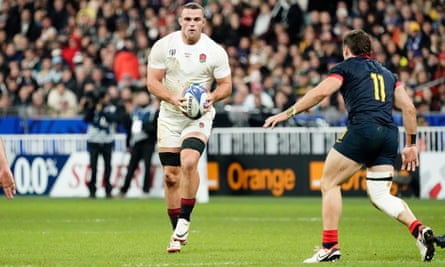 Borthwick is facing a challenge as he navigates the current state of the English game. While the Premiership is currently in its third week and Bath and Exeter have shown promising improvements, the league is still recovering from the loss of three clubs in the previous year. Players will immediately return to their clubs after the World Cup, without any required rest periods, which is surprising considering the first training camp was held in June. However, with only 10 teams competing in the Premiership this season, Borthwick's team will have fewer matches to play, providing some relief for their exhausted squad.
Conversations are ongoing regarding the Professional Game Partnership, with the main focus being on the proposed "hybrid" contracts that would grant Borthwick increased authority over a group of 25 players. However, there is limited information available about these contracts at this time.
Sweeney announced that discussions are ongoing with Premiership Rugby regarding the potential for players to transfer between clubs in order to increase their playing time, particularly for those in specialized positions. While this idea may not be well received by some club owners, Sweeney maintains that the talks have been productive.
We are currently discussing with PRL about a potential solution regarding clubs having an unequal distribution of hookers. We want to find a way to balance out the positions across all clubs in order to have a strong and deep roster. It may be a challenge, but we are confident in finding a resolution.
It is possible that this could be a major development because the loss of England to South Africa has revealed a worrisome shortage of depth in certain positions. In the front row, Borthwick was forced to rely on 36-year-old Dan Cole and 33-year-old Joe Marler to lead the scrum against the Springboks. When they were substituted, England's set-piece performance suffered greatly. Jamie George played the entire 80 minutes in three consecutive matches in the World Cup, and although having a healthy Luke Cowan-Dickie would have made a significant impact, the hooker position remains problematic. The inside-centre position also poses a challenge.
Sweeney highlights the success of younger players in England's age-based teams, but also recognizes the issue that these players face a challenge in their development. They receive significantly less playing time compared to their counterparts in France, and this will likely have negative consequences in the early stages of the next World Cup due to a lack of focus on nurturing talent.
Sweeney stated that the discussions currently being held about the academy structure revolve around the mutual benefit of having a strong national team and high-quality players in club teams. This can be seen in France, where their success has been built upon a group of talented young players, such as Antoine Dupont, who have been carefully developed. Unfortunately, many of our young players are not receiving enough playing time.
The proposed revival of an England A team would be beneficial, as RFU executive director Conor O'Shea recently visited Paris to learn about France's success in finding a new pool of athletes from urban areas. This strategy has been long overdue in England, according to Sweeney. He acknowledges that this has been a topic of discussion for some time, but not enough action has been taken. Broadening the skill base is necessary, and initiatives like this are needed to achieve that goal.
However, Borthwick cannot simply wait and do nothing. In the past month, he has been likened to Alan Turing and Spock, and Sweeney has referred to him as a "professor." Borthwick has been actively taking notes during the World Cup in preparation for the upcoming Six Nations tournament, which is only 14 weeks away. While England's third-place finish in France has earned them some goodwill, this period after the World Cup was always going to determine the success of Borthwick's leadership.
Source: theguardian.com