South Africa deserves to win the World Cup, but there should be a change in teams' strategies | Robert Kitson
I
Andy Farrell eloquently captured the essence of the 2023 Rugby World Cup. Following Ireland's devastating loss to New Zealand in the quarter-finals, the head coach expressed the bittersweet nature of sports, which is what makes it so beloved. This sentiment was shared by every All Black player as they watched South Africa's electrifying victory on a Saturday evening, with the Stade de France transformed into a vibrant nightclub. The Springboks' jubilant celebration has cemented their place in rugby history.
Siya Kolisi, an exceptional athlete, was joyously singing to himself as he made his way into the press conference after the game. He proudly held onto the Webb Ellis Cup, in contrast to Sam Cane of the All Blacks, who had just exited with a defeated demeanor. Cane appeared visibly distraught after his team's crushing 35-7 loss to the Boks at Twickenham in August. He seemed like a man whose world had crumbled before him. This game highlighted the fine line between triumph and defeat in sports.
During their victorious moment, South Africa showed immense gratitude and appreciation. Their ability to win all three of their elimination matches, against France, England, and New Zealand, by only one point is an impressive display of balance that may never be equaled. While Cane's red card in the 27th minute was a pivotal moment, the collective determination to not give up was equally important when facing the fierce attacks of the 14-man All Blacks. While rugby games can be won through exciting tries and ambitious plays, there are also days when mental and physical strength prevail above all else.
The main focus of the past eight weeks was the fact that in every knockout game, the team that spent less time with the ball ended up winning. Despite some lineout struggles in the final, South Africa had less errors when it counted and ultimately became the champions. England struggled with their back play and placed third, only losing to a last-minute penalty from the Springboks. Who was the most valuable player of the tournament? It's undoubtedly Handré Pollard, who successfully made every kick he attempted after being brought in later on. In today's sports, having 100% certainty is highly coveted.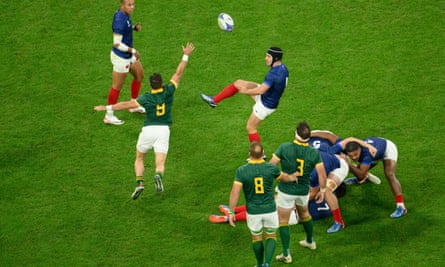 Rugby union must carefully consider this issue once again. While the thrilling quarter-finals have shown that tries alone do not make for great rugby games, relying solely on kicking, suffocating defense, and intense breakdown collisions should not be the only strategy for top teams. If the rainy conditions in Paris played a significant role in the past two weekends, there should be more motivation for teams to diversify their tactics instead of just playing it safe.
Saturday evening served as a reminder, regardless of one's nationality, of a significant concern in the game. Cane's tackle on Kriel, while standing, was a quick miscalculation with long-lasting consequences. However, having an exceptional and understanding referee like Wayne Barnes is pointless if he is not given the final say on crucial decisions. As Eddie Jones, who is currently without a job, pointed out last month, some of the red cards given after the fact at this World Cup – especially Curry's dismissal against Argentina – have had a negative impact on the flow of games and are causing frustration among both online and in-person spectators.
Ian Foster, who is leaving his position in New Zealand, shares a similar sentiment as Michael Cheika from Argentina regarding the current state of rugby. Both express concerns about the game's issues and stop-start nature, with Cheika even stating that he sometimes loves and hates rugby depending on what he sees. He believes that the game should have more flow and less stoppages, as there have been teams in this World Cup who have played exciting and entertaining rugby that the audience wants to see more of.
None of this, clearly, should obscure the remarkable rugby that was played. Pieter-Steph du Toit, for example, made an astonishing 28 tackles in the final and his coach Jacques Nienaber, now heading for Leinster, was suitably impressed. "I always joke that if there's a white plastic bag blowing over the field he would probably chase that down as well."
Will Jordan, with his record‑equalling men's tournament haul of eight tries, was another shining light, along with his compatriots Aaron Smith and Richie Mo'unga and Ireland's Bundee Aki and Tadhg Beirne, even if both those teams fell agonisingly short. A sense of what might have been will also linger in France. Who did not feel a stab of dismay when Antoine Dupont suffered the facial fracture that ultimately cost his country so dearly?
Credit must be given to South Africa for remaining strong and resilient throughout each week. The physical and mental endurance needed to become World Cup champions should not be underestimated. In a time where attention spans are shortening, this tournament made even the lengthy novel War and Peace feel like a quick read. Even reporting on it was more challenging than past tournaments, constantly rushing on high-speed trains and catching late-night subways. However, to be fair, none of us had to face the constant threat of Eben Etzebeth charging at us day and night.
In general, France was a hospitable host, but not all aspects of the event were well-organized. Some attendees faced difficulties with late night games and transportation, causing them to give up their tickets. Additionally, at venues like Twickenham, the constant movement of people going to and from the bar and restrooms had a negative effect on the overall experience for some.
However, one would have to possess a severe lack of holiday spirit to disregard the many delightful features of beautiful France. Fans from England preparing for the rescheduled Six Nations match against France in the upcoming year will undoubtedly appreciate the old town of Lyon and its unique floating bars on the river; any time spent in Marseille, Nice, and Bordeaux is always well-spent. And let's not forget about Tours, a favorite destination for the Irish press corps, which may prompt Dublin to step up its game.
Ultimately, the most important aspect is the performance on the field. Portugal uplifted our spirits, surpassing the potential of a new Nations League tournament that will maintain the hierarchy of emerging nations until at least 2032. Few sports can rival rugby union in its ability to give and take simultaneously.
Fiji also deserves recognition for reaching the quarter-finals. And who wouldn't want to stand beside the Irish fans, singing Zombie and Dirty Old Town after their impressive victory against South Africa? However, as we look back now, our minds are filled with Nkosi Sikelel' iAfrika and Shosholoza once again, five weeks later.
Source: theguardian.com