Max Verstappen was in control at São Paulo, with Alonso narrowly beating Pérez to secure third place.
Before the start of the São Paulo Grand Prix, Lewis Hamilton had already expressed his desire to move on from this year's Mercedes. By the end of the race, which was won effortlessly by Max Verstappen's Red Bull, Hamilton may have been pleading for someone to relieve him of this troublesome car. It seems he would not have had a shortage of volunteers from his team, as they also heavily criticized the "miserable" and "inexcusable" performance at Interlagos, even according to team principal Toto Wolff.
The difference between Verstappen and Red Bull compared to Mercedes in Brazil was extremely noticeable and made for an uncomfortable experience. This was true whether you were watching from Hamilton's cockpit as he struggled to secure eighth place, observing from the garage, or at the team's Brackley headquarters.
Max Verstappen drove a smooth and commanding race from start to finish, with no challenges in Brazil as he secured another win. He easily outpaced Lando Norris in the McLaren, who came in second, and Fernando Alonso in the Aston Martin, who put on an impressive fight with Sergio Pérez for third place.
Mercedes, who had been experiencing a comeback, were left struggling once again as Hamilton faced challenges with their car. The tires were deteriorating, and the car lacked speed both on straightaways and through turns, highlighting weaknesses in all crucial aspects of a successful vehicle.
Wolff, looking pale and distressed, was incredibly harsh and unyielding. "This vehicle does not merit a victory," he declared. "The performance was unacceptable, I can't even describe it. It came in second place last week and the week before, but whatever changes we made were disastrous."
"I sympathize with the two individuals who drove such a challenging vehicle. It's clear that the car is extremely difficult to handle and on the brink of disaster. We need to address this issue for the upcoming year. The performance today left me speechless."
It was especially notable given the positive attitude of Hamilton, who had placed second in the two races prior. However, Brazil presented a new challenge. After facing difficulties in the sprint race, Hamilton explicitly stated on Saturday that he was looking forward to saying goodbye to the W14. "I'll be happy once this car is gone and we only have a few more races left with it," he remarked.
After this GP, it was evident that he strongly shared the same sentiment. "I am relieved to have only two more races with this car and hopefully I won't have to drive it again. The car's performance is unpredictable, with moments of success and moments of failure. We need to figure out why it's so inconsistent throughout the lap. Our speed on both straights and corners is lacking. This race is not one we want to remember."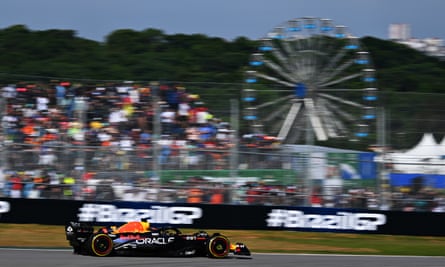 The sound of his frustration filled the Autódromo José Carlos Pace as Mercedes faced a disappointing afternoon. Despite hoping for a boost from the soft tire in the final stretch, the team was let down as Hamilton was overtaken by Pierre Gasly's Alpine. Even a seven-time champion like Hamilton was unable to compete against a team struggling to keep up in the midfield.
George Russell, a member of his team, had achieved Mercedes' only victory of the season in Brazil last year. However, he was also experiencing difficulties and was on the verge of being overtaken by Verstappen when he had to retire due to an issue with the oil temperature.
The speaker stated with a determined expression that something went awry over the weekend, but they are uncertain of the specific issue. They plan to regroup and analyze the situation. While this race was their best performance last year, it turned out to be their worst this year. Thus, they must figure out the reason behind this change in performance.
Following the promising results of Mercedes in the US and Mexico, this recent performance serves as a stark reminder that their car is still lacking consistent and dependable performance across various tracks and conditions. The confidence in its tire management was once again absent in Brazil, highlighting the need for improvement in next year's car in order to compete with the consistently strong Red Bull team on all types of circuits.
Verstappen's performance served as a clear demonstration of the gap that Mercedes still needs to overcome. He dominated the race, solidifying his position as a top contender. After securing the lead from pole position at turn one, he maintained control and capitalized on his impressive speed, a strategy he has consistently utilized throughout the season.
Norris did his best to keep the world champion honest at Interlagos but after an initial attack early in the race had no answer to Verstappen's speed. The McLaren was quick nonetheless but still finished eight seconds in arrears to a car Red Bull ceased developing some time ago.
This presents an even more concerning sign for Mercedes to contemplate. They face a difficult challenge ahead and despite the progress they have made this season, Brazil was a humiliating setback that brought them back to square one. They are now battered, bruised, and feeling somewhat bewildered. A thorough analysis and discussion is in store for them.
Lance Stroll finished in fifth place for Aston Martin, while Carlos Sainz came in sixth for Ferrari. Gasly and Esteban Ocon took seventh and 10th place for Alpine, respectively, and Yuki Tsunoda secured ninth place for AlphaTauri.
Source: theguardian.com