World Rugby is looking into a reported racist comment made by South Africa's Mbonambi.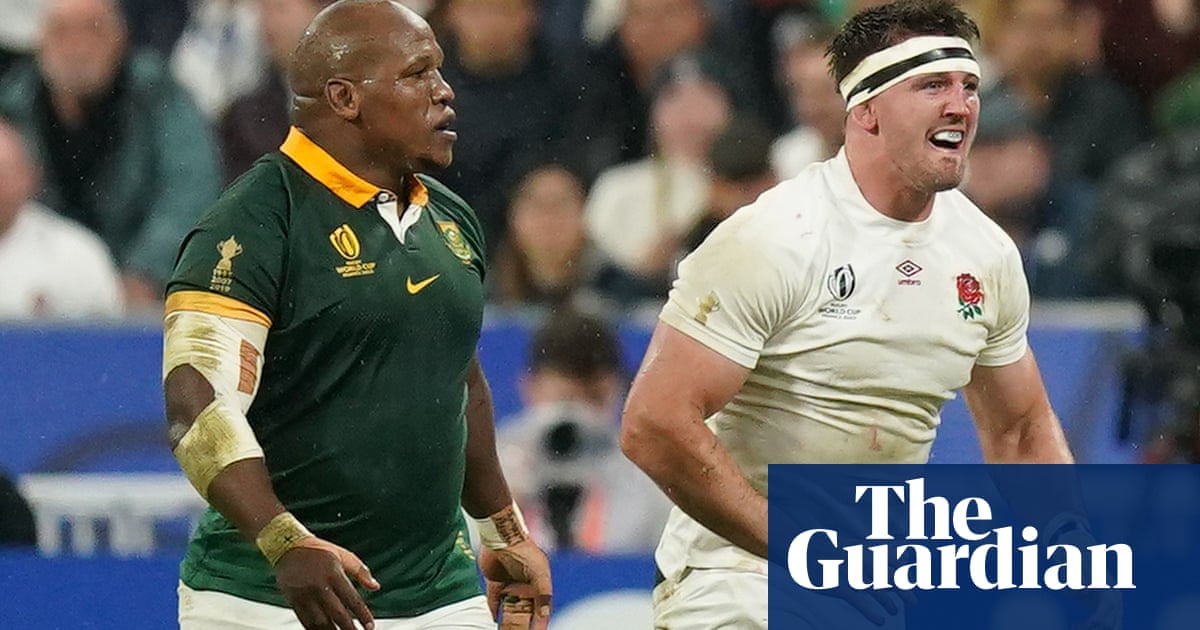 World Rugby has launched an investigation into allegations that England's Tom Curry was called a "white cunt" by South Africa's Bongi Mbonambi during last weekend's World Cup semi-final following an official complaint by the Rugby Football Union.
The international regulatory organization announced that it was officially investigating the accusation, which was captured on referee Ben O'Keeffe's microphone during the Springboks' narrow win. It is believed that the RFU chose to file a formal complaint on Sunday and requested that World Rugby look into the matter.
During the 24th minute of the match, Curry can be heard on a recording through O'Keeffe's microphone speaking to the official. He asked, "Sir, sir, what should I do if their hooker calls me a white cunt?" The New Zealander replied with, "Please do not do anything." After a brief pause, he also said, "I'll take care of it," although it is not certain if he was addressing the specific incident.
The statement from World Rugby expresses their commitment to addressing any accusations of discriminatory behavior. They have confirmed that they are currently conducting a formal investigation into the allegation made by Tom Curry of England regarding the use of discriminatory language during the Rugby World Cup 2023 semi-final against South Africa on Saturday.
World Rugby is currently in the process of collecting all accessible audio and video proof. It is believed that the organization aims to promptly determine if there are valid reasons for taking disciplinary measures. If Mbonambi is ultimately penalized, South Africa may face the possibility of not having their sole dedicated hooker for the World Cup final against the All Blacks on Saturday.
On Monday the South Africa scrum coach Daan Human refused to comment on the alleged incident and would not be drawn on whether he believed Mbonambi made the alleged racist slur, instead issuing a defence of the hooker's character. The Springboks said on Sunday that they would be conducting their own investigation and it is understood that is still ongoing in conjunction with World Rugby.
Human described the individual as an excellent person with a down-to-earth personality and a humble demeanor. They expressed a desire to have this person on their team, mentioning that they know their children and have a good relationship with them. They also noted that this person, like the other players, is very down-to-earth and has a calm and well-spoken demeanor.
Jean Kleyn, a member of the South Africa second row, expressed his positive views on Bongi, stating that they have known each other for nine years since playing together at the Stormers. He described Bongi as a great and fantastic individual, and although he cannot comment or justify his actions, he believes Bongi is a well-respected and well-liked member of the team.
After the game, Curry displayed his frustration. When questioned about a possible altercation with Mbonambi, he confirmed, "Yes." However, when pressed for details, he refused to share them. When asked if the issue had been resolved by the end of the match (as Curry had attempted to shake hands with Mbonambi but was seemingly rebuffed), he responded, "No. It's not necessary to discuss it. I don't want to talk about it at this time."
If World Rugby chooses to enforce consequences, Mbonambi may face a suspension according to law 9.12, which forbids players from verbally mistreating others. World Rugby rules prohibit mistreatment based on categories such as religion, race, nationality, or sexual orientation.
According to New Zealand's defence coach Scott McLeod, it would greatly affect South Africa if their vice-captain Mbonambi is unable to play in the final on Saturday. McLeod stated that it would be a significant setback for the team if Mbonambi is unable to participate, as he is a key leader for them. In fact, when their captain Siya Kolisi is substituted, Mbonambi takes on the role of captain, so his absence would likely have a significant impact on the team.
The prime minister of the UK has also expressed his opinion on the matter, with a representative of Rishi Sunak stating that it is a valid concern that should be addressed by World Rugby, and they are awaiting a response.
Source: theguardian.com