Maro Itoje shines in his return to Saracens club, helping them secure a win against Leicester.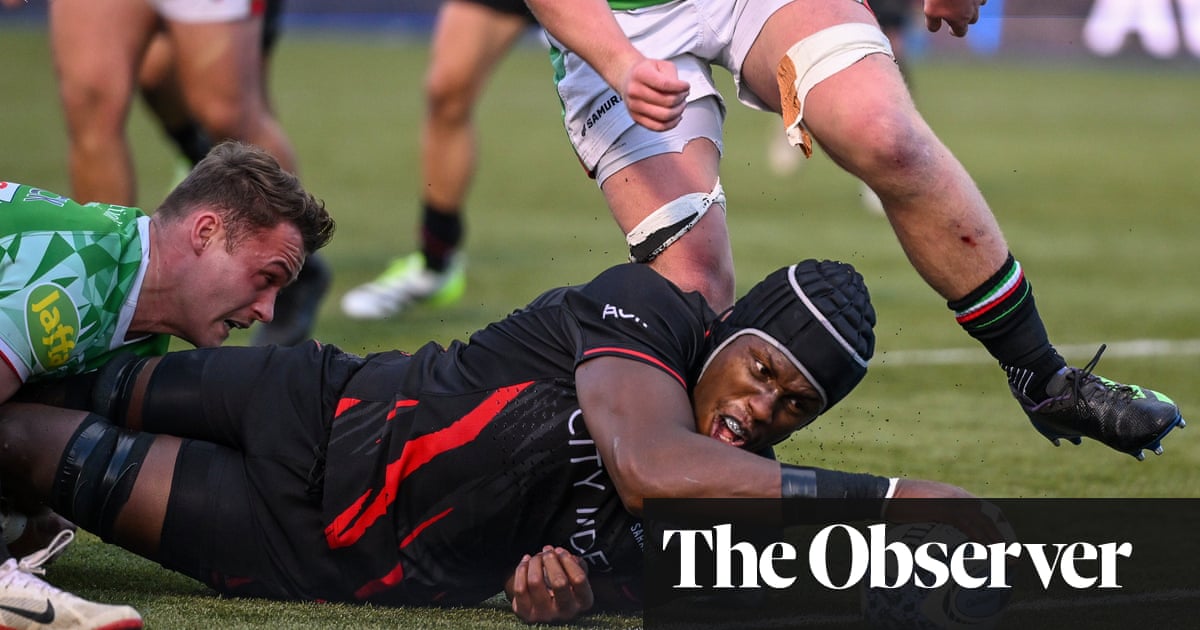 On Saturday, the StoneX pitch was illuminated not just by fireworks, but also by the impressive return of Saracens' England players. They helped secure a 32-17 bonus-point win over Leicester Tigers in the Premiership.
The previous title holders caused surprise with their decision to include seven English players in their team, despite them playing in the World Cup bronze final only eight days prior. Leicester's English players were given a break. However, this bold move proved successful, especially with a standout performance from the player of the match, Maro Itoje.
Mark McCall, the head coach of Saracens, took a risk with his selection but stated that every player had the choice to rest but chose to play. These players were not present with the team and were training with a different team and system. However, in past experiences, we have seen that these players are excellent at integrating back into the team quickly. This was evident in their performance and how they operated within our defensive line. McCall expressed his pride in these veteran players.
The beginning of the game was marked by scrappy play, but Leicester managed to score first through a penalty kick by Jamie Shillcock. Saracens responded swiftly with a strong finish from Maro Itoje. Ben Earl played a key role in the play, breaking through and passing to Alex Lozowski before falling to the ground. The ball was quickly recycled and Itoje powered his way over the try line despite being tackled.
Guy Porter experienced a tense moment when the referee, Craig Maxwell-Keys, who was overseeing his 125th match, consulted the television match official regarding a high tackle on Billy Vunipola. After a review, Maxwell-Keys only awarded a penalty instead of issuing a card.
There were multiple conflicts occurring on the field, but a significant one occurred during the breakdown. There was a display of skilled jackalling, with Leicester's Tommy Reffell stopping Saracens' attack, but shortly after, prop Mako Vunipola made a crucial play. The home team seized the opportunity from the turnover and dominated the ruck once again. Captain Owen Farrell chose to kick for the corner, and a precise lineout allowed Saracens to push for a try. In a similar fashion to Itoje's previous play, Andy Christie impressively scored with one hand.
Though Saracens had many advantages, the visitors dominated at the scrum, earning three penalties in the first 35 minutes. Despite this, they were unable to take advantage as their offensive efforts constantly stalled, and Saracens went into halftime with a 14-3 lead.
Billy Vunipola, the number 8 player, has received criticism but is currently vying for his club position against Tom Willis. Willis was named player of the match in Saracens' victory against Gloucester last week. However, Vunipola showed his worth by scoring a try early in the second half, solidifying his spot on the team. The momentum of the scrum also shifted as Saracens began to earn penalties. One such penalty led to another scoring opportunity, resulting in hooker Jamie George scoring from a rolling maul.
Despite being down, Leicester still had some fight left in them and began strategizing for a comeback. This spark of optimism was fueled by two mistakes from Farrell. As the captain of Saracens, he kicked the ball but Leicester anticipated it and kicked it back towards their own tryline where scrum-half Tom Whiteley was able to score. The following try was executed by Shillcock who expertly took advantage of an opening and pushed past Farrell to gain momentum and score.
However, the expected return to success did not materialize for Saracens as they slowly closed the gap on the scoreboard. In the final moments of the game, there was almost another mistake by Farrell due to the shot clock, but he managed to kick a penalty with only one second remaining. Despite the Saracens' attack losing momentum towards the end, they were able to secure their first victory at home in the Premiership this season.
Source: theguardian.com