Jumbo-Visma maintains stability for Sepp Kuss amidst turbulent conditions during Vuelta a España.
Remco Evenepoel of Belgium won his third stage of the Vuelta a España this year by launching a solo attack on the mountainous stage 18. Meanwhile, Sepp Kuss of Jumbo-Visma is inching closer to his first Grand Tour victory.
Evenepoel blasted out of a breakaway group on the first of two climbs of the Puerto de La Cruz de Linares late in the 179km ride from Pola de Allande and was in a class of his own. The peloton, featuring the Jumbo-Visma trio of Kuss, Jonas Vingegaard and Primoz Roglic, finished nearly 10 minutes back, with Kuss emerging still in the maillot rojo after surviving the last big day in the mountains unscathed.
American cyclist Kuss, accompanied by his esteemed teammates, navigated the stunning Asturian terrain and increased his lead over Tour de France champion Vingegaard by 17 seconds. Vingegaard eased up in the last moments of the race. Kuss now holds a lead of just over one minute ahead of Giro d'Italia champion Roglic, with both playing the role of super domestiques.
On Friday, there will be a flat stage followed by a challenging stage on Saturday. Kuss is now the top pick to keep the red jersey until Madrid, with the Jumbo-Visma team far ahead of the competition. This would make them the first team to win all three Grand Tours in a single year. "We're getting closer and today was another crucial day," Kuss stated. "I knew I had to stay focused and perform well to keep the jersey."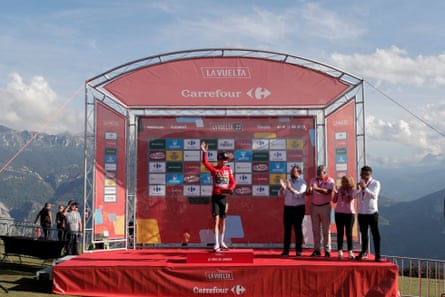 Unfortunately, Evenepoel's chance to compete against the Jumbo-Visma riders for the top spot was dashed on stage 13 when he fell behind on the Col d'Aubisque and fell behind by 27 minutes. However, the 2022 champion made a remarkable comeback by winning stage 14 and then going on to win solo on Thursday, making it his 50th professional victory.
"The legs were super good today and I was the strongest in the breakaway group so I just had to go for it today," Evenepoel told Eurosport after wrapping up the king of the mountains title. "It was an amazing stage to win again."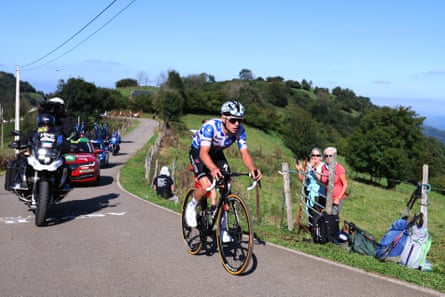 He finished 4min 44sec ahead of Italy's Damiano Caruso (Bahrain Victorious) and 5:10 ahead of Denmark's Andreas Kron (Lotto Dstny), who came third. Evenepoel said: "It was a super good opportunity to take the points for my jersey – I took all the points – and my third stage win is amazing to end the Vuelta with."
In the previous week, Kuss seemed to be at risk of being targeted by his teammates. This was particularly evident during stage 17 at Altu de l'Angliru. However, it appears that Vingegaard and Roglic are now supporting him, and they seem content to do so. Kuss even made a late effort to match the acceleration of Juan Ayuso (UAE Team Emirates) and Enric Mas (Movistar), which resulted in a larger gap between him and the slowing Vingegaard.
As long as he can avoid any unfortunate incidents on Friday and Saturday, Kuss is likely to be a well-liked winner in Madrid. Vingegaard, who has also received support from Kuss just like Roglic, cautioned that there is still a challenging stage on Saturday and the team must continue to persevere. "It's definitely a pleasure to be able to repay Sepp," the Danish rider remarked. "He has been incredibly helpful to both me and Primoz. However, Saturday's lengthy stage will require us to exercise caution."
Source: theguardian.com