Kuss edges closer to victory in the Vuelta a España, while Dainese avoids a crash to claim the win in stage 19.
Alberto Dainese from Team DSM-Firmenich narrowly avoided a major accident in the last kilometer and sprinted to win stage 19 of the Vuelta a España. Sepp Kuss from Jumbo-Visma safely finished in the main group to maintain his overall lead.
As the Vuelta nears its end, cyclists moved away from the mountainous terrain and embarked on a 177.5km flat ride from La Bañeza to Íscar, reaching speeds of 80km/h at one stage. A quartet of riders in the lead were caught with 20km remaining, as teams strategically positioned themselves for the final sprint. Ineos Grenadiers, Movistar, and Bahrain Victorious took charge of the peloton.
After navigating a final turn to the right, the riders had a 2.2km straight path to the finish line. Unfortunately, Kaden Groves, who had previously won two stages, was involved in a crash with other riders after their wheels touched. Filippo Ganna was in a great spot at the front and began the final sprint, but Dainese executed his sprint flawlessly and barely beat his fellow Italian by a fraction of a second.
"I am extremely pleased with our performance today. We successfully carried out our plan with 100% accuracy," Dainese stated. "Unfortunately, we lost a few teammates in the crash, but up until then, I was in the ideal position. I knew there was a headwind, so I allowed Ganna and the others to go ahead a bit early and then waited for the right moment to push through the wind. I am thrilled to end this challenging Vuelta on a high note."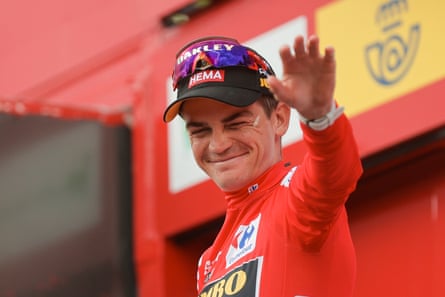 Dainese expressed that winning was meaningful as he is moving on to Tudor Pro Cycling next season. He stated, "I was determined to finish the season on a positive note and to conclude my journey with DSM on a positive note as well."
Today, I experienced a significant amount of stress as I was aware that it was my final chance to sprint. I would like to express my gratitude to my team for their excellent efforts.
Kuss, who is close to winning his first grand tour, was full of joy as he held onto the red jersey. He is currently ahead of his Jumbo-Visma teammates Jonas Vingegaard (by 17 seconds) and Primoz Roglic (by 68 seconds).
"I find these stages to be more mentally taxing because my usual strategy is to stay behind and push towards the finish line. However, now there's a bit more at stake," Kuss shared with a chuckle. "The crosswinds were always a nuisance, making it challenging, but there are no easy days in the third week…thankfully I managed to avoid any accidents when other riders crashed."
Source: theguardian.com