and was told he might never walk again Tonight on TV, watch the unbelievable story of the Harry Potter stunt double who suffered a neck injury and was advised that he may never regain the ability to walk.
David Holmes: The Boy Who Lived 9pm, Sky Documentaries
"I used to have a career as a stunt double for flying scenes, but not as often nowadays." In 2009, while working on the last Harry Potter movie, David Holmes, who was Daniel Radcliffe's stunt double, suffered a neck injury. This documentary explores the emotional journey of these two friends as they reflect on that tragic incident. Despite the devastation, Holmes remains a shining example of optimism and the film captures heartwarming and humorous moments (such as Radcliffe's inability to hit a ball) that pay tribute to their unforgettable contribution to the magic of the Harry Potter franchise.
Strictly Come Dancing
6.40pm, BBC One
It's the week of Blackpool! Sadly, Krishnan and Lauren won't be able to perform on the iconic dancefloor. But we still have a lot to anticipate, such as Angela and Kai's American smooth to Ella Fitzgerald, and Ellie and Vito's charleston to Girls Aloud. HR
When Blondie Came to Britain
9pm, BBC Two
Initially, Blondie was considered to be art-punk underachievers in the New York music scene. Their rise to fame in the UK paved the way for their eventual mega-stardom. This documentary features the band reminiscing about some of their early successes, including their first performance in Bournemouth in 1977 and interacting with fans on Swap Shop through phone calls. Graeme Virtue.
The Princes in the Tower: The New Evidence
8pm, Channel 4
Philippa Langley is known for her expertise in solving historical cold cases. She gained global recognition in 2012 for leading the effort to uncover the remains of Richard III. In her latest challenge, she aims to uncover the truth behind the alleged murder of Edward V and Richard Duke of York, two young contenders for the throne, by King Richard III in 1483. To aid her in this quest, she enlists the help of Rob Rinder as they travel to medieval Europe.
Scrublands
9pm, BBC Four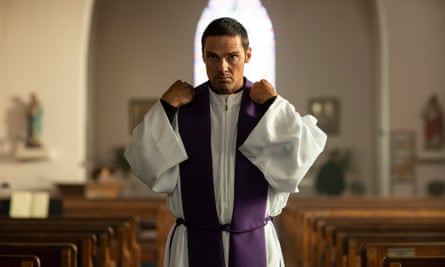 A complex crime story from Australia joins the impressive collection this year, based on the acclaimed novel by Chris Hammer. The narrative begins with a priest shooting at his own church members – a newsworthy event that journalist Martin Scarsden (played by Luke Arnold) covers a year later.
Kin
9.35pm, BBC One
This gripping suspense story, set in Dublin, was a success in terms of viewership in Ireland. The Kinsella family becomes embroiled in a conflict with the rival cartel led by Eamon Cunningham, who has superior resources in terms of money, weapons, and manpower – making victory seem unattainable. The story begins with a gunshot and then introduces us to Michael Kinsella, who has just been released from prison. HR
Live sport
The Bristol Bears will face off against the Sale Sharks in the Women's Premiership Rugby Union match at 12:15pm on TNT Sports 1, taking place at Ashton Gate.
The Women's Super League Football match between Chelsea and Liverpool will be broadcast on BBC One from Stamford Bridge at 1:15pm.
On the second day of the November event, the Gold Cup will be featured at 2:20pm in the Cheltenham race, which will be broadcasted on ITV1 at 1:15pm.
A Group D qualifying match for Euro 2024 between Armenia and Wales will be broadcast on BBC iPlayer at 2pm.
The Premiership Rugby Union match between Leicester Tigers and Northampton Saints will take place at 2:30pm on TNT Sports 1, followed by Harlequins' game against Saracens at 5:15pm.
Source: theguardian.com