Wayne Barnes: 'It's gone to the next level of abuse in the last 12 months – aimed at my family'
A
A group of balloons and a cake shaped like a chocolate caterpillar brighten up Wayne Barnes's house. The highly accomplished and controversial referee in international rugby grins and indicates a silver balloon in the shape of a seven, signifying the birthday they will soon celebrate when his son and nine-year-old daughter come back from school for the party later today.
Barnes and his wife, Polly, have been facing death threats and ominous messages since his last game as a referee, where he officiated an intense World Cup final in Paris last month. Despite the negativity, they are able to put it aside and continue with their lives. However, some individuals have gone to extreme measures, such as threatening to burn down their home and sending warnings directly to Polly, stating that she and their children will be harmed.
After a tense rugby match between long-standing rivals New Zealand and South Africa, which resulted in a 12-11 win for the Springboks, there were accusations of foul play. The captains of each team, Sam Cane and Siya Kolisi, were both penalized with temporary removal from the game by referee Barnes. However, upon further review by the bunker review system, it was determined that only the All Blacks captain would receive a more severe punishment, changing his yellow card to a red. This happened while the game was still in progress.
Barnes recalls the possibility of composing a strongly worded email to BA after his luggage went missing. However, he clarifies that he never resorts to abusive language. He understands that individuals may feel wronged and regardless of whether that is the case or not, everyone is entitled to their own opinion. However, the thought of using a phone to send hateful messages to a family is unimaginable for him.
Barnes, who officiated in a record five World Cups and 111 internationals, had decided to retire long before this latest barrage of threats. In 2007, after he missed a forward pass which allowed France to score one of the tries that helped them shock New Zealand in a World Cup quarter-final, he was hounded. Social media was in its infancy but a Facebook group called "Wayne Barnes Must Die" emerged alongside more routine bile which described him as the third most evil man in the world after Saddam Hussein and Osama bin Laden.
Last year, following South Africa's close loss to France in Marseille, Rassie Erasmus, the director of rugby, publicly criticized Barnes on Twitter. As a result, Barnes received death threats once again. He explains, "The level of abuse has reached new heights. It's worse than what I experienced in 2007 because now my family is being targeted. In the past 12 months, from November 2022 until the World Cup, it's not just me they're after. They've gone as far as tracking down my wife's email address and directly threatening her. They've made threats to burn down our house with our children inside and even mentioned waiting for us outside the kids' school. It definitely takes a toll on you."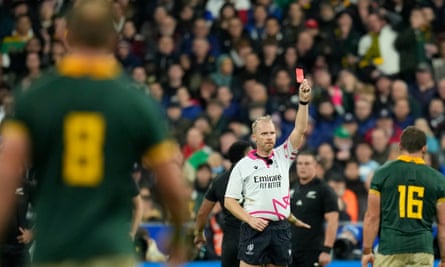 Despite facing backlash on social media, Barnes remains the top rugby referee globally. In addition, he works as a barrister in London during the day. These two successful professions highlight his journey from growing up on a council estate in Bream, located in the Forest of Dean. Recently, Barnes collaborated with Ben Dirs to write a highly enjoyable and witty book.
Barnes recalls a description of himself by an Irish journalist as "a crazy Eton headmaster with a ferret in his trousers." He is unsure of the reason for the ferret comparison, but assumes that the journalist was trying to portray him as a typical English rugby player from a privileged background. However, this could not be further from the reality. As evidence, Barnes mentions that his name is Wayne and his brother's name is Darren.
Can you please confirm if Barnes has experienced true fear recently? He responded, "I wouldn't call it fear, but I have been cautious. For instance, last year the RFU invited my family to celebrate my 100th international match. They were planning to present me with something on the field, but this was during a game between England and South Africa, just two weeks after the controversy with the Springboks. It didn't feel appropriate to put them in that position.
"It was highly improbable that any physical harm would occur, but just imagine if my children and I were on the field and 10,000 people were booing me. How would that make them feel? My partner and I do our best to shield them, but when I saw what happened to Anthony Taylor, who has teenage children, I can only imagine the fear and worry he felt as he physically tried to protect them. It was truly terrible."
Barnes was disturbed by the video of a football referee, who he is familiar with, and his loved ones being surrounded by aggressive Roma fans who threw objects at Taylor during the Europa League final in June. José Mourinho, the manager of Roma, had yelled and cursed at Taylor after their loss to Sevilla in a penalty shootout. His behavior appeared to justify the fans' unwarranted anger. Coaches and managers must now take greater caution when criticizing referees, as their words can have troubling repercussions.
Barnes, who was 44 years old at the time, acknowledges that he was not experienced enough to have been given a World Cup quarter-final in 2007. Despite this, he still performed well except for one mistake where he missed a forward pass. During that time, there was no TMO (television match official) to review and change calls for forward passes. When Barnes saw his error on the large screen, he was embarrassed.
In 2012, the All Blacks coach Graham Henry made a statement in his autobiography suggesting that Barnes may have been involved in match-fixing, which caused him even more emotional pain. However, Barnes remains unfazed by this accusation and explains that as a barrister, he often receives inquiries about potential legal cases, but referees understand their responsibility and prioritize protecting the integrity of the game.
In the previous November, while tensions were high during the Test in Marseille, Barnes ejected France's leader, Antoine Dupont, who expressed remorse to him before exiting the field. He also sent off the esteemed Springbok player Pieter-Steph du Toit. Following this, Erasmus shared tweets that further fueled anger on social media.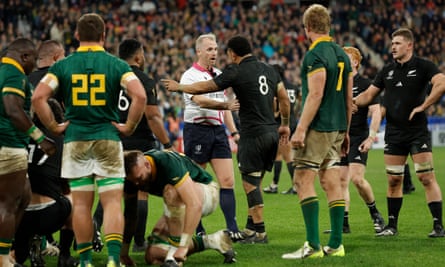 During my August interview with him, Erasmus conveyed remorse for his past behavior towards match officials. In addition, Barnes shared that after the World Cup final, Erasmus approached him on the sidelines to apologize. He acknowledged that I would no longer be refereeing for the Springboks and expressed genuine regret for the incident.
According to Barnes' book, there have been instances where his wife had a strong dislike for rugby and anything related to it. Despite being a founding member of the women's players union and having a humorous and outspoken presence on social media, Polly's negative feelings towards the sport have caused difficulties in their family. Barnes explains that it is not the game itself that his wife has a problem with, as she is a passionate supporter of women's rugby. However, the impact it has had on their family has caused a lot of pain and distress in the past year.
Barnes states that he is eager to see potential solutions to the issue. Recent changes in the law have placed more responsibility on social media companies. One potential solution is to make it easier to identify individuals on social media. World Rugby has already taken steps in this direction by working with a team of experts. If the individual responsible for the abuse can be identified, they will collaborate with law enforcement officials. This approach has already been put into action in Australia, where a match official's wife was harassed online. The abuser's location has been identified and authorities are determining if their actions constitute a criminal offense. All sports must take measures to protect their coaches, players, and officials and make it clear that there are consequences for abusive or threatening behavior, including potential criminal charges.
It is remarkable that Barnes and Cane displayed empathy and respect immediately after the devastating defeat for New Zealand. "As I was leaving the field, Sam came up to me and said, 'Thank you,'" remembers Barnes. "I responded by saying, 'I truly empathize with your situation tonight, and it has been an honor to work with you.' I have refereed him numerous times and he has always been sincere."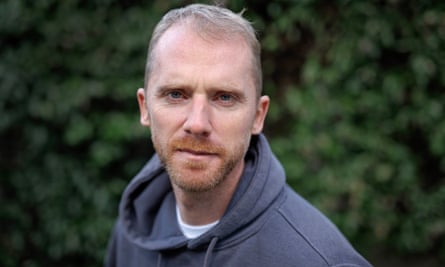 Precious moments like these are often overlooked in a chaotic world. Barnes also makes a valid point when he suggests that rugby should adopt a guiding principle that prioritizes fluidity over getting caught up in its intricate rulebook. With 21 laws and 300 subsections, if every single one was strictly enforced, the game would never progress. The most enjoyable matches are those with a continuous flow. This can only be achieved by not blowing the whistle for every possible infringement. It is essential for players, coaches, referees, and administrators to come together and determine the desired vision for the game.
As a barrister, Barnes's job requires him to have strong communication skills, which have been beneficial in helping players comprehend his decision-making. World Rugby has criticized him at times for being too vocal on the field and using players' first names to foster understanding, but his method is vastly different from the secretive and inconsistent use of VAR in football.
Barnes explains that while VAR has only been in use for two years and is still evolving, rugby has been using similar technology for 20 years and is still finding ways to improve. The VAR audio during the Liverpool and Spurs game this season was chaotic, but there has already been progress and finding ways to increase understanding among all involved would greatly enhance VAR.
What would be his response if Howard Webb, the former referee in charge of VAR, invited him to be involved in football? "I have frequent conversations with Howard. I highly admire him as an individual and he's making great progress."
Barnes expressed his passion for various sports and stated that he is open to any opportunities that come his way. He hopes to use his platform to support and advocate for officials and address issues of abuse towards them. He is currently engaged in discussions about potential roles, but nothing has been finalized yet.
When asked if he will miss the intense experience of refereeing, Barnes smiles and responds that if he could magically transport himself to Ellis Park for a Springboks vs. New Zealand match or to the MCG for a Bledisloe Cup game, and then be given a pill to stay fit, he would continue doing it. However, the sacrifice, training, reviewing, preparation, and time away from home have led to a feeling of relief two weeks into his retirement. He acknowledges that there will be moments when he misses the job, especially when watching the Six Nations and thinking about being in the middle of the action or having a post-game drink with a talented player. But ultimately, he feels that this is the right time to step away.
Purchase your copy of Throwing the Book by Wayne Barnes and Ben Dirs for £25 from the Little, Brown Book Group. Support the Guardian and Observer by ordering through guardianbookshop.com. Additional fees may apply for delivery.
Source: theguardian.com