"Saving a tree in London is an ongoing battle filled with early morning protests, surprise inspections, and legal proceedings."
O
On a balmy summer night in 2022, I found myself standing beneath a plane tree at the intersection of a red-brick street in north London. I engaged in conversation with Marcus Decker, who was getting ready for his 50th night sleeping in a hammock among the tree's upper branches. He mentioned that he and the tree had formed a close bond, working together in a battle.
The Oakfield Road tree in Stroud Green was caught in a conflict between multinational insurance companies, councils, and the long-standing residents of London. This triangular struggle centered around the city's 100,000 plane trees, which were initially planted to improve air quality in the smoggy city. These trees are known for their unique bark that can absorb and release pollution in silvery layers.
The dispute centered around Oakfield Road, with Aviva and Allianz, who provided insurance for houses 61 and 63, claiming that the tree in front of the houses was causing damage to their foundations. They argued that unless the 123-year-old tree was removed, the responsibility for any necessary underpinning and associated legal fees would fall on the council rather than them. However, there was much disagreement over the evidence supporting this claim.
A community of citizens, realizing that all the plane trees in their vicinity were at risk, joined forces to contest the ruling. They were taught climbing techniques by Decker and ranged in age from 18 to 72, determined to safeguard the tree from municipal chainsaws around the clock.
A time-lapse movie showcasing the "Oakfield plane" over the course of 18 months would be quite dramatic. Despite this, the protesters' vigil persisted, though Decker was apprehended in the fall for another climbing stunt – this time as part of a Just Stop Oil demonstration on the suspension bridge at the Dartford Crossing (Decker was subsequently sentenced to two years and seven months in prison). In the spring, Haringey council carried out a surprise raid on the Oakfield plane, covering the tree in scaffolding and white tarpaulin, as if it were a crime scene. A private security company was hired to protect the tree 24/7, complete with floodlights, surveillance platform, and portable toilet, until it could be cut down.
Afterwards, the majority of the activity has occurred in legal settings. The individuals protesting on Oakfield Road were initially served with a restraining order to prevent further action. However, a last-minute injunction was able to save the tree from being destroyed. The goal was for this injunction to remain in place until the Financial Ombudsman Service released a final report in December. Yet, the insurance companies have still been reminding the council of their potential liability. About a month ago, residents received a letter stating Haringey's ongoing plan to remove the tree. This notice period ends on Wednesday at midnight, just five days before another court hearing.
This weekend, the Haringey Tree Protectors will once again hold a vigil at the tree. The group's leader, writer and academic Giovanna Iozzi, revealed on Friday that the insurers' ongoing legal efforts are a clear indication of their drive to establish a precedent for subsidence cases. Iozzi highlights the conflicting actions of councils who are removing trees from urban areas, despite their professed commitment to the environment. She laments the loss of the natural cooling system and Victorian-era trees that once lined our streets, as cities continue to strip them away.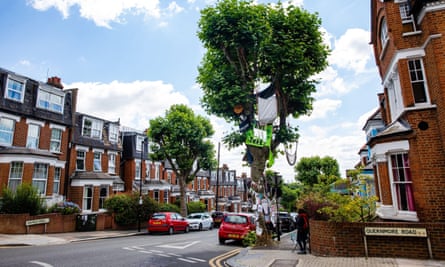 The vigil, she said, would be in solidarity with Decker, who remains in prison. (When I spoke to his partner, Holly Cullen-Davies, she was on her way back from visiting him: "He has started a prison choir and he's working in the garden and learning more and more about horticulture.") Decker is eligible for release next February, when he faces a deportation order to his native Germany, where he has not lived for many years.
Paul Powlesland, a lawyer representing the residents, strongly believes that if insurance companies are able to win this case, it could potentially endanger numerous trees throughout the country. In April, a similar attempt to protect a London plane tree in Lewisham was unsuccessful, despite garnering support from almost 50,000 people. However, another legal dispute in Cambridge earlier this month resulted in the preservation of three historic plane trees. According to Powlesland, at Oakfield Road, there is a possibility that even if the ombudsman rules in favor of the residents, the tree may have already been cut down.
Allianz has stated that they are unable to comment on the current situation, but they have always seen the removal of the tree as a last resort in ensuring the stability of the two homes involved.
The Haringey council highlighted the difficult decision that local governments across the country are grappling with: Should they keep a tree that could potentially lead to a £1 million insurance claim for damage to nearby properties? This money could be better utilized for essential services. It is unjust that councils are forced to choose between preserving a tree and spending a significant amount of taxpayers' money, or cutting down the tree altogether.
The demonstrators claim that the council is not fully comprehending its duty. According to a district judge presiding over a court case, "The local government is responsible for protecting the tree. While the council may have ownership, it is not solely theirs." Powlesland emphasizes that this is the goal we should strive for. He asserts that we all have a vested interest in the Oakfield plane, as long as it remains standing.
Source: theguardian.com