Abbie Ward makes a triumphant comeback to the field after giving birth, scoring a try in Bristol's dominant victory.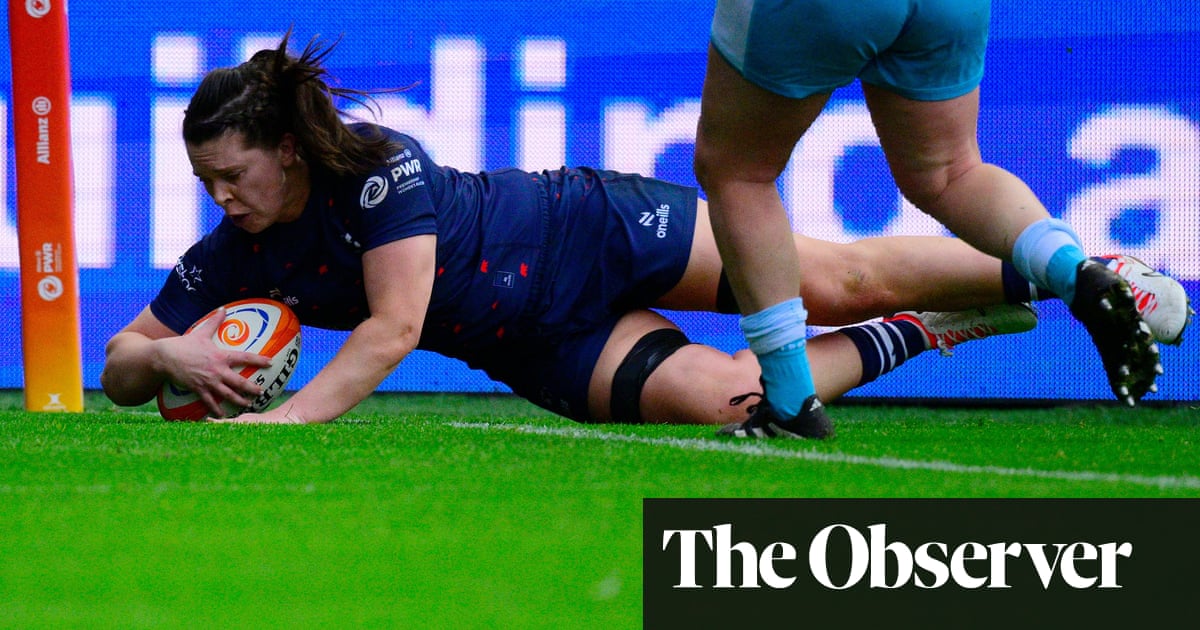 Bristol Bears unleashed a dominant display on Sale Sharks in the opening game of the Premiership Women's Rugby season. The rebranded league has been called a new era for women's rugby and something that epitomised where the game is going more than anything was Bristol second row Abbie Ward walking out at Ashton Gate with her 17-week-old baby, Hallie.
Ward made her return to the team for the first time since the World Cup final in November 2022. She was the first contracted Red Roses player to take advantage of the Rugby Football Union's updated maternity policy. After announcing her pregnancy, she aimed to be back on the field for the 2023-24 season. Not only did she make an appearance, but she also started in the match.
She received enthusiastic applause from the audience when she used studs to make contact with the ground for the first time with her daughter. Right before the whistle blew, Ward passed their daughter Hallie to her husband, who is also the head coach of Bristol, Dave Ward. Fourteen minutes later, she successfully scored a point.
Ward expressed that as players, they never considered the possibility of running with their daughter because it seemed like they had to choose between one or the other. Being able to do so now and show others that it is possible is a significant development. Ward enjoyed every moment of the experience.
Bristol's notable additions this season were Hannah Botterman and Holly Aitchison, both of whom joined from Saracens, the three-time Premier 15s champions. They had strong first appearances, with Botterman, a prop, earning scrum penalties. However, she was substituted in the 37th minute to ensure proper management of her playing time following her participation in England's WXV tournament.
At the fly-half position, Aitchison had a nearly flawless performance with his kicking and executed a precise crossfield kick for Reneeqa Bonner to score a try.
Bristol's scoring spree started in the fourth minute when Sale's Hollie Bawden received a yellow card for a tackle outside of the play. After a successful lineout and strong driving maul, Bristol scored their first try courtesy of Lark Atkin-Davies. Aitchison then connected with Bonner for another try, before Ward scored in the right corner.
During the game, Sale gradually gained control and briefly contained the home team. Their defense successfully stopped the ongoing struggle, with Laura Perrin delivering a powerful tackle after Lucy Burgess broke through. Perrin, playing at full-back, displayed exceptional awareness and quickly returned to the play to deliver a huge hit on the opposing scrum-half, causing a delayed groan from the audience to reverberate throughout Ashton Gate.
Burgess quickly got up and her swift footwork earned Bristol an additional point.
In the summer, Sale made a major signing by adding Italian centre Beatrice Rigoni to their team. However, Bristol was so dominant that Rigoni did not have many opportunities to touch the ball in the first 39 minutes. Finally, she got her chance and managed to score a try just before halftime, putting her team on the scoreboard.
Just before the 40th minute, the rain began to pour and Bristol continued to score tries, with Phoebe Murray contributing to Sale's defeat. They were also faced with two more driving mauls, one from Atkin-Davies and another from substitute prop Jessica Sprague. The final score was completed with a fantastic team try, as a quick and skillful attack led to Ella Lovibond evading defenders to score.
In the second half, Sale had increased chances to control the ball. However, a combination of mistakes in handling, lack of clear communication, and effective breakdown work by Bristol prevented them from scoring any additional points.
Source: theguardian.com