Climate organizations are commencing a nationwide tour to promote the Green New Deal.
A year after the highly praised Inflation Reduction Act was passed, a group of leaders and delegates are restarting efforts to promote a Green New Deal through a nationwide tour.
John Paul Mejia, a national representative for the youth-led organization the Sunrise Movement, stated that the Inflation Reduction Act was the biggest investment in addressing climate change in the US. He also mentioned that in the following decade, their goal is to surpass this achievement by advocating for even more significant measures.
The nationwide tour, starting with an event in Michigan this month, will highlight the widespread backing for more ambitious federal efforts towards addressing climate change. Prominent supporters of the Green New Deal, including Senator Ed Markey from Massachusetts and representatives Ilhan Omar, Jamaal Bowman, Cori Bush, and Summer Lee, will join local activists in this initiative. The tour will be organized by the Green New Deal Network, a coalition of progressive environmental organizations such as the Sunrise Movement, Greenpeace, and Climate Justice Alliance, as well as social justice groups like People's Action and the Movement for Black Lives, and the small left-leaning political party Working Families.
Advocates are urging for more decisive measures from the executive branch and the approval of a set of proposals in Congress.
Representative Bowman stated that by implementing our Green New Deals in areas such as public schools, housing, and cities, we have the opportunity to make significant investments that will revitalize our communities. These investments will not only address the impact of the climate crisis caused by fossil fuels, but also provide individuals with the necessary resources to flourish.
The Green New Deal gained popularity among progressive politicians in the United States during the presidency of Donald Trump. It aims to quickly and equitably reduce carbon emissions in the US economy and generate numerous job opportunities. In 2018, the Sunrise Movement organized protests on Capitol Hill to advocate for its adoption. Shortly after, Senator Markey and Representative Alexandria Ocasio-Cortez released an official resolution outlining the details of the plan.
The bold and far-reaching proposal centered around the concept that addressing the climate emergency could involve transforming American society to become more equitable, with a focus on communities disproportionately impacted by inequality, climate catastrophes, and environmental contamination. This approach starkly differed from previous national strategies to reduce carbon emissions, such as the unsuccessful Waxman-Markey legislation of 2009 which aimed to establish a cap-and-trade program for greenhouse gas emissions.
Kaniela Ing, the national director of the Green New Deal Network and a former Hawaii state legislator, stated that during the time of the popular documentary "An Inconvenient Truth," climate advocacy was heavily focused on technical aspects. However, the Green New Deal shifted the focus to the interconnectedness of various issues, such as climate change, education, and infrastructure, which are important to people's everyday lives.
After Joe Biden won the presidential election in 2020, supporters of the Green New Deal prioritized pressuring him to implement ambitious climate policies. This movement has been widely recognized for its role in securing the Inflation Reduction Act – previously known as Build Back Better – which includes a groundbreaking $369 billion for climate and renewable energy initiatives.
Markey stated that since the introduction of the Green New Deal resolution in 2019, they have successfully prioritized climate change in the political realm. They remained steadfast in their stance of "no climate, no deal" during the negotiations for the Build Back Better plan, which ultimately led to the passing of the Inflation Reduction Act – a significant achievement.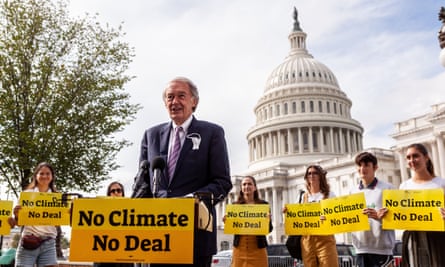 Markey stated that the Inflation Reduction Act was a significant step towards the implementation of the Green New Deal. However, there were notable distinctions between the two policies. Supporters of the Green New Deal pointed out that it included provisions that favored the fossil fuel industry, such as requiring drilling and pipeline agreements, and did not effectively address the use of coal, oil, and gas that contribute to global warming. Many also criticized its inadequate efforts to protect workers' rights. Additionally, Sophia Cheng, the climate justice campaign director at People's Action, a progressive advocacy and political non-profit, noted that the Inflation Reduction Act placed less emphasis on improving public transportation and constructing affordable housing that can withstand the effects of climate change.
She expressed a desire for more inclusive climate solutions that would bring benefits to communities on the frontlines.
The Inflation Reduction Act placed a greater emphasis on incentivizing private companies, which may not have fully aligned with the goals of certain progressives.
Ing stated that the Inflation Reduction Act showed similarities to the Green New Deal, but ultimately chose the easier option of providing funding to corporations in hopes of promoting change. They expressed a desire for a greater emphasis on strengthening public institutions and increasing democratic control.
Ing suggested that a more robust climate plan could assist Biden in gaining the support of young individuals who feel disenchanted by his recent decisions in favor of fossil fuels, such as approving the Willow drilling project in Alaska.
Even though the Green New Deal is a proposal at the federal level, the upcoming tour aims to highlight its potential effects on a local and state level.
Ing stated that the goal is for individuals to manage their own resources at a local level, with federal investments aiding them in achieving this.
Ever since the Green New Deal resolution was first introduced in 2019, there have been newly elected supporters of this vision.
"Western Pennsylvania – what used to be a playground for fossil fuels – sent a Green New Deal politician to Congress, knowing I'll fight not only for our children's health, but for worker power and good union jobs," said Lee, who was elected last year.
On November 5th, our first destination will be Dearborn, Michigan.
"Nearly a decade after the Flint water crisis, frontline and Bipoc communities in Michigan are still disproportionately burdened by continuing water and air pollution, hazardous waste from fossil fuel facilities and inadequate energy access," said Mikal Goodman, the campaign manager at Michigan Alliance for Justice in Climate, whose group will co-host the event. "We're not going to sit by and let President Biden campaign on climate as a done deal while people in our communities are getting cancer from pollution and kids can't breathe on the school playground."
The organizers stated that they intend to host more activities in Pennsylvania, Iowa, Missouri, California, Illinois, Minnesota, and Massachusetts before the year concludes. These locations were selected due to their significant number of Green New Deal advocates and track records of backing and achieving progressive initiatives.
Markey stated, "We are traveling to cities throughout the country with a single message: we are only just beginning."
This article was revised on November 1, 2023 to include the Working Families party as a participant in the tour, while removing SEIU from the list of organizations.
Source: theguardian.com