Australia's electricity grid has experienced a surge in renewable energy, resulting in a record supply.
During a 30-minute period on a Saturday last month, there was sufficient renewable energy to fulfill almost all of eastern Australia's electricity needs, with only 1.4% remaining to be met from other sources. This marks the closest the grid has ever come to achieving 100% clean energy.
The national electricity market (Nem) saw a record high of 38.9% of average demand being met by renewable sources in the third quarter, according to a report from the Australian energy market operator (Aemo).
In Australia, the power sector's carbon emissions, which is the largest source of emissions, decreased by 11% compared to last year. The use of gas for generation decreased by almost a third, while black coal use decreased by 7.5%. These fuels were subjected to price caps by the Albanese government this year.
The disappearance of rain clouds and the presence of sunny skies resulted in a significant increase in solar energy production, causing wholesale spot market prices to turn negative for 19% of the time. This proportion was more than twice as high as the previous quarter in September 2022, and broke the record for the highest share of negative prices at 9.2% in the June quarter of this year.
In the third quarter of September, the average wholesale price of power in Nem was $63 per megawatt hour. This is a decrease of 41% compared to the previous three months and a significant drop of 71% from the previous year, according to a report by Guardian Australia. Similarly, the average wholesale price of gas on the east coast decreased from $25.94/GJ to $10.41 per gigajoule in the same time period.
To significantly impact retail energy bills for households, consistent reductions in wholesale prices must be maintained. These adjustments are typically made on a yearly basis.
The use of electricity is predicted to increase again, as a hot summer is predicted due to the presence of El Niño. In the past three summers, which were relatively cool and wet due to La Niña, air-conditioner use was limited.
Between the hours of 12:00 PM and 12:30 PM on September 16th, renewable energy sources provided a record-breaking 70% of the power needed in the Nem region, with 39% coming from rooftop solar. This clean energy was able to meet nearly all of the demand in eastern Australia and Tasmania.
According to Violette Mouchaileh, an Aemo executive, the total potential output from renewable sources reached a new high of 98.6%. This includes both dispatched generation and wind and solar farms that were able to bid above the spot price and were not required to participate in the wholesale market.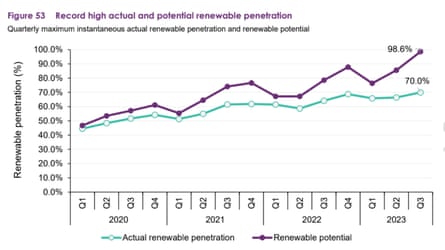 Even during the winter months when sunlight is weaker, rooftop solar panels produced a record-breaking 11.9 gigawatts of energy in the September quarter, a 3% increase from the previous high.
The maximum energy production of solar farms increased by 7% during the quarter, reaching nearly 6GW. Meanwhile, wind farms produced up to 8GW, a 10% increase from their previous peak.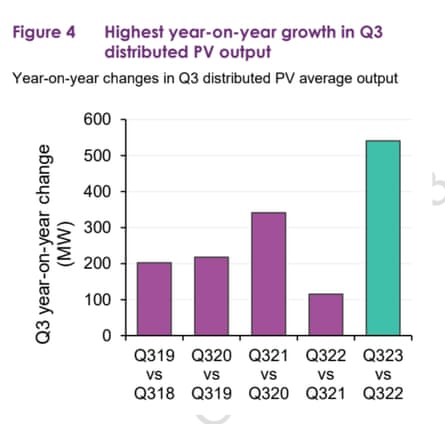 The Nem power plants that use coal and gas are facing ongoing challenges due to various factors. One issue is that there is often low demand for power, especially during the middle of the day when customers are using their own rooftop power sources. On Sunday, September 17th, there was a 30-minute period where the operational demand dropped to 11.393GW, which was almost 0.5GW lower than the previous record low in the Nem market on November 6th, 2022.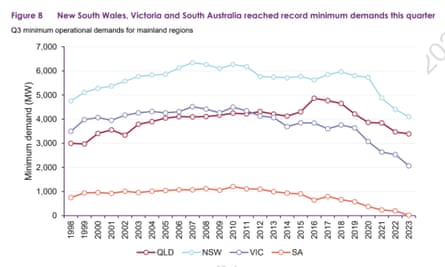 On September 16, South Australia experienced a significant decrease in their grid's supply, with operational demand reaching a record low of only 21MW for a 30-minute period.
During the quarter, New South Wales and Victoria both achieved their highest operational demands, while Queensland experienced its lowest since 2002.
The shutdown of AGL Energy's Liddell power station in the Hunter Valley of New South Wales in April was readily accepted by the market.
The available capacity of other coal plants in NSW increased, but their average output decreased by 166MW due to difficulty competing with renewable energy sources.
Next month, Aemo will release an update regarding the grid's preparedness for handling the anticipated increase in demand during the summer season.
According to Mouchaileh, there are 1.7 gigawatts of new renewable energy plants in the process of being registered. Additionally, there are 10 gigawatts of plants that are finalizing contracts and currently under construction.
She stated that the new renewable energy sources, along with backup sources like batteries, hydro and gas, and improved transmission systems, will aid in filling reliability gaps and providing affordable, environmentally friendly energy to households and businesses.
Source: theguardian.com