Sepp Kuss has achieved a GC victory, bringing both success and popularity to US cycling.
A
After a lengthy anticipation, an American has reclaimed the spotlight in the world of cycling. Over the course of three weeks, 29-year-old Sepp Kuss from Durango, Colorado, conquered the Pyrenees, the grueling climbs of Asturias, and challenges from both external competitors and his own team. He has emerged as the champion of the Vuelta a España.
This is the first grand tour win for an American since Chris Horner's stunning victory over Vincenzo Nibali at the 2013 Vuelta. In the intervening years, no American man has won a world championship or a monument either; Kuss is the only American to even lead a grand tour since Horner, and the only American since 2011 to win a stage of the Tour de France.
Horner's victory in the Vuelta race masks the extent and seriousness of the struggle that American men's cycling has recently faced. Horner was nearly 42 years old when he claimed the red jersey in Madrid, highlighting the low point of American cycling at the time.
In the past nine months, Lance Armstrong finally confessed to being responsible for doping, despite denying and ridiculing the accusations throughout his entire career. Since claiming his first Tour de France victory in 1999, Armstrong had cultivated a strong following and focused solely on winning the Tour. In his mind, there was only one race and one cyclist that held significance.
When Horner won the Vuelta, the wounds caused by Armstrong's perfidy were still too raw – American fans weren't ready to trust another shocking comeback story yet, even though the legitimacy of Horner's win was never called into question. And Horner was too old to build on his career-defining success. He was born in 1971, the same year as Armstrong and grand tour podium finishers Hamilton and Bobby Julich; he was a reminder of times gone by, not the vanguard of a new generation.
The development of professional cycling in America can be easily comprehended by looking at it through the lens of different generations. The boomer generation, represented by athletes like Greg LeMond, Andy Hampsten, and the 7-Eleven team in the 1980s, brought recognition to American cycling. The following Gen-X generation continued to elevate the sport's reputation, but also caused its downfall. It took a significant amount of time to revive the sport because the millennials who came after were unable to capitalize on its initial success.
Tejay van Garderen was able to keep up with Chris Froome or Nairo Quintana for a short period of time, but was never able to perform consistently throughout an entire grand tour. Taylor Phinney appeared to have a promising future as a time trialist and classics rider, but his career was derailed at the age of 23 due to a severe leg injury. In that same year, Andrew Talansky achieved a significant victory at the Critérium du Dauphiné – arguably the most notable win by an American male cyclist between Horner's Vuelta win and Kuss's triumph – before ultimately retiring from cycling to pursue triathlon three years later.
Kuss, who was born in September 1994, is part of a new group of young American men that show promise in bringing the US to the front of the peloton. This includes Neilson Powless, Matteo Jorgenson, Brandon McNulty, Quinn Simmons, and Magnus Sheffield. Though technically a millennial, Kuss is closely aligned with Gen Z and the trend continues with these other riders.
This team has achieved victories in age-based world championships, prestigious World Tour events, and stages in major tours. However, securing the overall ranking in a grand tour is a feat that no one from the present generation has yet achieved.
Kuss is currently the most accomplished American male cyclist, which is noteworthy because it challenges the stereotypical image of Americans.
In previous years, American GC riders who have achieved success were typically skilled in time trials. They were not only exceptional climbers, but also capable of gaining significant time advantages over their competitors in time trials. However, Kuss breaks this mold as a pure climber, standing at 5 feet 11 inches and weighing 134 pounds, with a majority of that weight likely consisting of his impressive lung capacity.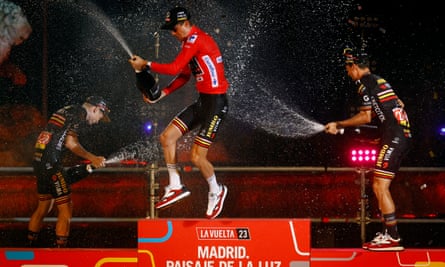 When Kuss claimed the red jersey on stage eight of this year's Vuelta, it was not anticipated that he would retain it for a significant period of time due to the upcoming individual time trial on stage 10. The top contenders before the race were known to excel in time trials; Remco Evenepoel is the current world champion, while Primož Roglič holds the Olympic title. Additionally, Jonas Vingegaard secured victory in this year's Tour with a dominant performance in the time trial stage. It was expected that Kuss could potentially lose up to three minutes to Evenepoel in a distance of just over 25 kilometers.
Kuss managed to minimize his time loss to only 1 minute and 15 seconds behind Evenepoel on the stage, securing a remarkable 13th place. He finished just 11 seconds behind Vingegaard and less than 90 seconds behind Italian time trial expert Filippo Ganna, who won the stage with his impressive performance. Kuss later joked that this was the first time he completed a time trial without being overtaken by another rider.
What makes Kuss stand out among other riders is his uncommon demeanor. Unlike LeMond and Armstrong, who had a strong dislike for each other, Kuss is laid-back and easy-going. He is well-liked among his fellow riders and is often seen with a smile on his face. Throughout most of the race, Kuss seemed to be enjoying his position and was not worried about when it would come to an end.
During his two Vuelta stage triumphs – the first in 2019 and the recent stage six win that kickstarted his GC challenge – Kuss slowed down in the last kilometer to greet and high-five fans on the roadside barricades. After crossing the finish line, he celebrated by spraying champagne at the crowd, a customary gesture. While most cyclists only take a small sip due to dehydration and exhaustion, Kuss took a 14-second chug, reminiscent of a typical college student. Cycling is often described as a sport of suffering, but it can also be enjoyable at times.
Kuss gained a strong following not only for his likable personality, but also for his relentless efforts as a helper for Roglič and Vingegaard. His impressive performances as a supporting rider and evident climbing abilities resulted in the creation of the "GC Kuss" meme on cycling Twitter, symbolizing the desire for the powerhouse team to eventually promote its top backup member to a leading role.
Despite unlikely circumstances, it finally occurred. Kuss emerged as the victor in his stage from the breakout group, gaining significant time on the other contenders in the general classification and maintaining his lead throughout. Even when Evenepoel faltered and fell behind by 27 minutes on the Col du Tourmalet stage, the only potential obstacles to a Kuss triumph were his own teammates: Roglič and Vingegaard.
Both Roglič and Vingegaard were motivated to surpass Kuss. They are competing against each other for top position at the 2022 Tour de France, and a win by either rider would secure their second grand tour victory of the season. This feat has only been accomplished by Chris Froome and Alberto Contador in the 21st century.
During stage 17 on Alto de L'Angliru, there was a moment where it appeared the impossible would happen. Roglič, allowed to chase after the stage win, left Kuss behind and instead of helping him catch up, Vingegaard went after Roglič. Despite being caught by Mikel Landa of Bahrain-Victorious and being paced to the top of the climb, Kuss managed to hold onto his race lead by a slim margin. In his usual fashion, Kuss apologized to his Spanish rival for beating him in the sprint to the finish line and claiming four bonus seconds.
There was a strong public reaction when the Vuelta returned to its most infamous climb in 2020. At that time, the exhausted Roglič was struggling to keep up with competitors Richard Carapaz and Hugh Carthy. Meanwhile, Kuss, the only remaining support rider in the leading group, had given up his chance for a stage win in order to help his struggling team leader. This situation was reminiscent of past races where Roglič and Vingegaard had achieved six grand tour victories with Kuss on their team, and had never managed to finish on the podium without him.
During the last two mountain stages, the Jumbo-Visma team remained united and finished stage 20 by crossing the finish line arm-in-arm. In an article by Adam Becket of Cycling Weekly, it was speculated that the criticism surrounding the Angliru incident may have influenced Jumbo-Visma to have Kuss lead instead of allowing their top riders to compete against each other.
After facing frequent conflicts with the European cycling authority, LeMond and Armstrong have now received an overwhelming amount of support for their American counterpart who not only achieved victory, but is also admired for it. After six seasons of being a crucial part of the team but not receiving enough recognition, he is finally getting the recognition he deserves. Unlike Horner in 2013, he is still young enough to maintain his success for years to come and there are also many talented American cyclists following in his footsteps.
Source: theguardian.com