Felix Jones is set to become the new assistant coach for England and a hidden weapon for the Springboks.
A
The players of South Africa speak highly of their coach. According to full-back Willie le Roux, he is an exceptional coach and it is an honor to work with him. Kwagga Smith, another teammate, shares the sentiment, describing him as both a great coach and person. They credit him for improving their skills as Springbok players.
Surprisingly, the individual they are discussing is not Rassie Erasmus or Jacques Nienaber, but rather 36-year-old Felix Jones. After the World Cup, Jones will be leaving his current team to join England's management staff. Although not related to Eddie Jones, he is not widely known in his home country of Ireland. However, if South Africa defeats New Zealand at the Stade de France this Saturday, his coaching resume will boast two World Cup final wins and a series victory against the British & Irish Lions in 2021.
It is no surprise that Steve Borthwick was eager to bring him onto his team of advisors for England, especially with Kevin Sinfield set to leave after the World Cup. While Jones has not officially stated his role with England, his strong work ethic is undeniable. "I have never seen him without his laptop," Le Roux mentions. "He assists us with our offense, our strategic plays, and the backs… I believe the Springboks will truly feel his absence."
In 2015, Jones was a back three player for Munster and Ireland, earning 13 caps. Unfortunately, a neck injury ended his career at the age of 28. However, he has since become known as a forward-thinking coach with a strong attention to detail. Smith praises his ability to analyze even the smallest details, saying "He really delves into the details. You may think you have a good pass until he shows footage and teaches you how to improve."
Jones, who is alert and clever, comes from Dublin but it was in Munster where he gained a new perspective on rugby. He credits Rodd Penney, a New Zealander, as a key influence in changing his approach to the game. However, it was his connection with Erasmus and Nienaber during their time at Munster from 2016 to 2017 that greatly accelerated his coaching journey.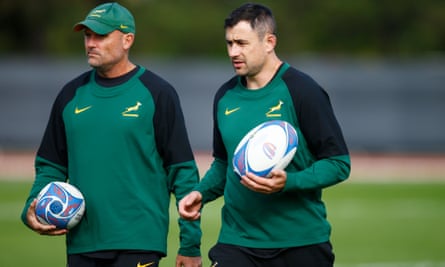 Moving to the recent Saturday, all three individuals were faced with the most difficult challenges one could imagine. Despite being in the lead and dominating the game, England was ultimately outplayed by South Africa's substitution tactics, superior scrummaging skills, and strong team mentality. Jones openly acknowledges that working with Erasmus and Nienaber has been a learning experience. They approach things in a unique manner that often offers a different perspective that most people wouldn't consider. All ideas are discussed and a plan is formed through collaboration. If everyone agrees, it's great. However, if someone presents a better plan, it is ultimately chosen. This process is always enjoyable.
Balancing the needs of his young family and his position with the Springboks has not always been simple in terms of logistics, but a win this weekend would make the sacrifices worthwhile. He is also thankful to South African rugby for causing him to reevaluate certain aspects of the sport. "There are specific elements that have truly altered my perspective. For instance, winning collisions is actually a skill. I believe it is often seen as just people hitting each other, but there is actually a great deal of strategy involved."
After successfully executing a "jail break" against England, as described by former South African captain John Smit, the immediate challenge for the team is to rise to the occasion this weekend. The starting lineup for the Springboks will be confirmed on Thursday and coach Jones is not worried about the fitness of hooker Bongi Mbonambi, who has already played 160 minutes of intense knockout rugby. Jones believes that any player preparing to play in a World Cup final will not complain about their playing time and will be ready to compete.
Meanwhile, Le Roux clarified that his post-game celebrations last Saturday were not intended to offend any English players. He explained that he was simply overjoyed after winning the World Cup semi-final and there was no malice involved. While some English players may have been briefly upset, Le Roux quickly reassured them that there was no disrespect intended.
Source: theguardian.com