Jamie Shillcock maintains his composure to successfully kick Leicester to an exciting win against Bath.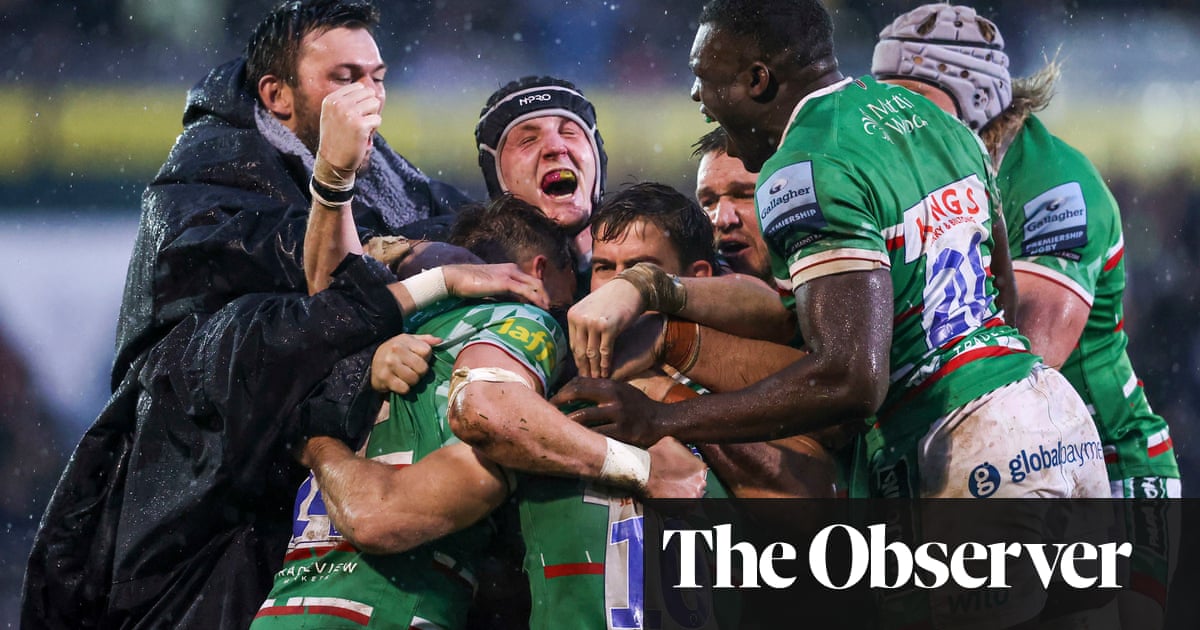 In the end, Leicester's Jamie Shillcock came out on top in an exciting battle against Bath's Finn Russell as the two fly-halves faced off. With the clock winding down and rain pouring, Shillcock confidently kicked a penalty through the posts, earning the Tigers a crucial victory and lifting them from the bottom of the Premiership standings.
Leicester's season has begun with a strong performance from Shillcock, who converted six penalties and a conversion. This was achieved before the return of their international players. Though they did not win, they earned a bonus point and Johann van Graan's Bath remains at the top of the rankings, with Exeter close behind by only one point. Bath was almost able to secure their third consecutive win, but fell short in the final seconds.
When asked about his thoughts before making the crucial kick, Shillcock admitted to feeling panicked and then relieved when it successfully went over. He also mentioned that it was the best kick he had made that day and that it was a nice change to win a game in the final moments instead of losing.
At the start of the game, a strong downpour began and it was clear that it would be a tough afternoon. It didn't seem like the perfect conditions for Russell to demonstrate his impressive abilities, but he made the most of a great attacking opportunity from a scrum by accurately kicking the ball to Will Muir. Despite the wet conditions, Muir did an excellent job of holding onto the ball and scoring a try.
Russell was unable to make the conversion, leading to Shillcock taking advantage and punishing Bath with a 50-meter penalty. This was due to a neck-roll committed by Ben Spencer on Tommy Reffell, who had returned from playing in the World Cup for Wales. Later, when a scrum penalty was given right in front of the posts, Shillcock capitalized once again, while Russell missed a long-distance drop goal just before the end of the first half. As a result, Bath found themselves trailing by one point.
At the start of the second half, the captain of the home team, Josh McNally, committed a penalty by stepping into a ruck on the halfway line. The referee, Jack Makepeace, punished Bath by moving them back 10 meters and Shillcock, who joined Bath on a temporary contract after Worcester's downfall last year, successfully converted four penalty kicks in a row.
Russell quickly responded with another well-executed kick, and a strong offensive lineout resulted in Bath scoring their second try. This was made possible after Leicester's Harry Wells received a yellow card. Despite Bath being in a good position near the tryline, Makepeace chose not to award them a penalty try when the lock went off his feet. However, South African prop Thomas du Toit managed to score from close range for his first Premiership try. Russell successfully converted the try, giving Bath a six-point advantage. This lead became even more important when Shillcock missed a kick for the first time.
The precipitation intensified and although Leicester's defense against a maul was strong, Bath struggled against a precise catch and drive by the Tigers. Charlie Clare scored a try and Shillcock successfully converted, putting Leicester back in the lead at 18-19. Russell, who ultimately kicked four penalties and one conversion, briefly gave Bath the lead with a penalty, but Shillcock remained composed and secured the win for Leicester with another penalty at the 75-minute mark.
After Joe Powell of the Tigers was accused of obstructing Russell during a chip ahead, the Scotland player successfully made a straightforward kick, causing the Bath fans to erupt in cheers with less than two minutes remaining. However, the excitement did not end there. Bath's Jaco Coetzee fumbled the restart, allowing Leicester to earn a scrum penalty, which was then converted by Shillcock.
"The ups and downs of rugby can be emotionally taxing," remarked Van Graan. "We were in the lead with only one minute remaining, but unfortunately we fumbled the kick-off. Then, there was a decision made at the scrum and they were able to kick it over for the win."
Winning or losing one game does not determine the overall success or failure of our team. While we may be disappointed, we will continue to progress and move forward.
Source: theguardian.com