Tonight's TV lineup features a bittersweet and comical farewell to Ghosts.
Ghosts 8.30pm, BBC One
"It feels like just yesterday when they first arrived here, and we were eagerly anticipating their departure!" It's the conclusion of the popular comedy series, and the captain and co-captain have until the end of the day to persuade Alison and Mike not to sell Button House. However, with Robin and Pat arguing over their crush on the weather presenter, Kitty accidentally revealing the gender of Alison's baby, and Fanny struggling to be cordial to the living residents, their task is not an easy one. We will surely miss this quirky group. Looking forward to the Christmas special! Hollie Richardson
Unreported World
7.30pm, Channel 4
Krishnan Guru-Murthy interviews Taiwanese citizens who are receiving training in weapons handling and life-saving techniques in preparation for a potential attack by China. This group, known as "preppers", consists of 1.6 million individuals and is dedicated to learning urban combat skills as a response to Beijing's threat of forcibly unifying with Taiwan.
Beechgrove Gardens in Winter
7.30pm, BBC Two
As the weather changes, there are many tasks to be completed in the garden. Scott Smith is taking care of a yew hedge, while Lizzie Schofield is enjoying the fruits of her labor in her summer garden. It's a bit chilly but still brings joy. Hannah Verdier
The Last Leg
10pm, Channel 4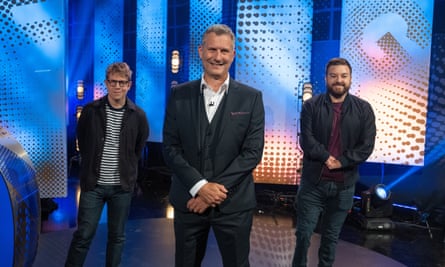 The 29th season of Adam Hills, Josh Widdicombe, and Alex Brooker's news comedy show begins with special guests Jon Richardson and Desiree Burch. Despite the current state of world affairs, the show offers some much-needed humor.
Breeders
10pm, Sky Comedy
Much as they might imagine themselves to be separating, Paul and Ally's lives are too intertwined to make that easy. In a situation touchingly familiar to many people, they are now effectively parenting Paul's mum and dad, Jim and Jackie. The chemistry between Martin Freeman and Daisy Haggard keeps this comedy easy viewing. Phil Harrison
The Graham Norton Show
10.40pm, BBC One
After releasing his most recent album, The Love Album: Off the Grid, and performing with Giggs at a special show in London's Shepherd's Bush Empire this week, Diddy returns to Norton's couch for another interview. HR
Source: theguardian.com