Do you agree that Tom Holland is not suitable for the role of Link? Who would you choose to be in your ideal cast for a movie adaptation of The Legend of Zelda?
T
The popular video game series, The Legend of Zelda, is being adapted into a live-action movie. The internet is buzzing with suggestions for actors to play iconic characters like Link, Princess Zelda, Ganon, and the handsome half-fish prince who captured everyone's heart earlier this year.
We, the team at the Guardian, have created our own ideal cast for the upcoming film. (And rest assured, we did not hastily choose Tom Holland to play Link like everyone else.)
The lack of information makes it challenging to imagine the potential cast for the Zelda movie. Currently, we have very little knowledge about the storyline or which of the 19 canon games will serve as its basis.
Based on the immense popularity of the last two releases in the franchise, Breath of the Wild and Tears of the Kingdom, it is probable that the upcoming film will heavily feature characters from those games.
Who is the appropriate person to portray them?
The renowned enchantress: Lady Gaga
Although there are actually four great fairies in BotW and TotK, an amalgamation of these powerful and delightfully camp guardians would make a great cameo when our hero, Link, is in need of healing and magical help. Look no further than the pop superstar turned Oscar-nominated actor Lady Gaga: her striking, bold style fits the fairy's aesthetics like a glove. Plus, we know from her roles in A Star is Born and American Horror Story that she can play compassionate and terrifying as needed.
Beedle: Nathan Fielder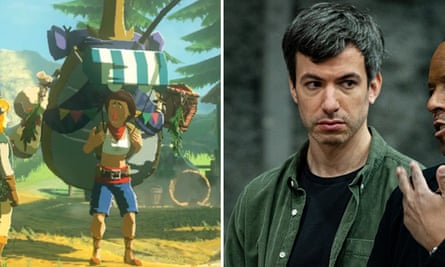 The role of the travelling salesman in the chaotic world of Hyrule requires a talented comedian to provide some much-needed comic relief. This character will make several brief appearances, making it essential to find a skilled actor.
Nathan Fielder, the eccentric and charmingly off-putting protagonist of Nathan for You and the Rehearsal, fits the bill perfectly. Just imagine him haggling over the price of a fireproof lizard with a desperate Link.
Teba: Fabien Frankel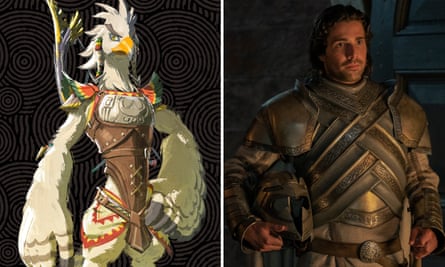 I would love to see Teba or Revali, his serious predecessor, in the Zelda movie – perhaps rescuing Link from danger or joining him in the action. Fabien Frankel, who gained recognition for his portrayal of the bitter Sir Criston Cole in House of the Dragon, would be a great fit for either character with his strong on-screen presence and attractive appearance. However, it remains to be seen if we will even get to see his defined facial features under all the feathers.
Sidon: Chris Hemsworth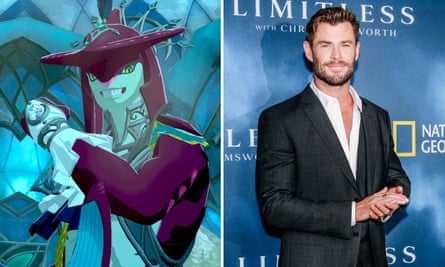 Sidon, a prince who is half shark and half human, unexpectedly became a heartthrob in the game Breath of the Wild. This caused many fans to shed real tears upon realizing that he was now officially engaged. Let's be honest, his charming and overconfident personality only adds to his likability. It's hard to think of anyone better than the original Australian himbo, Chris Hemsworth, to portray Link's self-proclaimed best friend.
Impa mentions Lori Tan Chinn.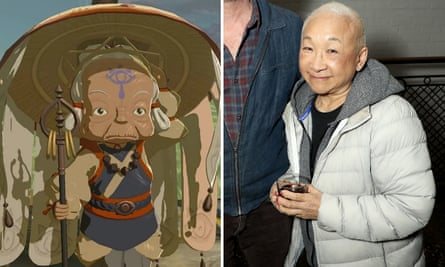 If the Zelda movie is set during the time when Impa is the mischievous and knowledgeable elder of Kakariko Village, we believe that Lori Tan Chinn from Awkwafina Is Nora from Queens and Orange is the New Black would be an excellent choice. Her comedic skills would add energy to the lengthy discussions about history that Impa is typically responsible for.
Ganon: Jason Momoa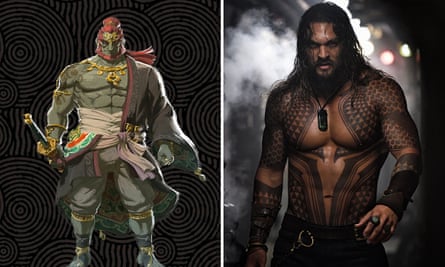 Moving on to the main event… Ganon needs to be both evil and physically imposing, so why not cast the incredibly handsome and talented Jason Momoa? His charisma will make it believable that our heroes could be deceived by him, before his ultimate and devastating betrayal.
Zelda: Zendaya
Zendaya, a highly skilled actor who is so famous she doesn't require a surname, portraying a legendary princess who is also known by just one name. It's a perfect combination.
However, in all seriousness, Zendaya's self-assurance and talent for portraying vulnerable geniuses would make her an ideal choice for the role of Zelda. While she may have a busy schedule with upcoming projects such as the Dune movies and the (undeserved) third season of Euphoria, the premise of the Zelda games involves Zelda being kidnapped at the beginning, so her on-set time would be minimal. Let's go, Zendaya!
Link: D'Pharaoh Woon-A-Tai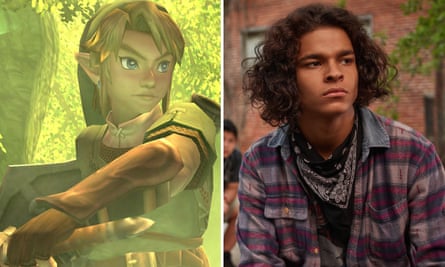 I disagree with the idea of Tom Holland portraying Link. Our hypothetical lineup for the cast does not include him, and instead, a promising up-and-coming actor would be a great fit for the lead role.
We have chosen D'Pharaoh Woon-A-Tai to play the role of Link, as he received high praise for his performance as Bear Smallhill in Reservation Dogs. He has the ability to capture the quiet, troubled, and loyal nature of Link, while also bringing the necessary charm and humor as the main character finds his voice in the live-action version.
Additionally, casting a First Nations actor (Woon-A-Tai, who is of Oji-Cree, Chinese-Guyanese, and German descent) as Link would bring a fresh perspective to his struggle to defend Hyrule and his complex dynamic with Zelda, the ruler he is sworn to protect.
Source: theguardian.com