The transportation of goods between Melbourne and Sydney by rail accounts for only 2%, which poses a threat to Australia's emission goals.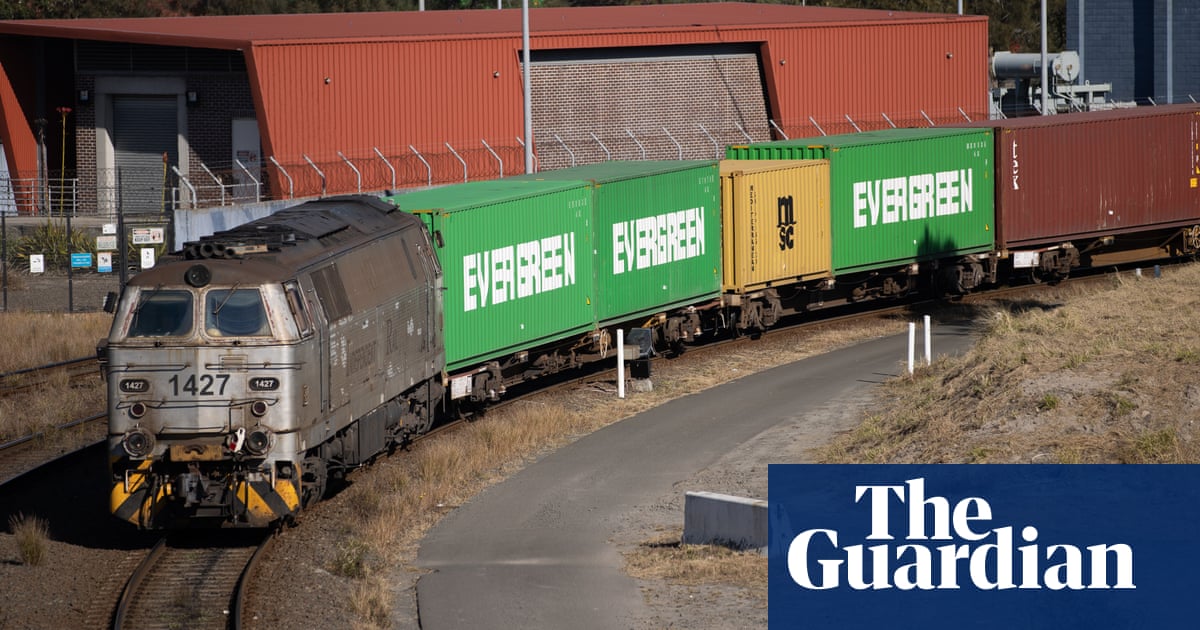 The transportation of goods via rail in Australia has significantly decreased, making it difficult to meet emissions goals without implementing measures to reduce the country's heavy and environmentally damaging truck usage, according to industry experts.
According to recent research from the Australasian Railway Association (ARA) and the Freight on Rail Group, a coalition of operators, the percentage of non-bulk freight, which includes items such as manufactured goods, produce, post, food, and beverages, being transported by rail in Australia has decreased to 17% overall and 11% along the eastern seaboard.
According to the Bureau of Infrastructure and Transport Research Economics, only 2% of freight is transported by rail between Melbourne and Sydney, a significant decrease from the 40% that was transported by rail in the 1970s.
The rise in popularity of trucking coincides with a lack of investment in tracks along major corridors and substantial spending on roads, allowing for larger B-doubles to complete important trips more quickly.
The ARA and companies that transport goods by train, such as Pacific National, Qube, and Aurizon, have requested for goals to be set in order to boost the percentage of freight transported by rail. They are also advocating for investments in rail infrastructure, including tracks, intermodal terminals, and digital train controls, as well as for simplifying regulations.
They are also requesting a raise in the fees for heavy vehicles on the road to compensate for the harm they create.
Train transportation is considerably slower (by about 30%-40%) compared to road transportation. The rail industry has suggested that in order to compete with trucks, the total cost of shipping, which includes transportation from start to finish, should be reduced by 20%-40%.
However, the research found that for each 1% of freight shifted from truck to rail nationally, an average of $71.9m would be saved annually in terms of environmental damage, road conditions and pollution-related health outcomes. It would also reduce CO2
On average, there was a decrease of 330,000 metric tonnes.
The industry estimates that there are approximately 700,000 round-trip journeys made every year between Sydney and Melbourne by B-double return trucks. According to the industry, one freight train can replace up to 41 B-doubles, which consist of a truck pulling two semitrailers, for each trip between a port.
Although rail transportation is still commonly used for transporting large quantities of goods, the lack of maintenance over the years has resulted in poorly-maintained tracks for non-bulk freight between states.
Due to severe flooding last year, critical routes were inaccessible for several months, causing freight transportation from the east to the west coast to detour through Melbourne, resulting in a 16-hour increase in travel time.
The lack of adequate investment has resulted in the majority of rail freight in Australia being powered by diesel, which reduces the potential environmental benefits of shifting freight from diesel trucks to electrified tracks seen in other countries.
As the demand for freight in Australia continues to increase, there is a push for better cost-benefit analysis techniques to be used in evaluating transportation options. This will ensure that the true impact of trucking, including social, environmental, and health costs, is accurately reflected.
The report stated that keeping things the same will not be enough to meet the increasing demand in the future. For a long time, efforts to increase rail freight have been hindered by policies that restrict its productivity and efficiency, despite the considerable benefits it provides.
This is no longer a viable choice for the economy and society of Australia. In order to achieve a net zero future, we need to implement significant and meaningful changes in our operations to reach emissions reduction goals and establish a sustainable transportation system.
According to Caroline Wilkie, the CEO of ARA, our transportation of goods is a major and increasing responsibility. We require a strong, dependable, and effective national railway network to uphold the economy and society.
According to Michael Caltabiano, CEO of the National Transport Research Organisation, utilizing freight rail more could result in significant economic and environmental advantages.
He stated that the absence of dependable infrastructure, insufficient emphasis on efficiency, and varying standards and regulations throughout the continent are hindering progress.
Source: theguardian.com