The current weather conditions in China are experiencing an unusual drop in temperature, resulting in a large amount of snowfall.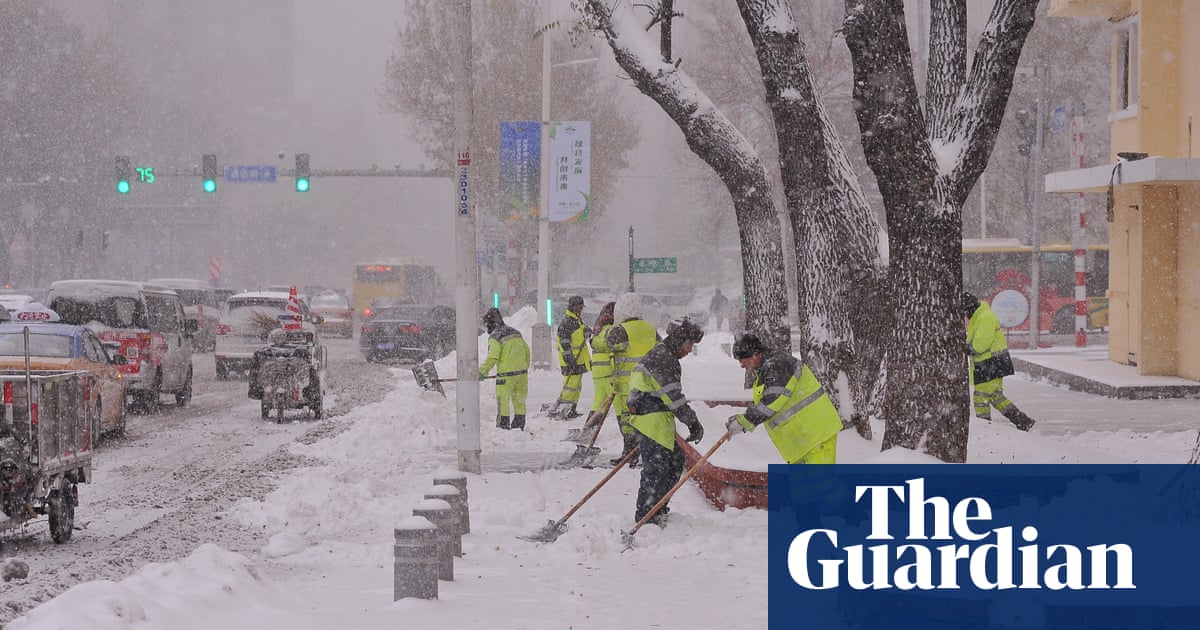 L
A low pressure system formed in eastern China on Sunday and moved towards the northern coast of the Sea of Japan on Monday. As this low pressure system moved west, it brought cold air from the north-eastern region of China, causing heavy snowfall in a wide area.
More than 30cm of snow is expected across higher parts of the Chinese provinces of Inner Mongolia, Jilin and Heilongjiang. Clear skies accompanying the widespread snow cover will lead to temperatures dropping significantly below normal on Tuesday.
Shenyang is predicted to have below freezing temperatures during the day and a low of -12C at night, which is 10C colder than usual for this time of year. Although there will be a brief break as southerly winds come back on Wednesday, high pressure from Siberia is expected to move southward and cover most of eastern China and nearby regions towards the end of the week. This will result in unusually cold temperatures over a wide area, with some parts of north-eastern China experiencing temperatures nearly 20C lower than normal at times.
Last week, Central America experienced the impact of Tropical Storm Pilar. The storm originated in the eastern Pacific, south of Guatemala, on October 29. Pilar then moved slowly towards the east, eventually coming to a stop near the western coastlines of Nicaragua, El Salvador, and Honduras on October 31. The heavy rainfall caused by the storm affected multiple areas in all three countries, with some areas receiving over 100mm of rain. This resulted in flash floods and landslides, and there were four reported deaths.
A cold front from the north prevented Pilar from reaching land and caused the storm to reverse direction on Wednesday. The powerful southwesterly winds caused Pilar to weaken on Sunday, far southwest of Mexico.
Over the weekend, the weather in Central America was unstable due to the arrival of a low pressure system from the east. There was a slight possibility that this system would develop into a tropical storm, but it made landfall before that could happen.
However, regions of Honduras, Belize, Guatemala, and the easternmost area of Mexico were subjected to significant rainfall and strong thunderstorms. The heavy precipitation is predicted to persist throughout the beginning of the week, with some portions of western Guatemala potentially receiving over 300mm of rain.
Source: theguardian.com