John Vaillant has been awarded the Baillie Gifford nonfiction prize for his work on wildfires, which has been deemed "highly relevant".
John Vaillant, a writer from Canada and America, was awarded the £50,000 Baillie Gifford prize for his book Fire Weather: A True Story from a Hotter World. The judges described the book as outstanding and frightening.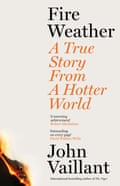 Vaillant's publication recounts the events of the 2016 Fort McMurray wildfires in Canada, while also exploring the intertwined histories of the oil industry and climate science. This book is the inaugural winner of the UK's esteemed non-fiction award, which has been presented since 1999, focusing on the pressing issue of the climate crisis.
According to Frederick Studemann, the judging chair and literary editor of the Financial Times, Fire Weather has been extensively researched and carefully narrated. It is highly pertinent to our current era and holds significant literary value. Additionally, it prompts introspection and self-evaluation.
"It is a profound and touching experience to have educated individuals who appreciate language, focus and engage with your work with such dedication," Vaillant expressed upon learning of his victory. He aspires for Fire Weather to bring awareness to the undeniable and lethal link between our desires and ambitions, and our careless use of fossil fuels. Despite relying on these fuels to maintain our current lifestyle, we are also destroying it. "We are currently in a precarious situation, and I aim to convey this message in an empowering and motivating way, not one that isolates or discourages."
Vaillant's victory occurred during a year where Baillie Gifford, the sponsor of the prize and an investment management firm, received backlash for their involvement in the fossil fuel sector. Over 150 authors and professionals in the industry signed a letter in October urging the company to withdraw their investments from oil, coal, and gas ventures.
In the month of August, a group of over 50 writers, including Zadie Smith, Ali Smith, and last year's recipient of the Baillie Gifford prize, Katherine Rundell, urged the Edinburgh book festival to discontinue their sponsorship from the company if they continue to invest in the fossil fuel industry. According to estimates by media source the Ferret, Baillie Gifford has potential investments of up to £5 billion in companies that make profits from fossil fuels.
Studemann acknowledged the situation in Edinburgh and clarified that while the investment firm has been the main sponsor of the prize since 2015 (previously known as the Samuel Johnson prize), it does not have any influence on the judging process. He stated that Baillie Gifford was given the opportunity to defend their decision in response to various criticisms. He also emphasized that this did not prompt them to choose a book on climate change. Furthermore, he expressed that he does not feel obligated or responsible towards Baillie Gifford.
During the award presentation, Nick Thomas, a partner at Baillie Gifford, acknowledged the criticism the company has received and stated that they have discussed it extensively. He refuted claims of "greenwashing" and emphasized that their investment in the fossil fuel industry is minimal. He stated that only 2% of the funds they manage are invested in this sector, which is significantly lower than the industry average of 11%. Additionally, he clarified that even this 2% includes indirect fossil fuel involvement, such as including Tesco because they sell petrol on their premises.
Vaillant responded to questions about Baillie Gifford's investments by stating that "our involvement with the petroleum industry is significant and instead of feeling remorseful, let's acknowledge and discuss it openly. One of these honest discussions is recognizing that we cannot prioritize profits and please shareholders while disregarding the tangible effects on the environment, which contribute to more severe and frequent instances of wildfires in human history".
Vaillant's book was chosen as the winner among five other finalists: Time to Think by Hannah Barnes, Red Memory by Tania Branigan, Revolutionary Spring by Christopher Clark, Time's Echo by Jeremy Eichler, and Mr B by Jennifer Homans. All of the authors on the shortlist will be given £5,000 each, an increase from the usual amount of £1,000, in honor of the prize's 25th anniversary.
According to Tanjil Rashid, a judge and journalist, Vaillant possesses a compelling mix of a "forensic investigative voice" and a philosophical outlook, delving into the themes of fire and the darker aspects of human nature.
Studemann and Rashid, along with Ruth Scurr, Andrew Haldane, Andrea Wulf, and Arifa Akbar, made up the judging panel. Scurr is a writer and historian, Haldane is the chief executive of the Royal Society of Arts, Wulf is a historian and author, and Akbar is a theatre critic for the Guardian.
Past recipients of the accolade have included Antony Beevor, Jonathan Coe, and Hallie Rubenhold. In the previous year, Rundell was awarded the prize for her literary work titled "Super-Infinite: The Transformations of John Donne."
Source: theguardian.com