In 2023, we have witnessed the devastating effects of climate change in real-time. However, wealthy nations are showing little effort to address the issue at Cop28. This is according to Saleemul Huq and Farhana Sultana.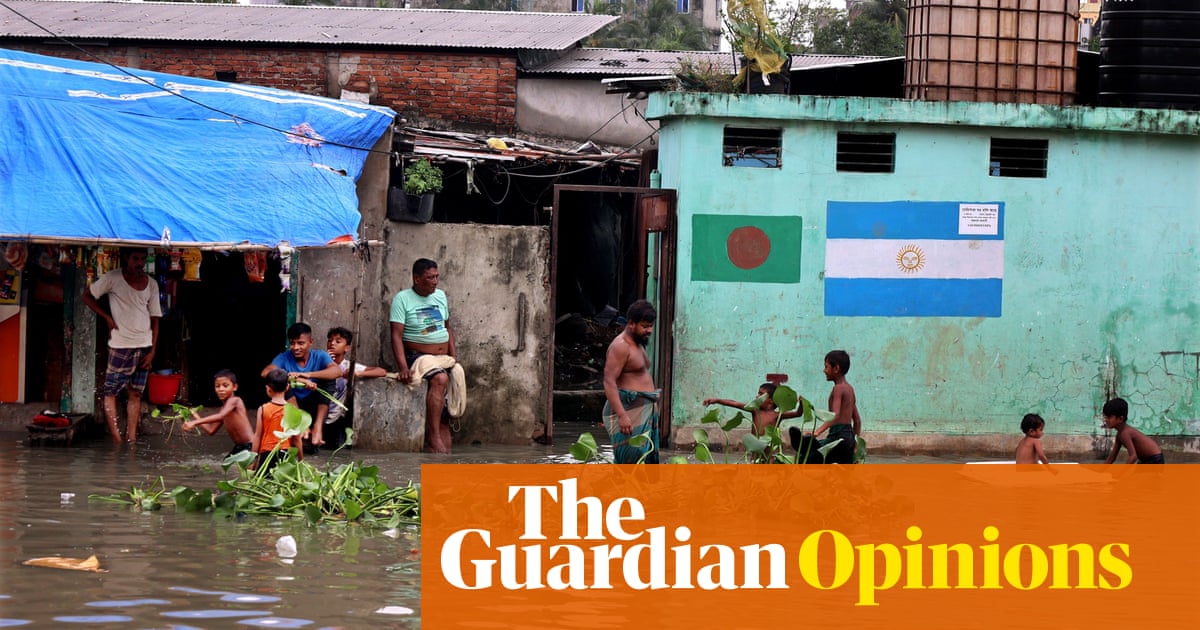 P
I collaborated with Saleemul Huq OBE on this article, which we submitted prior to his unfortunate passing on October 28th in Dhaka, Bangladesh. Huq was a visionary and dedicated leader in the fight for climate justice, a strong advocate for developing countries in climate negotiations, a champion for the marginalized, and a source of inspiration for countless individuals around the world. He continuously advocated for "loss and damage" measures, where high-emitting nations provide support to lower-emitting nations who are disproportionately affected by the climate crisis. While a loss and damage fund was achieved at Cop27, it requires passionate advocates to ensure its implementation and expansion.
The unexpected passing of Farhana Sultana is a devastating loss for the southern hemisphere and for those dedicated to fighting for environmental fairness. We express our worries about the upcoming Cop28 conference and the fate of the loss and damage initiative, and urge for stronger collaborative actions in holding ourselves accountable for climate change.
---
A
Following the recent devastating floods and wildfires, the alarming effects of climate change are becoming more and more apparent. However, despite these escalating disasters, there seems to be little motivation for taking responsible action to combat the climate crisis as the United Nations Climate Change Conference, also known as Cop28, draws near. The leaders of countries with high carbon emissions, such as the US, Canada, UK, and now China, hold a significant responsibility for the issue of climate change and must make a change in direction if we hope to prevent catastrophic consequences and address the unequal and inadequate policies currently in place.
Fortunately, the Paris Agreement has prompted numerous nations to commit and allocate funds in order to address climate change through both mitigation (reducing greenhouse gas emissions and transitioning to renewable energy) and adaptation (preparing for and mitigating the effects of climate change). There are now systems in place to monitor the distribution of these funds, ensure that commitments are being met, and track the outcomes of these efforts – all of which are important progress. However, countries with high levels of greenhouse gas emissions have fallen short of their promise to provide $100 billion annually to developing countries by 2020.
Regrettably, in numerous instances, the harm has already been inflicted. In a growing number of locations, adapting is no longer feasible – for example, where displacement, damage to ecosystems, and loss of native land due to rising sea levels have already occurred. This is the real-time manifestation of "loss and damage." For thirty years, small island states and vulnerable countries have advocated for the recognition of loss and damage in international negotiations, but to no avail. The futures of millions of people are dependent on initiatives like the UN's transition committee on loss and damage, which aims to allocate climate funds to the most impacted regions. However, the committee was unable to come to an agreement before Cop28.
Nicola Sturgeon, the former leader of Scotland, was an early advocate for implementing loss and damage measures from wealthy nations at the Cop26 and Cop27 conferences. Despite initially pledging £2m, and later adding £5m, she called on influential developed countries to take responsibility for bridging the funding gap for significant climate justice. Scotland was also among the first nations to address the concept of climate reparations, acknowledging the significance of historical accountability.
Unfortunately, the countries of the United States and the United Kingdom, along with others, have completely rejected the idea of providing reparations for climate change. It is unclear if this is due to concerns about how they would be held accountable, and the potential for legal action against them. The US, in particular, refuses to pay reparations despite being the top cumulative emitter of greenhouse gases and therefore having the greatest impact on climate change historically. This disregard for responsibility is unacceptable. The same can be said for other European colonial and imperial powers. While there is a growing focus on China's recent increase in emissions, we must not forget our shared history.
Undoubtedly, despite any promises made at Cop28, it is imperative to hold corporations accountable and take action at the local level. The fossil fuel industry is still responsible for producing, sustaining, and profiting from greenhouse gas emissions, and must fundamentally alter their approach to business. At the same time, increased efforts from local governments, community organizations, and non-profits are essential in addressing persistent and escalating climate injustices on a local level.
Taking responsibility for the climate is a joint responsibility. It involves a complex network of choices, actions, and promises. Instead of just a trendy term, it is the foundation of our efforts to combat the climate emergency.
As the time nears for Cop28, it is crucial for leaders, companies, and individuals worldwide to step up and support the fight for climate justice. Wealthy countries must prioritize providing substantial funds for loss and damage, as well as increasing efforts for mitigation and adaptation. They must also limit the impact of the fossil fuel industry on climate policies.
The fate of our planet hinges on this.
.

Farhana Sultana is a faculty member at Syracuse University's Maxwell School of Citizenship and Public Affairs located in New York.

.

Saleemul Huq served as the director of the Independent University's International Centre for Climate Change and Development in Bangladesh.
Source: theguardian.com