Australia successfully defended their title as they defeated New Zealand in a thrilling match at the Cricket World Cup.
Australia is edging closer to securing a spot in the World Cup semi-finals following an exhilarating five-run victory against New Zealand. The latter team came dangerously close to achieving the largest successful run chase in World Cup history.
Australia took control of the game with a 175-run partnership between the recently recovered Travis Head and the on-fire David Warner, resulting in a strong total of 388 in Dharamshala. However, Rachin Ravindra's (116) second World Cup century kept the Black Caps in the running, with Jimmy Neesham (58 off 39 balls) providing a fierce and impactful performance as the last recognized batsman.
Neesham, who was brought in as a substitute for the injured Mark Chapman, was given the challenge of scoring 19 runs in the last over to secure a memorable win and once again cast doubt on Australia's chances of advancing. In his second delivery, Mitchell Starc bowled a wide ball that went past wicketkeeper Josh Inglis for an additional four runs.
The potentially costly mistake improved the Kiwis' equation from 18 runs off five balls to only 13 from as many, and the Black Caps lifted from the dugout. But the Australians put their bodies on the line in the field as the final over intensified and the Kiwis were unable to find the boundary.
Neesham was unsuccessful in his attempt to return for a second run after hitting Starc's second to last delivery to deep midwicket. He was ultimately run out by Josh Inglis at the striker's end. This resulted in Australia winning the game, with Lockie Ferguson unable to hit the required six off the last ball.
After losing their first two matches in the tournament held in India, Pat Cummins' team has now won four consecutive games. Even if they lose one more, they are expected to advance to the knockout stage. Australia is now considered the top choice in their remaining three group-stage matches against a struggling England, as well as Afghanistan and Bangladesh.
After recovering from a hand injury, Head made his first appearance in the World Cup and scored 109 runs. He teamed up with fellow Australian Warner, who was in top form and scored 81 runs, to take advantage of the decision by the Kiwis to have Australia bat first. Their partnership had a run-rate of 9.13, making it the quickest for an opening duo scoring over 150 runs in an ODI. This surpassed the record set by Bairstow and Roy with their 159-run partnership against Pakistan in Bristol in 2019, which had a run-rate of 9.08.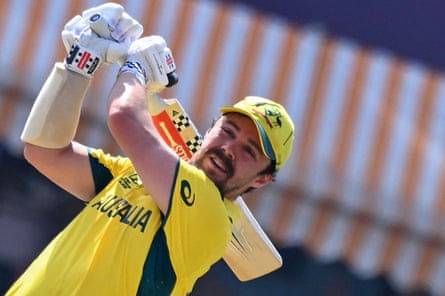 Matt Henry, the Kiwi fast bowler, unintentionally helped to start Head's excellent innings by bowling two consecutive no-balls in the third over. Head took advantage of the free hits and hit both for six, achieving the fastest half-century of the tournament with 50 runs off 25 balls. Warner was close to making history as the first Australian to score a century in three consecutive ODIs, falling just 19 runs short.
Glenn Phillips, a part-time off-spinner, was the standout bowler for the New Zealand team with figures of three for 37. They managed to restrict Australia to 99 runs for five wickets after a strong start, thanks to spin bowling. Phillips played a crucial role in breaking the partnership between Warner and his own wicket in the 20th over.
Similar to how Australia outperformed the New Zealand fast bowlers, Ravindra capitalized on the unremarkable Dharamshala pitch, which provided little challenge for Australia's top-notch pace attack. He reached his century by hitting Glenn Maxwell for a six over deep midwicket and was lucky to survive shortly after when Maxwell dropped him off his own bowling, leaving him disappointed.
Adam Zampa's impressive performance of taking three wickets for 74 runs prevented Ravindra from establishing a stable partnership. He first got rid of the dangerous Daryl Mitchell, who had scored 54 runs, and then became the leading wicket-taker in the tournament with a total of 16 wickets.
Late cameos from Cummins (37 off 14 balls) and Maxwell (41 off 24) reinvigorated the Australians in their innings and were vital after the run chase proved unexpectedly close.
Source: theguardian.com