Australia can finally relax as the Cricket World Cup gains momentum, according to Geoff Lemon.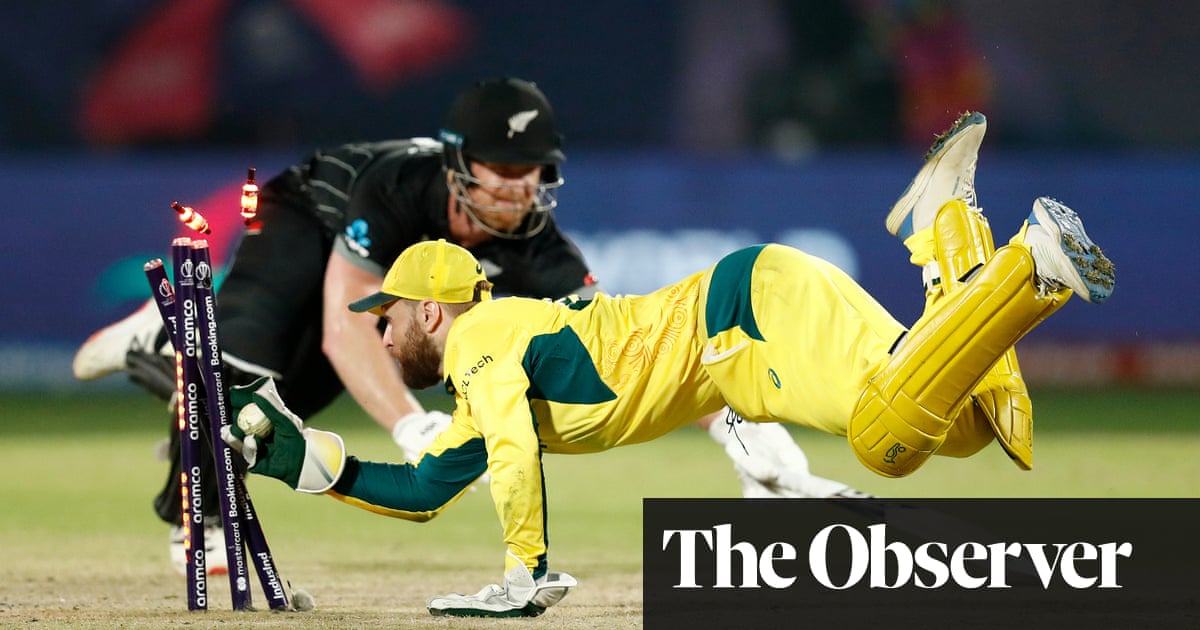 F
After three weeks of strictness during the World Cup, there were finally a few games where the focus was solely on the match. Up until now, aside from the uplifting victories of the underdog teams Netherlands and Afghanistan against more experienced teams, there have been fewer narratives and more discussions about what a win or loss means, how it impacts the standings, and how the standings impact the overall tournament.
There have been some notable individual displays, but a noticeable absence of competitive intensity. Meanwhile, the home fans are treated to the spectacle of India touring from one city to another, almost like a moral lesson on wheels, systematically defeating each opponent for the satisfaction of the crowd.
Over the course of two nights, the competition took center stage. Just like in their previous match against the Netherlands, South Africa transformed from a dominant team, scoring 400 runs while batting first, to a hesitant one, struggling to reach 250 runs while batting second. Keshav Maharaj played a crucial role in helping his team secure victory, even though they were down to their last nine wickets.
Haris Rauf, much like Wahab Riaz before him, is becoming a pitiable figure in the world of bowling. He passionately appeals for the final wicket, only to have it denied by the umpire. Upon review, it is revealed that the ball was just barely grazing the leg stump, with a 49% chance of dislodging it from the ground.
On Saturday in Dharamsala, it was Jimmy Neesham's chance to play in a way that evoked emotions from the audience, much like he did during the 2019 final. Unfortunately, despite his impressive performance with both batting and bowling, luck was not on his side and the tournament's tiebreaker rules proved to be a hindrance.
The recent match between Australia and New Zealand was truly remarkable. Australia set a high score of 389 for New Zealand to beat, a feat that has only been achieved once in South Africa's well-known 438 game in 2006. New Zealand came very close to reaching the target. With 78 balls left, Neesham entered the game at No 7 with a required score of 124. As the game progressed, the required score became more manageable with 58 balls left and 96 runs needed. Despite the team's best efforts, they fell short with 69 runs needed from 39 balls when Ravindra's impressive innings ended, followed by Santner's top edge catch with 43 runs needed from 20 balls and Henry's caught out with 19 runs needed from the last over. With only Boult left to bat and Ferguson injured, New Zealand's chances of winning were slim.
A little while ago, Neesham hit Mitchell Starc for a flawless lofted drive over cover, followed by a six over long-on and a four through the midwicket gap from Josh Hazlewood. Starc began the last over with five wide deliveries. It appeared to be a delayed compensation from the universe for Neesham, reducing his required runs to 14 from six. He managed to hit the ball into a gap twice, but the Australian fielders made impressive plays that turned four runs into two.
Rephrased: Despite needing only seven runs from two balls, the player received a full toss as his last opportunity, but he did not hit it cleanly. As he attempted to take a second run, he was run out by a fielder in the deep. This moment, in which the player was left face down on the ground, added to his previous struggles in the game and ultimately sealed their defeat. The final result was confirmed when Ferguson was unable to hit a six on the first ball, as expected.
The Australians let out a big sigh of relief. They should have easily won the game, but there are still a few areas that need improvement. One is their batting in the middle of the game, and the other is their bowling in the beginning.
In the previous game, their combined score of 388 should have been higher than 400, considering the strong start provided by David Warner and Travis Head. Warner has been in great form, attacking and hitting almost every shot perfectly, in recent warm-up and team matches. Head, who has been sidelined with a broken hand until this week, came in and hit the ball just as cleanly.
A partnership of 175 runs in just 19 overs is reminiscent of a video game. However, after being shifted to first drop to make room for Head's return, Mitchell Marsh only managed to score 36 runs from 51 balls, facing part-time spin as if Glenn Phillips was legendary bowler Jim Laker. Additionally, Marnus Labuschagne struggled to get going. After Head's dismissal, Australia only added 67 runs in the next 14 overs before late momentum was regained through the powerful hitting of Glenn Maxwell, Josh Inglis, and Pat Cummins. The tenth wicket eventually fell in the final over.
The period of low energy during the middle of the day seemed like it would be detrimental to Australia's chances, as Ravindra took a more aggressive approach during the middle overs with skilled finesse after New Zealand's top order had a speedy start. Despite taking three wickets quickly against India at the beginning of the World Cup, Australia's opening bowlers have not been effective.
The match against India saw a 164-run partnership that began in the third over. South Africa's opening stand was 108, Sri Lanka's was 125, and Pakistan's was 134. Changes in spin and mid-innings pace were responsible for slowing down some of these games. New Zealand had a strong start with 168 runs for two wickets, but only scored 73 runs in the first 10 overs.
Australia emerged victorious in a traditional game, however, there are still four group matches to play before the elimination rounds, indicating that there is more progress to be made.
Source: theguardian.com