The report warns that billions of people's health is in danger due to global warming, resulting in a loss of lives.
A prominent report has stated that the health and survival of billions of individuals will be severely impacted by the climate crisis, unless global efforts are made to decrease rising temperatures. The report also highlights a sharp increase in heat-related deaths, the spread of harmful bacteria along coastlines, and negative effects on economies as people struggle to work and food production decreases.
The Lancet Countdown team's eighth annual report on health and climate change reveals that previous warnings have been largely ignored. The report highlights that the world is currently heading in the wrong direction and strongly condemns the ongoing support for fossil fuel investments.
As Cop28 gets ready to host its inaugural Health Day, the report highlights the connection between the climate emergency and human well-being.
According to the report, there has been an increase of 127 million people experiencing moderate or severe food insecurity in 2021 compared to the past thirty years. This puts them at risk for malnutrition and long-lasting health issues. Deadly illnesses such as dengue, malaria, and West Nile virus are spreading, while warmer seas have caused the spread of water-borne vibrio bacteria along the coast at a rate of 204 miles (329km) per year since 1982. This puts 1.4 billion people in danger of developing diarrheal diseases, severe wound infections, and sepsis. The rise in air pollution, exacerbated by heatwaves, is also contributing to an increased risk of respiratory and cardiovascular diseases, cancer, diabetes, neurological disorders, and negative pregnancy outcomes.
The report states that since the 1990s, there has been an 85% increase in heat-related deaths among individuals over the age of 65, who are more susceptible. Additionally, the population growth would have led to a 38% increase in these deaths even without the rise in global temperatures. The report also notes that the highest global temperatures in over 100,000 years were recorded in 2023.
According to a group of 114 experts from 52 research institutions and UN agencies, the current average temperature increase of 1.14C above pre-industrial levels is already having a significant impact on the well-being and health of individuals globally. However, this may just be the beginning of the impending catastrophe.
According to Dr. Marina Romanello, the executive director of the Lancet Countdown at University College London, our analysis of health data shows that the effects of climate change are causing harm to people and their means of living on a global scale. Predictions of a 2 degree Celsius increase in temperature paint a worrisome picture for the future and serve as a stark reminder that current efforts to reduce the impact of climate change are not enough to protect human health and safety.
Not taking action has a severe impact on human lives. We cannot continue to be disengaged as the consequences are dire. Every delay makes it harder to achieve a livable future and increases the challenges and costs of adaptation.
The estimated economic losses caused by extreme weather events in 2022 were valued at $264 billion, which is a 23% increase compared to the years 2010-2014.
According to recent forecasts from the Climate Vulnerable Forum, a rise of 2 degrees Celsius in temperatures could result in a 370% increase in heat-related deaths and a 50% increase in lost work hours by the middle of the century. In the next 20 years (2041-2060), approximately 525 million individuals may face moderate to severe food insecurity, putting them at risk for malnutrition.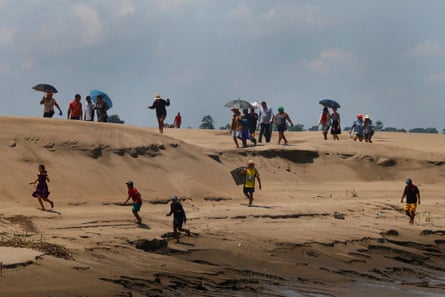 The Secretary-General of the United Nations, António Guterres, stated that there is no justification for postponement. He emphasized that the world is currently experiencing a catastrophic situation, with billions of people at risk due to extreme heat, droughts causing crop failures, increasing hunger, outbreaks of infectious diseases, and severe storms and floods.
Dr. Georgiana Gordon-Strachan, the leader of the Small Island Developing States division of the Lancet Countdown, denounced wealthier countries for failing to uphold their promise to provide $100 billion annually to support nations at risk in addressing the effects of the climate emergency.
"We are currently dealing with a double crisis," she stated. "Individuals residing in underprivileged nations, who typically bear the least responsibility for producing greenhouse gas emissions, are suffering the most from the health consequences. Unfortunately, they have the least resources and technological capabilities to combat the deadly storms, rising sea levels, and droughts that are exacerbated by global warming."
According to the report, there is a rise in investment, lending, and government incentives for expanding fossil fuel industries.
According to the report, there are indications of improvement. The number of fatalities caused by air pollution from fossil fuels has decreased by 16% since 2005, largely due to initiatives to decrease coal-based pollution. Worldwide funding for clean energy increased by 15% in 2022, reaching $1.6tn and surpassing investment in fossil fuels by 61%. Renewable energy was responsible for 90% of the growth in electricity production in 2022.
Source: theguardian.com