The Reconstruction of Paradise: Five Years After California's Most Deadly Fire
Dani Anguiano, a reporter for Guardian US, describes to Hannah Moore the sudden arrival of a destructive fire. The scene was engulfed in darkness, filled with smoke, and unbearably hot. Unfortunately, the people in the area were caught off guard and received no prior warning.
The wildfire known as the Camp Fire started on a warm November morning in 2018. The cause was determined to be a transmission line owned by Pacific Gas & Electric (PG&E) located on Camp Creek Road, which ignited the fire and rapidly spread throughout the county. This tragic event resulted in the loss of 85 lives and the destruction of approximately 90% of structures in the town of Paradise.
Hannah speaks with Dani Anguiano and Alastair Gee, the writers of Fire in Paradise: An American Tragedy, about the town's reconstruction efforts. What reasons drive individuals to continue residing in Paradise despite the tragedy?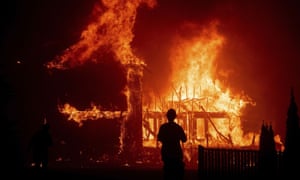 Support The Guardian
The Guardian maintains its editorial independence and strives to make our journalism open and available to everyone. However, we are relying more and more on our readers' financial support to fund our work.
Support The Guardian
Source: theguardian.com