The old pear tree revives after being cut down to make room for HS2.
The tree that was once named "Tree of the Year" and was cut down to make room for HS2 is now thriving, growing again from its relocated stump.
The ancient pear tree in Cubbington, Warwickshire, estimated to be over 250 years old, gained widespread attention when its existence was first endangered. Despite receiving the Tree of the Year award in 2015 and garnering thousands of signatures on a petition to protect it, the tree was ultimately cut down in 2020 by contractors working on HS2.
There was concern that efforts to preserve the beloved tree, which was located in a hedge next to an old forest and believed to be the second oldest pear tree in Britain, would be unsuccessful due to its hollow trunk.
However, much to the satisfaction of the community, the stump and root ball, which was relocated by contractors and replanted in a nearby field 100 meters away from its initial spot, is showing signs of new growth with new sprouts and leaves emerging.
Rosemary Guiot, a resident of Cubbington village, expressed her surprise and joy, acknowledging that things will never be the same again.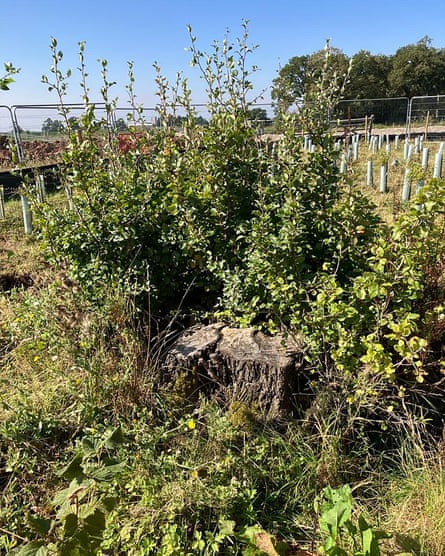 The locals believe that the stump is growing again thanks to its fortunate placement in clay-rich soil that retained moisture during dry summers. Unfortunately, the dry weather has caused the death of numerous young trees planted by HS2 contractors in an effort to compensate for cutting through the historic South Cubbington Wood.
"We are delighted that the Cubbington pear tree has found a new home within one of HS2's flourishing habitats for wildlife," stated Amy Middlemist, the landscape manager at Balfour Beatty Vinci. She further explained that the tree's root system, with adequate nutrients, has been able to store energy from photosynthesis and use it for regrowth.
Despite requests from locals and environmentalists for a tunnel to be built under the pear and South Cubbington Wood, the high-speed railway has been constructed through the historic woodland. In an effort to make up for the destruction of 2 hectares of ancient trees, HS2 has planted 60,000 new trees on 17 hectares of nearby land, including 6 hectares of broadleaved trees connecting it to the River Leam area.
Middlemist stated that they are currently working on implementing HS2's landscape and habitat creation plan in the region. This includes constructing two green bridges that will restore access to public footpaths and wildlife pathways.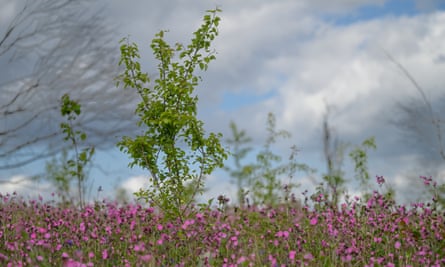 The Cubbington pear continues to thrive in the village of Cubbington, thanks to community members who sought the help of a specialist in grafting old pears.
The community members gathered clippings from the tree before it was cut down. Horticulturist Paul Labous from Shuttleworth agricultural college then skillfully grafted these clippings onto new rootstock, resulting in 15 young trees being returned to the community.
The pear's children have been placed in the churchyard, two primary schools, and other nature reserves and parks.
HS2 has utilized Labous's approach and employed a business nursery to generate an additional 40 young trees, which have been subsequently planted in the designated location.
However, the fact that the original tree survived is a pleasant surprise for the local community.
Unlike many fruit trees, the original pear was not a grafted tree and so, after many more years, the shoots from its stump should eventually produce the same pears that the ancient tree once did – "not gourmet pears but nice to eat", according to Guiot.
Although HS2 is touting the effectiveness of one of its contentious environmental tactics, the inhabitants of Cubbington view the survival of the pear tree as a symbol of nature's resilience.
Guiot stated that it was like a gesture of defiance towards HS2.
Source: theguardian.com