The highest number of fatalities due to Phoenix heat in recorded history occurred in the past year, with a 50% increase in deaths.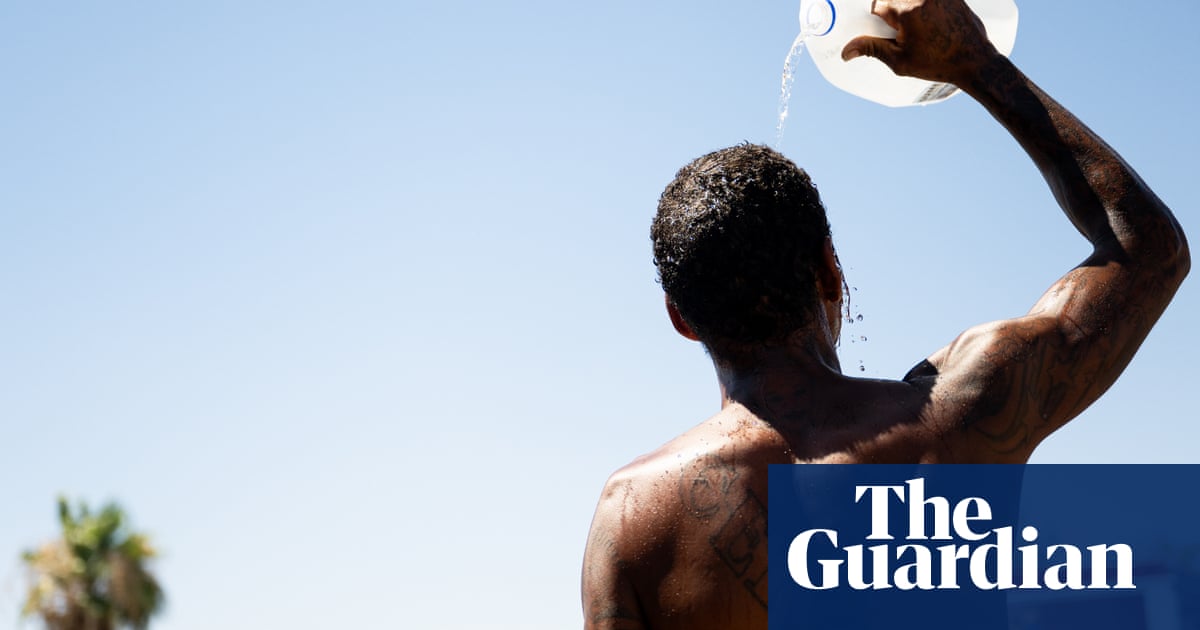 According to official data, there was a 50% increase in deaths due to heat in Phoenix in 2023. This was the highest number of fatalities ever recorded, as the city experienced extreme temperatures.
According to the latest heat surveillance report from the medical examiner's office in Maricopa county, where Phoenix is situated, 579 individuals have died from heat-related causes this year. Senior citizens make up one third of these fatalities. The report also states that there are 56 additional deaths suspected to be heat-related, which are currently under investigation.
At least 45% of individuals who passed away were without shelter and found sleeping behind dumpsters, in parking lots, or on the scorching hot pavement – despite daily temperatures reaching 115F (46C) or higher on 22 separate occasions. According to experts in public health, heat-related deaths can always be avoided with the proper resources.
The number of annual heat-related fatalities has tripled since 2019 due to the intersection of the city's affordable housing and addiction issues with the urgent climate crisis. Over the past five years, nearly 1,900 individuals have succumbed to heat-related causes, and countless others have required immediate medical assistance.
Phoenix, the capital of Arizona and America's fifth-largest city with 1.6 million people, is accustomed to a hot desert climate, but temperatures are rising due to global heating – made worse by decades of unchecked urban development that created a sprawling heat island.
In 2021, the city established a specialized office focused on addressing the increasing number of deaths caused by extreme heat. The goal is to improve livability in the hot urban environment by increasing tree coverage and creating shaded areas, particularly in low-income neighborhoods that tend to have the least greenery and experience the highest temperatures.
At the beginning of August, the governor of the Democratic party, Katie Hobbs, announced a state-wide heat emergency due to an extremely hot period with 31 consecutive days at 100F or above in Phoenix. The National Weather Service (NWS) in Phoenix reported that the previous record was 18 consecutive days, which was set in 1974.
The purpose of the emergency declaration is to create a united effort in addressing heat disparities throughout the state, although it may require a significant amount of time to achieve.
According to Melissa Guardaro, an assistant research professor at Arizona State University's Global Institute of Sustainability and Innovation, elderly individuals, who are particularly susceptible to excessive heat, are facing displacement due to rising housing expenses at a pace that exceeds the ability of government agencies to provide shelter for them. As a result, there is a shift towards securing long-term funding for emergency services such as cooling centers.
Guardaro stated that a single heat office would not significantly address the ongoing housing and substance abuse crisis within a year's time. This is evident as the current extreme heat is revealing weaknesses in our infrastructure, highlighting the intersectionality of these pressing issues.
Climate scientists have discovered that this summer, both in Phoenix and globally, was the hottest on record. They also determined that the intense and prolonged heat experienced would have been nearly impossible without the contribution of human-caused global warming.
The city of Phoenix experienced its strongest climate signal at night, with 35 consecutive days where the temperature did not fall below 90F (32C), setting a new record. This is concerning for public health experts as higher night temperatures can have a cumulative effect on the body and it cannot properly recuperate until the temperature drops below 80F.
The national heat-related death count is not precise, but Maricopa County has the most comprehensive data on heat-related deaths and illnesses. This is due to the thorough autopsies and investigations conducted by the medical examiner's office, which focus specifically on heat-related cases.
Based on the most recent weekly update, women made up 30% of the individuals who succumbed to heat in 2023, a higher percentage compared to 19% in the previous year. Census data indicates that 42% of heat-related fatalities were among people of color, with Black and Indigenous Americans being the most disproportionately impacted.
Out of every four individuals, one passed away inside their home. Despite 90% of them having access to air conditioning, the majority of the units were not operational. Tragically, at least two of the deceased did not have electricity, which is a severe risk in such extreme temperatures.
Unfortunately, the city's heat office did not provide a comment regarding the significant number of deaths this year. However, back in August, the director, David Hondula, stated that with proper resources, it is possible to eliminate all heat-related deaths. He also acknowledged that no city has successfully achieved this, but they are actively striving to find the best approach.
Source: theguardian.com