Protestors from Just Stop Oil vandalized a painting at the National Gallery by breaking its glass.
Numerous Just Stop Oil demonstrators were taken into custody for breaking the protective glass of a Diego Velázquez artwork at the National Gallery in London. Additionally, authorities apprehended a large group of individuals who obstructed Whitehall.
Two individuals intentionally damaged the glass protecting the Rokeby Venus painting using safety hammers, resulting in their arrest for suspected criminal activity.
In 1914, suffragette Mary Richardson slashed a painting created by Velázquez in the 1600s. A person involved in the incident stated, "Women did not achieve the right to vote through voting; it is time for actions, not just words."
The Metropolitan police reported that approximately 40 demonstrators participating in a "slow march" in Whitehall were detained, and that the road was cleared after traffic was halted temporarily.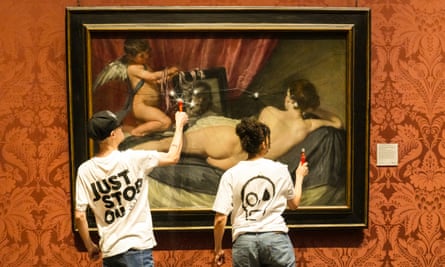 The protesters peacefully positioned themselves on the street and sidewalks of Whitehall. A few were also stationed near the Cenotaph with the assistance of police, as reported by both protesters and an officer present at the scene.
A woman demonstrating at the war memorial, who was restrained and lying down, informed PA Media: "We were apprehended on the road and forcibly pulled onto the sidewalk and then brought back to this spot."
An officer stated that the demonstrators were relocated to the location "to remove them from the road", also noting that "it was for their own wellbeing as the road is quite heavily trafficked."
In reaction to activists being near the Cenotaph, Lee Anderson, the deputy chair of the Conservative party, suggested a simple solution: providing them with stronger glue and leaving them there until Sunday.
David Frost, a member of the Conservative party, was present for the events leading up to the arrests on Whitehall. He shared on Twitter that the Metropolitan Police were escorting a demonstration by Just Stop Oil and expressed his hope for stronger action to be taken soon.
More than 100 supporters of Just Stop Oil have reportedly shut down Whitehall in order to demand a halt on new oil and gas production.
The government has announced intentions to enforce yearly licensing for oil and gas in the North Sea as a means of decreasing reliance on "unfriendly foreign governments".
Source: theguardian.com