Players from Sri Lanka and Bangladesh miss practice due to smog covering Delhi.
The Sri Lankan cricket team wore face masks as they arrived for their match against Bangladesh in Delhi, where the air quality was affected by smog. Players from both teams who have asthma chose to stay indoors for their safety.
Both teams have already called off one practice session before Monday's group-stage match between Bangladesh, who has been eliminated, and Sri Lanka, currently in seventh place. Sri Lanka only has a small chance of making it to the top four.
The main topic of discussion prior to the game at Arun Jaitley Stadium in New Delhi is the air quality, with a local air quality index (AQI) of 460 on Sunday. An AQI of 0-50 is deemed satisfactory, but a range of 400-500 can negatively impact the health of individuals and pose a danger to those with pre-existing conditions.
Chandika Hathurusingha, the coach of Sri Lanka, stated that his team is working towards reducing their players' exposure to these conditions before the match. He informed reporters on Sunday that their doctor is closely monitoring the players.
Hathurusingha stated that a few players were absent from practice due to their asthma, so they remained indoors. He also mentioned that the team is mindful of their health even during practice. They focus on the necessary training and then return to the dressing room, avoiding spending too much time outdoors unless they are actively participating in bowling or batting.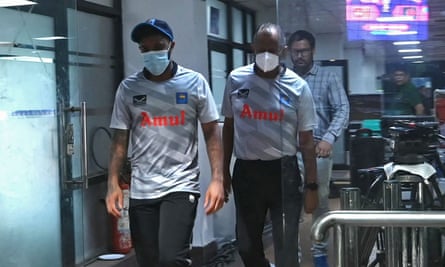 The BCCI has prohibited the utilization of fireworks during post-game festivities following Monday's match, which was the final one in Delhi. The ICC is keeping an eye on the situation and local schools will be closed until 10 November due to the unhealthy air quality in the area.
"It may not be optimal, but we have no alternative. We must compete in the current conditions," commented Hathurusingha. He also stated that team selection would not be based on air quality, but rather on the playing conditions, the opposing team, and our own strengths. The head coach admitted that he is not qualified to determine if Delhi is a suitable location during this time of year.
Kusal Mendis, the captain of Sri Lanka, denied media reports that stated the 1996 champions had asked the ICC to move the match to a different location. Mendis clarified, "We did not make a formal request for a change…we simply inquired about the plans."
"I believe that they have placed equipment in this location and have hired experts to assess the air quality. They have notified us that they intend to proceed, so we will follow the instructions given by the ICC."
Source: theguardian.com