Massaging fish can create "no-kill caviar," likened to a maternity ward.
T
In 2005, polar and marine scientist Angela Köhler had a significant experience that changed her perspective. At a demonstration on caviar production in the Caspian Sea, she witnessed a two-meter female sturgeon being brutally killed by the caviar master in front of 150 conference guests. The master then discarded the fish and started the process again with a new one, causing Köhler to feel disturbed and uneasy.
Köhler still vividly recalls the severity of the occasion. Being well-versed in environmental toxicology, she attended the conference to research the harm done to sturgeon and the Caspian Sea by chemical contamination. This encounter sparked a new goal for her: to discover a method for producing "no-kill" caviar.
"I believed that there must be a way to safeguard these precious animals. Surely, one could simply remove the eggs from the body and allow the fish to continue living," she expresses. Depending on the type of sturgeon, they do not begin spawning until at least eight to 15 years. "To kill them for their eggs after raising them for so many years is economically nonsensical," Köhler states.
Working for the scientific research company Alfred Wegener Institute (AWI), Köhler spent four years developing a way to stabilise the eggs. An ultrasound is carried out to check the eggs are ready and then the bellies of the fish are gently massaged so that they are naturally released.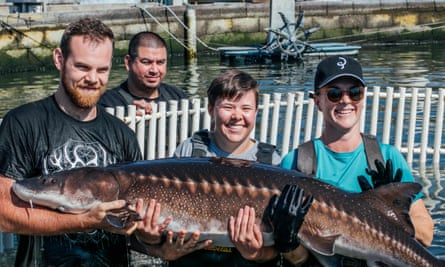 Removing eggs from a fish without causing its death is not solely a moral problem. Sturgeon, which are heavily targeted for their valuable caviar and meat, are among the most endangered species on Earth due to excessive fishing and illegal poaching. A 2022 evaluation by the IUCN revealed that all 26 species of sturgeon are in danger of extinction.
These ancient creatures first appeared over 200 million years ago. They have a lifespan of over 100 years, can reach a length of seven meters, and weigh up to 1.5 tons. They are the sole producers of classic caviar, which can only be obtained legally from farmed fish.
Farms in the UK, California, Iceland, Sweden and Germany have a licence from AWI to produce caviar using Köhler's technique. Köhler now has her own company, Akazie, which acts as a general consultant for the licensees. "We visit the farms and have a look at whether they are candidates for an AWI licence. We also give advice on how to install a caviar lab, apply the patented processes and train the staff."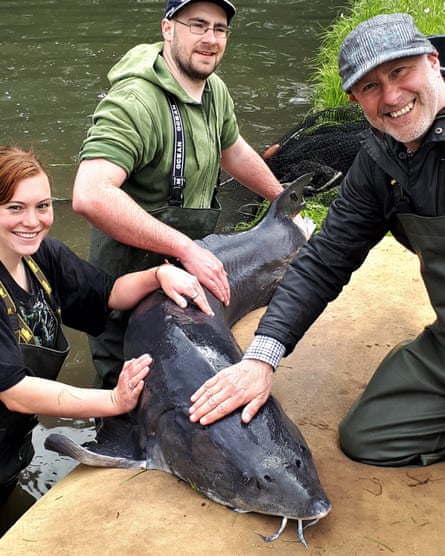 John Addey and his son Mark, from Yorkshire, sold sturgeon to pet stores and garden centers in the UK before obtaining a license. In 2012, they became interested in the caviar industry, but soon realized they had no knowledge of its production process.
John recalls feeling physically ill as he watched two French farms make caviar. He was heartbroken by the sight of the fish suffering, with their necks broken and being beaten with baseball bats before having their eggs taken.
The Addeys reached out to AWI and after 10 months of drafting contracts and undergoing farm inspections, their business, KC Caviar, was granted a license to produce no-kill caviar. They successfully did so for a decade.
John compares the extraction of eggs from live fish to working in a maternity ward, explaining that they gently massage the belly to ensure it is soft. If the belly is too firm, the fish is returned to the water. When the belly is soft, the eggs are naturally released when pressed. The eggs are then brought to a lab to stabilize them.
A new generation of sturgeon is currently being raised by the family, with a maturity period of eight years.
Deborah Keane, an entrepreneur from California who specializes in ethical caviar production, established the California Caviar Company in 2007. Currently, she oversees a population of approximately 20,000 sturgeon and provides caviar to a select group of high-end restaurants. In some cases, the chefs personally choose and care for the sturgeon that will produce their desired eggs by swimming alongside them in the water.
Prior to launching her business, Keane frequently consumed caviar but had reservations about the environmental impact of the industry. In 2012, she formed a partnership with AWI.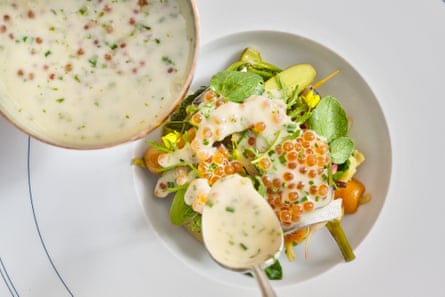 "We prioritize being environmentally-friendly and self-sufficient in our practices. It's a delicate balance because if the temperature is too high, the fish may reabsorb their eggs, but we do not interfere with the natural cycle by controlling temperature or lighting," she explains. The fish reside in an aquifer, and she jokingly mentions, "I even drink the same water that my fish swim in. They are well-cared for."
She explains that we perform biopsies, ultrasounds, and collect egg samples to ensure they are in optimal condition prior to extraction.
It took Keane a decade before her sturgeons began reproducing. She humorously states, "Patience is my middle name!" Currently, her farm has the capability to yield up to two metric tons of caviar annually.
According to AWI, there is a constant increase in the number of requests for licenses in various regions such as the Caspian Sea, China, Russia, and Iran. The organization also has several pending patents, and the research led by Köhler is ongoing. Köhler believes that the demand for caviar will never diminish, but using this technology can help protect the fish during the harvesting process. She strongly encourages investment in this cruelty-free method.
Find more age of extinction coverage here, and follow biodiversity reporters Phoebe Weston and Patrick Greenfield on Twitter for all the latest news and features
Source: theguardian.com