Labour has reversed its previous stance on granting the public access to private land in England, similar to the laws in Scotland.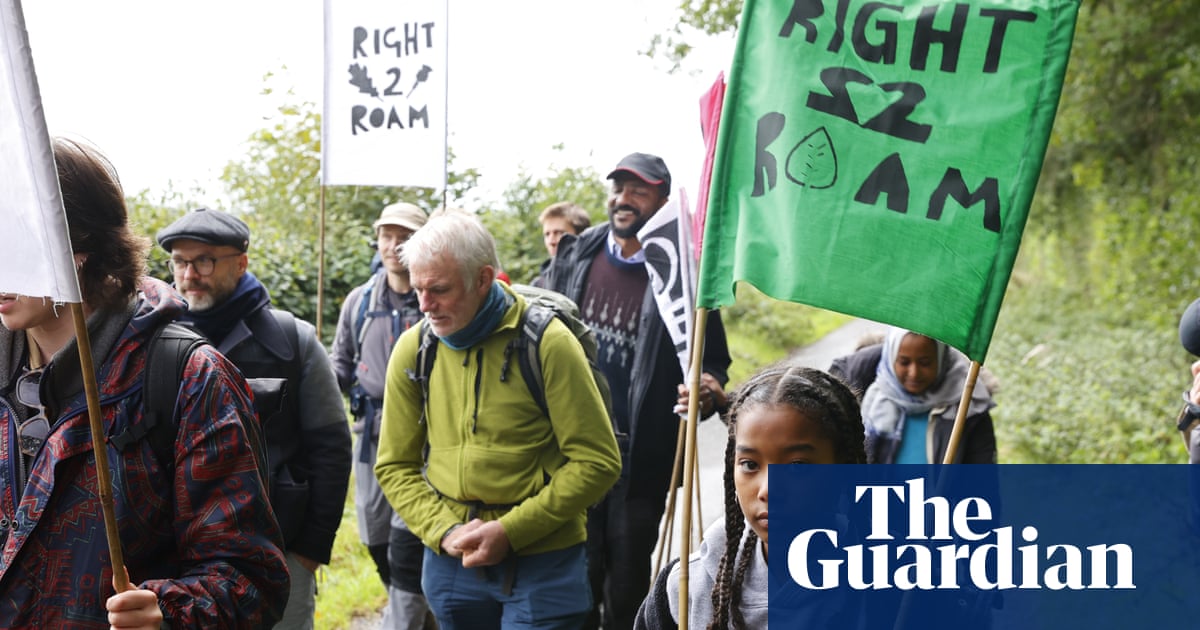 The Guardian has uncovered that Labour has reversed its promise to establish a Scottish-style right to roam in the English countryside if they win the election.
The party has changed their stance on having a presumed right to access land and is now exploring alternative methods to increase access in England due to resistance from certain landowner groups.
Activists expressed disappointment upon receiving the news. In recent times, there has been a significant increase in public movements involving large-scale unauthorized entries, drawing in crowds of up to thousands, advocating for a universal permission to traverse through the English countryside. Currently, only 8% of England permits free movement.
The country of Wales, similar to England, operates under the Countryside and Rights of Way Act (Crow). This grants individuals the right to walk on open areas such as mountains, moors, heaths, and downlands, as well as "registered common land." In contrast, there are no widespread rights to roam in Northern Ireland.
The previous team in charge of the shadow environment, headed by Jim McMahon, Member of Parliament for Oldham West and Royton, had promised a right to roam similar to that of Scotland. This would allow English citizens to freely walk in rural areas.
Alex Sobel, the Member of Parliament for Leeds North West and former shadow minister for nature, stated in a parliamentary session earlier this year that Labour's approach, similar to that in Scotland, will aim to provide access to excellent green and blue spaces throughout the UK. The goal is to shift from a policy of exclusion to one of access.
Studies have demonstrated that individuals who have a deeper connection to nature are more inclined to exhibit positive behaviors towards the environment. It can be boiled down to this: the more individuals interact with nature, the greater their likelihood of preserving it.
The concept faced backlash from countryside advocacy organizations, such as the National Farmers' Union. Tim Bonner, CEO of the Countryside Alliance, suggested that rural voters would not support the Labour party if they enforced a right to roam policy, denouncing it as an "assault on rural areas".
According to sources within the Labour party, their strategy has shifted to collaborating with rural organizations in order to improve access without implementing a nationwide "right to roam" policy. The shadow ministerial team is currently exploring the possibility of revising the Crow Act instead. This act, passed in 2000, grants the public a legal right to access mountains, moorland, heaths, and certain downland and commons areas, as well as the recently established England coast path.
Toby Perkins, the shadow minister for nature and rural affairs since September, stated that they are fully in favor of expanding access to nature. However, they acknowledge the need to proceed with caution. The goal is to increase access while also considering the impact on farmers and finding ways to collaborate with them instead of implementing a directive from above.
Steve Reed, the shadow secretary for the environment, expressed surprise at the notion that increased access to nature would not be included in the upcoming Labour manifesto. However, he also acknowledged the importance of considering the concerns of farmers, producers, and growers who do not want their crops harmed. Furthermore, Reed announced that Labour plans to release a white paper specifically addressing access to nature.
Activists have denounced the shift in focus. According to Guy Shrubsole of the Right to Roam movement, "Incremental expansion of the Crow Act will not result in fair access for those who need it most. It is also a costly and lengthy approach. It took five years and millions of pounds to map out accessible land when the Crow Act was implemented, yet it only granted the right to roam over 8% of England, with much of it being in remote areas far from where most people reside. This has also resulted in creating isolated pockets of access that can only be reached through trespassing."
"Scotland's default right to access land and water responsibly, with sensible exceptions and backed by a well-promoted outdoor access code, offers a much better, cheaper and more workable model that England should be following. It's also a vote-winner: polling shows 62% of the public support a Scottish-style right to roam for England.
We anticipate working closely with Labour as they formulate their strategies, and we will increase our efforts in the coming year to demonstrate why England should follow Scotland's example in terms of accessibility.
Source: theguardian.com