China has unveiled a plan to address methane emissions and there is optimism for a potential new climate agreement with the United States.
China has finally released a methane reduction proposal, indicating progress towards a potential new climate agreement with the US.
Beijing first committed to reducing its methane output at Cop26 in Glasgow in 2021, as part of a joint agreement with the US. But for two years the reduction plan failed to materialise. Its publication on Tuesday, as the US and Chinese climate envoys wrapped up four days of talks in Sunnylands, California, signalled that the two countries may soon break ground on a new climate agreement ahead of a presidential meeting next week and the UN's climate conference, COP28, at the end of this month.
Some saw the meeting between Xie Zhenhua and John Kerry this week as significant due to its location. The lavish estate was where China's leader Xi Jinping and Barack Obama held their first presidential meeting in 2013.
Next week at the Apec summit in San Francisco, Xi and Joe Biden, the president of the United States, are anticipated to have a meeting. The Xie-Kerry meeting has set the foundation for a potential agreement on climate change.
The 2014 meeting between Xi and Obama resulted in a significant climate agreement between the US and China. China committed to reaching its peak CO2 emissions by 2030, a goal it is on track to achieve earlier than expected. This agreement set the groundwork for the 2015 Paris Agreement, where 196 nations agreed to keep the global average temperature increase below 2C compared to pre-industrial levels.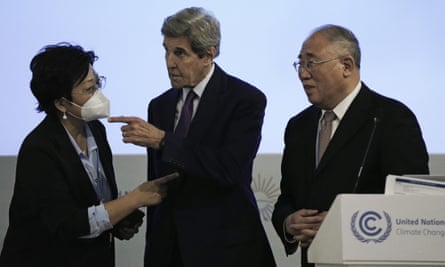 There is hope among those with insider knowledge that a potential climate agreement between the US and China may be in the works. Li Shuo, who is set to become the director of the China Climate Hub at the Asia Policy Institute, believes this is a valuable opportunity. However, the upcoming elections in the US and Taiwan may divert attention away from climate talks until 2024.
Both the US and China want to show that there are "some guardrails in the US-China relationship, with climate being one of the bright spots," said Byford Tsang, senior policy adviser at E3G, a climate change thinktank.
During the Cop26 summit in Glasgow, China and the US came to a consensus to form a team dedicated to addressing climate change. This proposal was temporarily put on hold following Nancy Pelosi's trip to Taiwan, but subsequent meetings between the two countries seem to have revived discussions. During his visit to Beijing in July, Kerry characterized the talks as "highly cordial and fruitful".
However, there are bound to be significant obstacles when trying to reach a consensus, particularly when it pertains to individual obligations.
The plan to reduce methane emissions does not specify any specific numerical goals. Tsang stated that China is hesitant to make commitments on the global scale and does not appreciate being limited in their actions on the international level.
More than 150 countries, including the US, have agreed to reduce methane emissions by 30% by 2030. However, China has not yet made any commitment to do so. According to Li, the issue of methane is not just a technical matter, but also a political one. The lack of progress in creating a plan reflects the current state of relations between the US and China.
Another increasingly contentious point, the curbing of fossil fuel emissions, primarily through phasing out coal. China is the world's biggest producer of greenhouse gases, nearly 90% of which comes from the energy sector. Over 60% of power generation comes from coal.
Phasing out coal is an essential part of China's net zero by 2060 goal, but since power cuts and blackouts closed factories across China in 2021, the government has focused on energy security and coal phaseout is increasingly sensitive. Campaigners say the topic has become hard to discuss.
Experts suggest that China's energy security challenges can be addressed by enhancing the country's grid infrastructure and implementing reforms in the domestic energy market, instead of increasing coal consumption.
In the first half of this year, Chinese local authorities gave the go-ahead for 50.4 GW of additional coal power. This puts China on course to approve a comparable amount of coal to 2022, which was the highest recorded amount since 2015.
Despite Xi's previous focus on constructing new renewable energy capacity before phasing out coal infrastructure, in a speech in January of last year, he urged China to gradually decrease reliance on traditional energy sources and instead promote the use of reliable renewable energy sources. However, incentives at the local level still encourage the approval of new coal power plants, even though they do not meet China's energy demands.
Kerry and Xie have conflicting views on the use of coal, as the US climate envoy believes it should be the main topic in COP28 discussions, while his Chinese counterpart disagrees and finds it impractical to completely eliminate fossil fuels. Despite this disagreement, experts remain optimistic that a consensus will be reached on new climate objectives. As a presidential meeting approaches, both parties recognize that this may be their only opportunity in the next year to make progress.
Source: theguardian.com