Britons who fear an impending doomsday are turning to "prepper" stores, causing concern among the general population.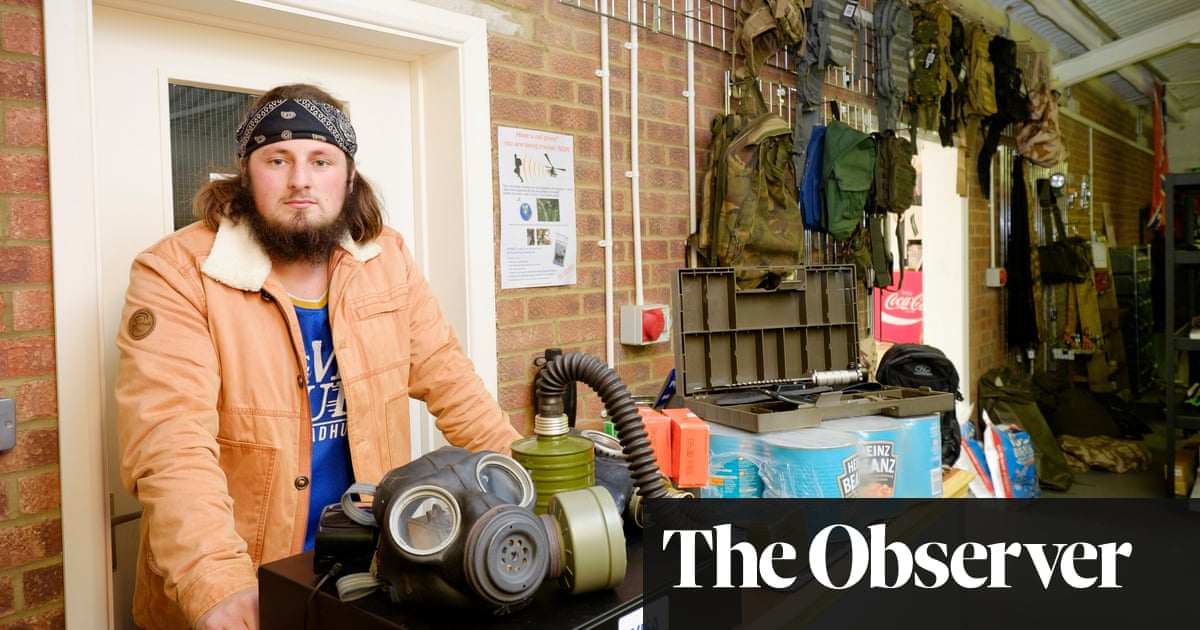 During the recent Storm Babet that hit the UK, a small yet expanding group of people may have found validation in their unique activity – getting ready for catastrophic events.
As climate change continues to bring about challenges like floods and wildfires, and with concerns about Russia's actions in Ukraine, the practice of "prepping" has become more prevalent in mainstream society. The sight of bare grocery store shelves due to panic buying during the pandemic has revealed the vulnerability of Britain's retail supply chains and led to a growing market for products aimed at those stockpiling necessities for potential doomsday scenarios, which have become more realistic due to lockdown measures.
In the United States, the disaster preparation industry is thriving, with Americans spending $11 billion (£9 billion) on preparing for potential disasters last year. Major companies like Amazon and eBay have created specific categories for prepping. In the UK, there are now specialized stores, popular retail chains, and online shops that sell surplus military items such as freeze-dried food, hand-cranked flashlights and radios, water purifiers, and complete nuclear survival kits.
On the milder side, individuals are purchasing sleeping bags and wool blankets due to concerns over power outages or financial constraints stemming from the current high cost of living.
Lincoln Miles founded Preppers Shop UK almost a decade ago and says he has seen business boom since the Covid lockdowns. "I read about the concept of prepping in magazines and thought it made a hell of a lot of sense. In the past couple of years, it's just exploded. There are some people in full hazmat suits talking about nuclear war and stuff, but there's so many different levels to prepping; [people] have become worried about natural disasters."
Miles's shop, located in Wadebridge, Cornwall, offers a package that includes a month's worth of freeze-dried meals for £478.71. On another website, UKPreppingShop, a survival kit for one person during a nuclear emergency is available for £564.95, which includes a gas mask.
Sgt Preppers, established in the Pennines during the pandemic, provides resources for living a self-sufficient lifestyle and offers hazmat suits for £95 in both children and adult sizes. The Bug Out, a shop located in Wales, sells a "survival barrel" for £152 that can store emergency supplies in one convenient location in case of a disaster. In September, the company also held a weekend gathering for individuals with similar interests.
Miles claims that his business was the pioneer in Europe for prepping shops and has now established itself as the top survival store on the continent. He believes that the pandemic was a major catalyst for his company's success, as people recognized the need to be self-sufficient in case of future emergencies.
One major issue was long lines at grocery stores and shortages of food supplies. This situation made many people realize the severity of the situation and served as a reminder to take action.
During the pandemic, Justin Jones founded UKPreppingShop to address food shortages. He believes that this pursuit has gained more widespread acceptance.
According to him, our clientele is diverse, consisting of various professionals such as doctors, nurses, and veterinarians. Many of them are currently anxious due to the ongoing events in the Middle East. The increase in oil prices will lead to higher costs for food production and ultimately result in rising prices for everything.
"Many individuals express concerns about the water supply, leading to high demand for our water treatment products."
Miles states that even after the pandemic, when a war broke out between Russia and Ukraine, his company experienced a hectic three months. They were heavily shipping goods to Ukraine, but their main trade was with UK customers who were in need of food supplies. One of their most popular products was the one-month ration kit, which saw a significant increase in demand about a month later.
According to data from Google Trends, there has been a significant increase in online searches for freeze-dried food, wind-up radios, and survival kits in the UK this autumn.
Blacks, a popular outdoor retailer, is primarily recognized for its family camping gear. However, there has been a recent increase in demand for their home products.
According to Danny Robinson, a purchaser for the chain, there has been a rise in purchases of lighting equipment, head torches, gas, and stoves. This is likely due to customers preparing for potential power outages at home. Additionally, there has been an increase in sales of sleeping bags during this season, but not for camping purposes. Sadly, many people are buying them to use in their homes instead of using heating.
"We have also observed an increase in purchases of aqua-robes, which are insulated towelling jackets, as well as furniture items like tables and chairs. This is likely due to the recent flooding, as people may need to quickly pack up their cars and evacuate."
The surge in sales for survival experts may indicate a general unease among the public. A recent report from a global safety organization showed that many individuals in northern and western Europe lack confidence in their governments' ability to handle a crisis. Additionally, studies have shown that a significant portion of UK consumers' preferred grocery items are vulnerable to the effects of climate change.
There is a potential for survival businesses to thrive amidst rising political and environmental uncertainty. These businesses are likely to be well-equipped.
Source: theguardian.com