World Rugby has found Mbonambi not guilty due to a lack of evidence supporting the accusation of a racial slur.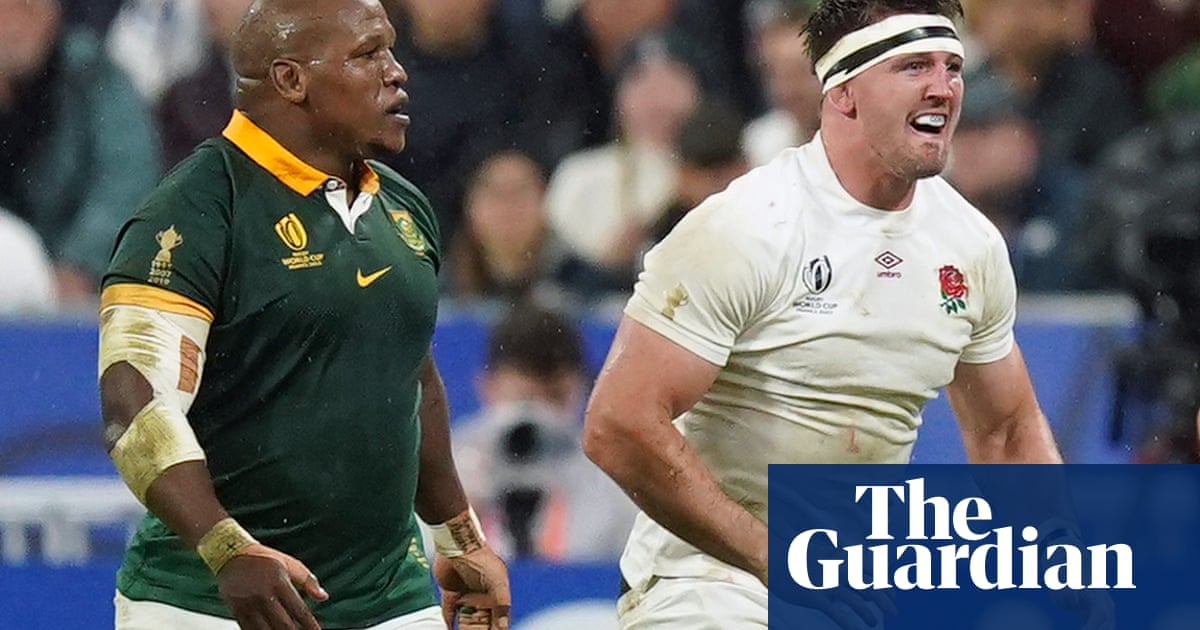 The Rugby Football Union expressed disappointment with World Rugby's decision not to take disciplinary action against South Africa's Bongi Mbonambi. This comes after a second accusation of a racial slur towards England's Tom Curry was brought to light.
The international organization has stated that it will not pursue the issue further unless new evidence is presented. As a result, Mbonambi is permitted to play for the Springboks in the World Cup final on Saturday.
The Rugby Football Union (RFU) has announced that in addition to the reported incident of Curry being called a "white cunt" during the World Cup semi-final last Saturday, another accusation has been made that the player was subjected to similar abuse by the same opponent during England's loss to South Africa in November 2022.
The RFU has expressed disapproval of World Rugby's ruling that prohibits an autonomous committee from listening to Tom Curry's perspective and objectively evaluating his report of these significant incidents, along with any other evidence that may be present.
The RFU stands behind Tom Curry in bringing attention to the racially offensive treatment he faced while playing for England against South Africa. A statement released by the organization stated that during the game on October 21st, 2023, Curry reported to the referee that he was subjected to racial abuse by Mbongeni Mbonambi.
"After being informed by Tom Curry that he had also experienced the same abuse from the same player during the Autumn Test 2022, World Rugby conducted an investigation. Today, they have announced their decision to not press charges for either incident."
The Rugby Football Union (RFU) is extremely displeased with World Rugby's choice. By not presenting the evidence to an Independent Disciplinary Panel, the disciplinary process was deprived of the chance to hear Tom Curry's perspective and to impartially evaluate his account of the significant incidents, along with other available evidence.
World Rugby acknowledged the second allegation but insisted that, having considered all the available evidence, it could not proceed with disciplinary action. "World Rugby has undertaken a review of allegations made by England's Tom Curry in relation to the use of discriminatory language by South Africa's Mbongeni Mbonambi during the England versus South Africa Rugby World Cup 2023 semi-final on Saturday along with a further allegation brought forward in recent days about a previous match in the Autumn Nations Series 2022," read a statement.
World Rugby takes any accusation of discrimination very seriously and will conduct a thorough investigation. After reviewing all evidence, such as match footage and audio, as well as statements from both teams, it has been decided by the governing body that there is currently not enough evidence to pursue charges. As such, the case will be considered closed unless new evidence is brought to light.
It should be noted that World Rugby acknowledges that Tom Curry's accusations were made with good intentions and there is no implication that they were intentionally untrue or harmful.
South Africa rugby released a statement expressing their support for World Rugby's decision. They also stated that Mbonambi refuted all accusations made against him and defended his reputation and integrity.
SA Rugby and the Springbok team denounce all forms of racism, as their goal is to contribute towards the unification of our diverse and multicultural country. The statement expressed this sentiment.
Bongi Mbonambi is a well-versed and highly regarded player in the world of Test matches. It goes without saying that he has denied the accusations from the very beginning. SA Rugby has complete trust in Bongi's sincerity and moral character.
SA Rugby will not make any additional statements on the subject as the team continues to prioritize their upcoming game against New Zealand. Their focus has been solely on this match throughout the week.
Curry and his family have come in for considerable abuse on social media in recent days with England lashing out at their player's treatment on Thursday. The RFU added: "In their continued full support of Tom, the RFU together with the England squad, condemn the disgusting abuse he and his family has received on social media as a result of his having had the courage to put unacceptable behaviour that has no place in society or on the rugby field, in the public eye.
"Abuse of any kind is not acceptable and goes against the core values of rugby. It is important that it is safe and acceptable for everyone involved in rugby union to raise concerns, and the RFU continue to encourage everyone to report any unacceptable behaviour in the game."
In addition, Mbonambi has faced harassment on the internet and World Rugby included in a statement: "We are also troubled by the online mistreatment that both players have endured this week. Discrimination, abuse, and hate speech have no place in rugby or in society, and we urge fans to uphold the sport's principles of respect, honesty, and unity."
Source: theguardian.com