World Rugby finds itself in a precarious situation regarding the decision made about the Curry and Mbonambi incident, according to Robert Kitson.
T
This was supposed to be the most visually appealing week for rugby on Instagram. A World Cup final taking place in one of the most stunning cities in the world, with two excellent teams and a well-organized sport at its peak. However, at the exact moment when the sport had the most attention worldwide, there is now discord, bitterness, and separation that could potentially linger for months even after the tournament ends.
The basic details of the Tom Curry and Bongi Mbonambi conflict have been extensively documented, beginning with Curry's interaction with referee Ben O'Keeffe during last week's semi-final match between England and South Africa. Curry asked O'Keeffe, "Sir, if their hooker calls me a white cunt, what should I do?" The consequences of this incident are becoming increasingly negative and, despite World Rugby's attempts, it is evident that the organization still has a significant issue to address.
The most recent development in this ongoing controversy was a bold statement made by the Rugby Football Union, following World Rugby's announcement that no charges would be pursued due to lack of evidence. The RFU did not hesitate to make it known that Curry had reported being mistreated by the same player at Twickenham in November.
The RFU, Steve Borthwick, and Curry are upset that the player's concerns were not considered by an independent disciplinary panel when discussing "these significant incidents." A video from the England vs. Springboks game at Twickenham seems to capture Mbonambi making inflammatory comments towards Curry in the 42nd minute. It can be assumed that the hooker was not innocently shouting tactical observations in Afrikaans.
As expected, SA Rugby supports the choice to not pursue any further consequences and stands behind their player. They also stated, five days after the incident, that the 32-year-old denied the accusations from the beginning. SA Rugby strongly condemns any form of racism and the Springbok team is committed to promoting unity in our diverse and multicultural nation.
I agree. However, not many are coming out positively from the deteriorating situation. It is understandable that World Rugby did not want this issue to overshadow the final, but they could have postponed a final decision until a thorough investigation was conducted, which could have lessened the intensity of the situation. Statements such as "the matter is considered closed unless new evidence arises" do not necessarily indicate a thorough and comprehensive investigation.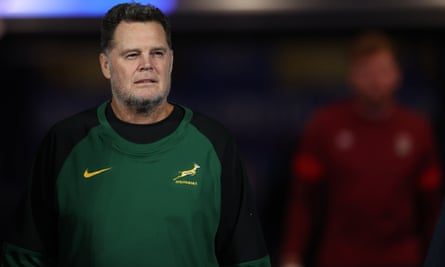 There are additional interesting points to note. If the Rugby Football Union (RFU) was certain that Curry had been mistreated in November, it could have made a public statement at the time. However, there were other events happening, such as it being Eddie Jones' last game as England head coach, so the RFU may have chosen not to address the issue. Nevertheless, considering the possibility of existing tension between Curry and another player, there was a potential for it to come to light during last Saturday's game. Additionally, England was already displeased with certain individuals at World Rugby due to Curry's red card and subsequent suspension last month. Some of that frustration may still be present.
Then there is Rassie Erasmus, the Springboks director of rugby, who had multiple opportunities this week to apply a little soothing diplomatic balm and explain publicly why the whole saga had been an unfortunate linguistic misunderstanding. Erasmus is not averse to a few mind games but, as the man in charge of a proudly multiracial squad on the eve of a monumental World Cup final against New Zealand, he opted to allow the furore to rage unabated in this instance.
Social media has been allowed to unleash its negative effects, resulting in widespread attacks towards Curry and his loved ones. This is due to his decision to speak out against what Sale flanker deemed as unacceptable behavior. World Rugby made a point to emphasize that Curry's allegations were made with good intentions and there is no indication that they were fabricated or ill-intentioned.
The English team was not happy when a video from their training session showed Mbonambi and other South African players using the Afrikaans phrase "watter kant," meaning "which side," which happened to be released this week. Some may see this as a coincidence, but to some English viewers, it reminded them of a similar incident in 2018. At that time, a video surfaced of Erasmus pretending to tell his players to tackle higher, shortly after Owen Farrell avoided a ban for a high tackle on South Africa's André Esterhuizen at Twickenham.
After South Africa defeated England in the 2019 World Cup final, it's understandable that there is some tension between the two teams. If they win the World Cup again this weekend, the Springboks will likely feel that it's not the best time for other rugby nations to criticize them.
Unfortunately, South Africa has a unique and extensive history of dealing with racial tensions and understanding the significance of respect. As a gesture of class, Siya Kolisi, the inspiring black captain, reached out to Curry this week to offer support against the negative comments on social media. However, this does not change the fact that the Springboks, World Rugby, and the RFU have found themselves in a damaging situation that cannot be easily remedied.
Do you have thoughts on the topics discussed in this article? If you would like to share a response of no more than 300 words via email, which may be published in our letters section, please click here.
Source: theguardian.com