Welcome to Wayne's world: Barnes exposes the hidden side of refereeing in The Breakdown.
T
Wayne Barnes shares many entertaining stories from his autobiography, Throwing the Book, including one about when he had to penalize Martin Johnson for a foul on Delon Armitage during his early days as a top-level referee. After getting back up, Johnson gave Barnes a fierce look and remarked, "That's the only correct decision you've made so far."
Then there was the blokey greeting he often received from the Harlequins and England prop Joe Marler in the changing room before matches. "I'll get it out of the way and call you a twat now, to save myself from getting sent off." Or the time in 2007 when, following the infamous "forward pass" episode in the New Zealand v France quarter-final, he attended the semi-final as "Jimmy Barnes" in a platinum blond wig, fake moustache and giant sunglasses.
How fortunate that Barnes has a well-developed sense of humour. Without it he would have struggled to enjoy such a long and distinguished whistling career, spanning 111 Tests. As befitting his "other" life as a barrister, he knew the laws but, crucially, also had the empathetic bedside manner. It is the reason he and Nigel Owens were the two pre-eminent referees of their generation. They understood that good refereeing is about more than just being right all the time.
But if the international game was collectively blessed to have Barnes at the helm for so long, it was also hugely lucky from a PR perspective. Because he is such a good guy – and in such apparent control amid all the surrounding madness – it was almost too easy for rugby's movers and shakers to hide behind the unflappable image he projected to the outside world. Until now. His book lays bare some of the more disturbing aspects of the modern game, at which point the fun abruptly dries up.
How many individuals could withstand the threat of their home being set on fire with their loved ones inside or the wish for their children to suffer from cancer? Barnes shares a story about a highly respected coach who openly questioned if he had been involved in fixing matches. He also talks about French authorities barging into his dressing room to berate him and being constantly criticized by strangers. Barnes notes that even though he has never resorted to violence or aggression, he is the one accused of sabotaging games.
Greetings to the realm of Wayne, where profane verbal attacks and menacing declarations of harm have taken over the occasional witty remark about guide dogs and canes. This is precisely why his book should be mandatory reading for all, not just in the world of rugby union but in sports in general. Those in positions of authority, coaches, athletes, supporters, members of the media, and television producers will all come across passages that give them pause for reflection.
Barnes, who was raised on a council estate in the Forest of Dean, is skilled at making fun of himself. However, at the age of 44, he also has a natural ability to uncover the truth due to his legal background. He points out that rugby officials often struggle to keep up with the constantly changing rules and expectations placed upon them with little warning. This can include things like tackle height, video reviews, understanding breakdowns, and dealing with difficult national team captains. It's no surprise that being a top referee requires a great deal of skill and effort.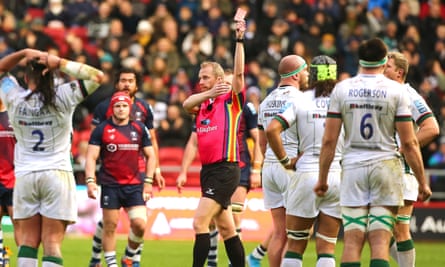 Barnes, who has a positive outlook on life, doesn't think the game is doomed with the involvement of flashy sponsors. He believes that there should be more emphasis on the values of perseverance, self-control, acceptance, and camaraderie that make rugby unique. He suggests that cricket, which penalizes players for publicly questioning on-field calls, could offer some valuable lessons to its counterpart.
The author emphasizes the importance of rugby's governing bodies shifting their focus away from nitpicking and towards creating a larger philosophy that improves the overall game. According to Barnes, the rulebook lacks a guiding principle of promoting continuous play by limiting whistle blowing. This may seem counterintuitive, but to attract new fans, a sport with 19 sub-laws solely for the ruck is in danger of being overwhelmed by its excessive intricacies.
What satisfaction can be found in a world of excessive scrutiny, constant slow-motion replays, and angry coaches? Where the essence of the game is overshadowed by the exaggerated reactions of humorless individuals or the cruel remarks of social media bullies? Barnes could have written a dry legal textbook like the ones he studied as a student at the University of East Anglia. Instead, he has reminded us that sports are played and officiated by real people, and emphasized the importance of individuals like himself in the game of rugby.
The publication "Throwing the Book: the Strifes and Crimes of a Rugby Referee" written by Wayne Barnes, is distributed by Constable for a price of £25.
The following is an excerpt from our weekly email about rugby union, called the Breakdown. To sign up, simply go to this page and follow the given directions.
Source: theguardian.com