The opening practice for the Las Vegas GP was cancelled due to manhole covers damaging cars.
The initial training session for the Las Vegas Grand Prix was cancelled after just eight minutes due to a dangerous incident involving Carlos Sainz's Ferrari being hit by a drain cover. Multiple drain covers were believed to have been loosened, leading the FIA to inspect all of them on the street circuit to ensure their safety.
The occurrence was a humiliating start to the race that is being arranged and advertised by the owners of Formula One, with the goal of growing the sport in the United States – a market where it is seeking to expand. It is estimated that the expenses of hosting the event in the center of Las Vegas will reach up to US$700 million. F1 referred to the incident as a "water valve cover" malfunction.
Sainz was driving on the main straight of Las Vegas Boulevard, known as the Strip, where cars can reach speeds of more than 200mph. Suddenly, his car was hit from underneath while approaching the Bellagio casino section. He came to a stop near a marshal post soon after.
Images of the underside of the vehicle revealed significant harm, with the drain cover appearing to have been entirely removed from its designated position in the concrete border.
"Furious Ferrari team principal Fred Vasseur expressed his frustration, calling it completely unacceptable."
"It was extremely expensive for us. I believe it is simply not acceptable in today's F1 world."
The session was halted three minutes following the incident due to safety concerns.
A representative from FIA stated that upon inspection, the concrete frame around a manhole cover has malfunctioned. As a result, all other manhole covers must be examined, which will require some time. The team will be communicating with the local circuit engineering team to determine the expected resolution time and will provide updates if there are any changes to the schedule.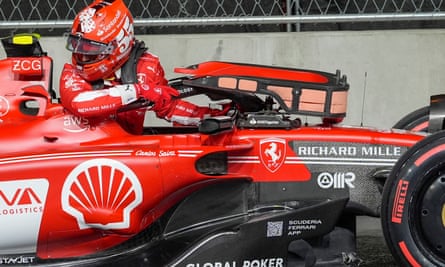 The Alpine of Esteban Ocon is also understood to have taken damage from a drain cover. Free practice two finally got underway after repairs to the street circuit at 2.30am local time, 10.30am GMT. The length of the session was extended to 90 minutes but took place behind closed doors with fans told to leave the grandstands due to late running with staff due to finish.
After the opening session ended, the crowd in the grandstands on the start-finish straight began booing. Weekend tickets on the lower end of the price range were priced at $1,700. Due to road closures in the city, there were no support races and Formula 1 had not had any practice sessions on the track prior to the event.
Source: theguardian.com