The English team is expressing their outrage over the unacceptable treatment of Tom Curry following the Bongi Mbonambi incident.
England has strongly condemned the cyberbullying aimed at Tom Curry in response to his claims of being subjected to a racial slur from Bongi Mbonambi of South Africa. The team has asserted that Curry should not face backlash for speaking out about the offensive language used against him.
Steve Borthwick, the head coach of England, stands by Curry's choice to report the incident to referee Ben O'Keeffe. He urges World Rugby and the South Africa union to handle the situation and has no hesitation in including Curry in the lineup for the bronze-medal game against Argentina on Friday.
Owen Farrell also addressed the issue of online harassment and threats towards Curry and his family. As the England captain, he reminded those who perpetrate such behavior that they are targeting real people and not just online personas. This statement came after Sale Sharks, Curry's club, condemned the "disgusting" treatment he received.
Similar to Curry, Mbonambi is also expected to play this weekend as World Rugby's inquiry is expected to continue into next week. This means that the only designated hooker in South Africa's team is likely to be able to participate in the final against the All Blacks on Saturday.
During the training session, there was another development as South Africa coaches and players seemed to downplay the accusation that Curry was referred to as a "white cunt" by Mbonambi. Video evidence from the session captured the use of the Afrikaans word "kant".
Some supporters have argued on behalf of Mbonambi, claiming that he simply used the word "side" which may have been misinterpreted in the video. This could suggest that South Africa intentionally provoked the cameras due to the way the word sounds in English.
Borthwick praised Tom's consistent professionalism and preparation throughout the week, as he does every day and every week. While eight changes have been made to the team facing Argentina, Curry remains a valuable member of the back row. This incident does not solely involve Tom Curry; rather, it involves a comment made during a game that he has reported. Now, it is up to World Rugby and SA Rugby to handle the matter.
"I spoke with Tom about his physical condition and he confidently expressed his desire to play on Friday night despite a short recovery time. It's clear that he has a strong desire to be on the field and his dedication during the week has been impressive. This is just another example of Tom's consistent work ethic, and I am extremely proud of him."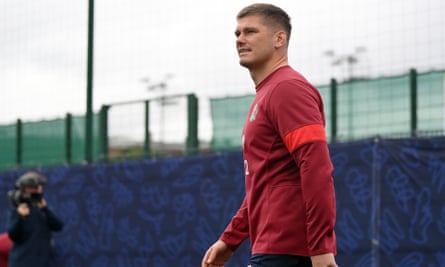 Despite being the captain and fly-half for the upcoming match against the Pumas, Farrell has faced a lot of negative attention on social media due to the controversy surrounding his red card during England's warmup games. While the card was initially revoked, World Rugby later appealed and won. Farrell expressed disappointment and confusion over the amount of abuse he has received, and how it not only affects him but also the team. He hopes that this type of behavior will not continue in the future.
"You are interacting with individuals, with fellow humans. Simply communicating through your phone or computer does not excuse unacceptable behavior. It also does not make me inclined to engage with people beyond those in your inner circle. I hope he is aware that those close to him fully support and stand by him. This marks his 50th game, a tremendously proud milestone, and the same can be said for a few others as well."
This week, England and the Rugby Football Union came together to support Curry. On Wednesday, Sale Sharks also showed their support. In a statement, the club expressed their disgust at the terrible abuse that was directed towards Tom Curry and his family for an incident that occurred during the England v South Africa World Cup semi-final. The club stands behind Tom and eagerly anticipates his return to Carrington.
In comparison, Ben Youngs has announced his retirement from international duty after the World Cup, following in the footsteps of Courtney Lawes. Youngs holds the record for the most appearances by a male player for England and will play his last game, his 127th, against Argentina. He was given his first starting position in this tournament.
Ben has been an exceptional athlete for English rugby for a considerable period," Borthwick stated. "He has participated in four World Cups and has been instrumental in aiding the team's progress, particularly that of Alex Mitchell. He is a skilled player and a valuable team member."
Borthwick has chosen to bring back Marcus Smith to play at full-back, causing Freddie Steward to move to the wing and Henry Arundell to complete the impressive back three. In the forward pack, Ellis Genge, Theo Dan, and Will Stuart will all start, while Ollie Chessum returns in the second row. With Curry now playing at blindside, Sam Underhill will take his place at openside, reuniting the fierce "Kamikaze Kids" in the back row.
The team from Argentina has modified their starting lineup for the bronze final against England at Stade de France. Pedro Rubiolo will now play in place of Tomas Lavanini in the second-row, Tomas Cubelli will take over the position of Gonzalo Bertranou as scrum-half, and Jerónimo de la Fuente has been chosen over Santiago Chocobares as inside-centre.
Nineteen players who were part of the matchday 23 team were able to survive the defeat of 27-10 by England in their Pool D opening game.
Source: theguardian.com