Preview of the 2023-24 season in Women's Premiership Rugby: fresh additions and familiar absences.
T
The renaming of the Premier 15s to Premiership Women's Rugby (PWR) signifies a fresh start for women's domestic rugby in England, set to kick off this Saturday. Along with the name change, there are also two new teams and a new broadcasting agreement. However, there are potential concerns looming ahead.
In September 2022, the Worcester men's team went into administration. However, the women's team was able to continue with separate funding, preventing the team from collapsing. The club was confirmed to be part of the 2023-24 women's Premiership season, which brought joy to the supporters. Unfortunately, their happiness was short-lived as on 17 October, it was announced that the club owners, Cube International, were withdrawing the team from all competitions. Head coach Jo Yapp expressed her devastation on social media, sharing that they were on the brink of a successful journey together but it was abruptly cut short.
For this season, the league only has nine teams, so one team will have a week of rest each round. It is still uncertain whether the league will add another team for the 2024-25 season, as the organisers have not made a decision yet.
There are two club names that are not included in the schedule. Prior to the PWR season, the Rugby Football Union conducted a bidding process for the top tier, as there is currently no relegation or promotion system in place.
DMP Sharks, a member of the Premier 15s since its establishment in 2017, made the decision not to submit a bid and were subsequently not granted a spot. The team from the north opted to participate in Championship One North, but unfortunately had to withdraw due to a shortage of players. They are now aiming to return to competition in the 2024-25 season.
Wasps, who have been a part of the women's top flight for 38 years, did put in a bid to be a part of PWR but were not given a place because other clubs better met the criteria set out by the RFU. The side have since ceased to exist in a professional capacity.
However, there is still hope in the domestic game as last season's league competition was the most intense and tightly contested. Both regular season games and the final saw record-breaking attendance numbers. Although two clubs were replaced during the retendering process, two new clubs, Leicester and Ealing Trailfinders, have joined the league.
Their assignment is to create a competitive team for the Premiership, and they have successfully assembled strong rosters by recruiting top players from other English teams as well as luring talent from other leagues. Ealing has acquired Canada's Tyson Beukeboom from Cowichan, while Leicester has added Scotland's Francesca McGhie from Watsonians.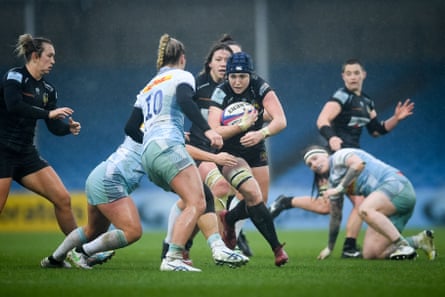 PWR, in addition to two recently established clubs, is a component of a 10-year plan for promoting women's rugby in England with a focus on sustainability. According to Belinda Moore, the CEO of PWR, their ultimate goal is to make the league the most fiercely competitive, forward-thinking, and environmentally conscious domestic rugby competition in the world. Moore also emphasizes that the current state of elite women's rugby in England is at an all-time high. PWR has already begun making strides towards achieving their goal by securing a new broadcast agreement with TNT Sports. This deal includes coverage of one match per round, as well as both semi-final games and the final match.
Gloucester-Hartpury claimed their first Premier 15s trophy last season, defeating Exeter in the final and becoming the new defending champions. Sisilia Tuipulotu, Gloucester's prop, describes the victory as an incredible feeling and it has inspired them for the current season.
"I believe that regardless of the outcome, we will always be a team that others want to defeat," states the Welsh player. "Although we are aware of this, it doesn't affect us and we simply focus on each game as it comes. Our team is motivated to bring the victory back home once more."
The beginning of Gloucester-Hartpury's title defense will not take place this weekend, as their scheduled match against Worcester in the first round has been cancelled. Their first game of the season will now be on 25 November against Leicester, in a double header with the men's team at Kingsholm.
Bristol, the local competitors of Gloucester-Hartpury, will have their first game of the season against Sale at Ashton Gate. The game will be broadcasted on TNT Sports, and there is some exciting news for Bristol fans. England's Abbie Ward, who has been absent from the field since the World Cup final in November due to giving birth to her first child, Hallie, with her husband and Bristol head coach Dave Ward, will be making her return. Despite only being 17 weeks postpartum, the co-captain and second-row will be starting in the game on Saturday.
Source: theguardian.com