Premiership roundup: Theo Dan inspires Saracens to Newcastle rout
Mark McCall was pleased with Saracens' ability to adjust to challenges, following their dominant 50-12 victory over Newcastle at Kingston Park.
The champions of the Premiership journeyed to the northeastern region without some of their top English players, who were given a break after playing last week. In addition, they faced the loss of their lineout leader and second-row player, Callum Hunter-Hill, during their pre-game preparations. Ollie Stonham, a back-row player, was then unexpectedly placed in the starting lineup. Despite these challenges, Sarries managed to overcome a slow beginning and secure the bonus point by halftime, earning their third consecutive victory. Their director of rugby was thrilled with the outcome.
According to McCall, despite the challenges we faced during the week, our team worked together and persevered during our match in Newcastle. We even had a young player from our academy, Ollie Stonham, step up and do a great job. We were able to solve problems on the field and showed determination throughout the game. This shows that we have a strong team dynamic where everyone is willing to put the team first.
Sebastian de Chaves was the first to score for Newcastle, but Saracens quickly answered with four tries before the first half ended. Theo Dan scored twice, along with Elliot Daly and Alex Lewington. Bryan Byrne scored for Falcons just before the hour mark, but Saracens dominated the rest of the game with Tom Willis, Juan Martín González, and Manu Vunipola also scoring to seal a decisive victory.
At Franklin's Gardens, Northampton's director of rugby, Phil Dowson, praised Fin Smith for his performance that led them to a 34-19 victory over Exeter.
Smith, who received the player of the match award, was the driving force for the home team, scoring a total of 14 points. He successfully converted four tries from teammates Tommy Freeman, Curtis Langdon, Alex Mitchell, and Fraser Dingwall. He also contributed two penalties, helping Saints surpass their opponents and secure a spot in the top four.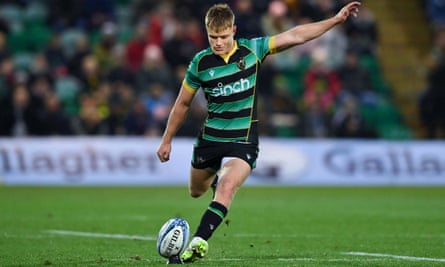 Dowson praised Fin for his exceptional performance, noting that it's easy to forget he is only 21 years old. According to Dowson, Fin is continuously growing and improving as a player. His toughness was a key factor in the decision to recruit him as the team's number 10, as highlighted by head coach Sam Vesty. This was evident when he successfully defended against Teimana Harrison. Fin is a fierce competitor.
After winning against Saracens, Sale, and Bristol, Exeter entered the game as the top team. However, they did not perform at their best and only managed to score tries from Jacques Vermeulen, Scott Sio, and Ethan Roots. In the second half, Niall Armstrong received a red card for kicking Smith in the face with his boot.
"Our mistakes as individuals contributed to our downfall today, while Northampton did not make the same errors," stated Rob Baxter, the director of rugby for Exeter.
Source: theguardian.com