Nienaber and Kolisi's Nerves Increase Tension for Crucial Springboks Match | Written by Andy Bull
Y
While his head coach, Jacques Nienaber, was speaking, Siya Kolisi's foot could be seen tapping under the table. Nienaber expressed gratitude for the legal team's support and shared that they were shielded from outside distractions and able to focus on their goals. When asked about the decision not to charge Bongi Mbonambi, both Nienaber and Kolisi declined to comment further. With the World Cup final against New Zealand approaching, Kolisi, the team captain, is eager to get on the field.
"This is likely the most significant event we will ever be a part of, possibly the most monumental rugby match in history," Nienaber stated. "The top two teams in the world will face off in the World Cup final, and the winner will become the first country to win four World Cups. It's a monumental moment."
Nienaber attempted to conceal it, but his anxiety was palpable. The stakes are high, and he has taken a significant risk with his team selection. The Springboks have made the decision to omit both fly-half Manie Libbok and scrum-half Cobus Reinach, who have been key players in all major matches of the tournament thus far. Instead, Handrè Pollard and Faf de Klerk, who were part of the winning team in 2019, have been brought in. Additionally, they have selected seven forwards out of eight substitutes, leaving only Willie le Roux as the sole back-up player.
South Africa used this seven‑one split when they beat New Zealand 35-7 in a warm-up Test at Twickenham before the tournament, but the All Blacks played the second half of that match with 14 men, and besides, this time they've had two months to prepare themselves for what's coming. Not that Nienaber is making any attempt to disguise it. "It is going to be tight," Nienaber promised. "It's going to be a grind."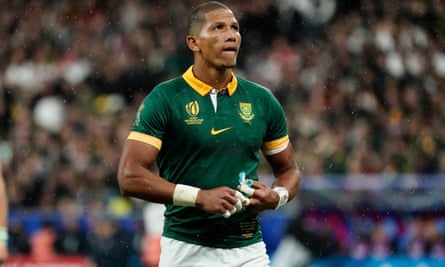 According to the coach, the decision was made after extensive analysis and discussions among the coaching staff. Despite having four scrum-halves on their team, South Africa has chosen to have Cheslin Kolbe and Kwagga Smith serve as substitutes for De Klerk in the final. Both players have been training in this position for the past few weeks. Nienaber attempted to justify this choice by mentioning Kolbe's experience as a "sweeper" in sevens, which is similar in role. Ultimately, the team was selected based on their potential to achieve a victory and defend their back-to-back World Cup title.
It is particularly harsh for Libbok, who was recently nominated for the World Rugby's breakthrough player of the year award. The Springboks heavily relied on Libbok's abilities as a playmaker leading up to the final, but ultimately decided not to include him and the style he represents. According to Nienaber, if they had chosen a 5:3 split, Libbok would have played. Unfortunately, he was unlucky due to the team's planned tactics. Kolisi's foot continued to thump under the table until he spoke out about the selection, expressing his thoughts forcefully, fluently, and convincingly. It seemed as though he had already given a similar speech earlier in the week.
"When faced with tough decisions, we must ask ourselves: will we sulk or will we focus on the larger project at hand?" Kolisi expressed, "Our victories are not just for ourselves, but for our entire country of South Africa. The trophy bears the name 'South Africa,' not that of one individual or player who made a winning kick. As a team, we understand that our purpose goes beyond ourselves." These words serve as a reminder of the true essence of the Springboks in this final – they possess a resolute determination and are motivated by a greater cause than just winning the Webb Ellis Cup.
Kolisi expressed doubt about the possibility of the event growing any larger. He stated that it's hard to imagine such a scenario because it rarely occurs. He also believes that in our lifetime, it is unlikely for two teams like this to compete in the final again.
Source: theguardian.com