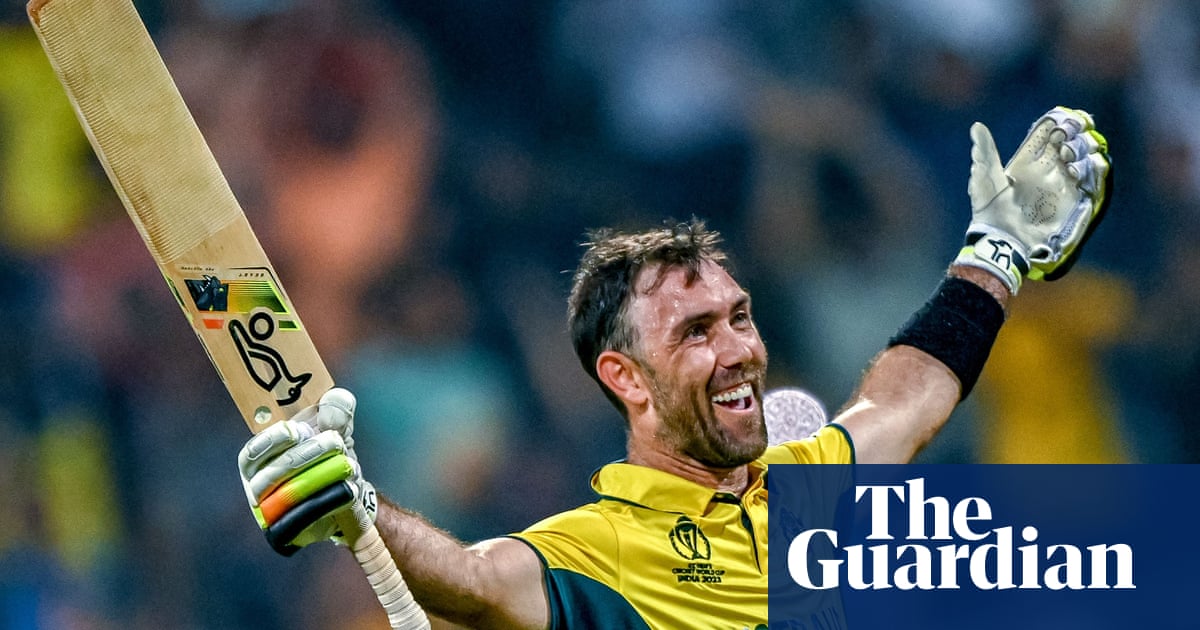 Glenn Maxwell produced one of the most astonishing one-day innings of all time to rescue Australia from what appeared to be certain defeat against Afghanistan and steer them to victory by three wickets in Mumbai.
After Mitchell Starc was out, Australia's score dropped to 91 for seven and their chances of successfully chasing the challenging target of 292 seemed slim. However, with help from a dropped catch and sloppy fielding, Maxwell went on a furious onslaught, scoring an unbeaten 201 runs in just 128 balls. This remarkable performance came after his recovery from a concussion caused by a bizarre golfing incident just a week prior.
His captain, Pat Cummins, provided strong support as they worked together to achieve a remarkable eighth-wicket partnership of 202 runs. They will be facing South Africa in the upcoming semi-finals.
Maxwell was able to survive a dropped catch and then successfully challenged the umpire's decision of lbw in the 22nd over. However, instead of playing it safe, he seemed to take the close calls as a signal to play more aggressively.
"I consider myself fortunate and I believe I took full advantage of it," he stated. "The lbw review served as the catalyst for me to realize, 'I need to take some chances and be more assertive in my play.'"
After reaching his 100th run in the 33rd over of the tournament, Maxwell started struggling with a back issue that greatly affected his running. However, the Afghan team, who had managed to get every other main batter out for less than 25 runs, could not find a solution as "The Big Show" proved himself worthy of his nickname, even while being injured.
During the 47th over, Maxwell hit his eighth six to surpass Shane Watson's unbeaten 184 from 2011 as the highest scoring individual innings by an Australian man in one-day international matches.
Maxwell hit his 10th six over deep midwicket, securing a surprising victory with 19 balls remaining. He had previously achieved the fastest World Cup century in the tournament, hitting it off just 40 balls against the Netherlands.
Following his incredible performance, Maxwell expressed, "I feel terrible! The heat was definitely intense while I was on the field and I haven't had much experience with such high intensity in these conditions. But I managed to tough it out until the end."
Australia faced a tough challenge in securing a spot in the semi-finals after Ibrahim Zadran's impressive score of 129 not out led Afghanistan to post 291 for five. Although Australia has been expected to make it to the knockout stage since the middle of the tournament, they had the opportunity to solidify their place and highlight their impressive comeback. However, Afghanistan's highest score of the tournament placed them in a favorable position as Zadran (129 not out off 143 balls) and Rashid Khan (35 not out from 18 balls) joined forces late in the game to quickly increase their score.
On Tuesday (AEDT), Australia lost the toss and struggled to take wickets on a pitch that has been unfavorable to bowlers throughout the tournament. Maxwell managed to secure the crucial wicket of Rahmat Shah with a solid performance.
Adam Zampa, who took one wicket for 58 runs, was unable to replicate his successful performance in the middle overs, which has been crucial to Australia's five consecutive wins. On the other hand, Afghanistan, who have exceeded expectations in the World Cup, initially played defensively as they tried to stay in the running for a spot in the semi-finals.
Except for a short appearance by Azmatullah Omarzai who scored 22 runs in 18 balls, the Afghanistan team had a reserved performance until Zadran built a foundation. The 21-year-old became the first player from Afghanistan to achieve a century in the World Cup when he hit Josh Hazlewood to the cover in the 44th over. However, he had a close call as he barely made it to a single run before almost getting run out.
After scoring a hundred, Zadran stepped up his performance with the help of Rashid in a 58-run partnership in the last four and a half overs. Together, they hit eight boundaries in the final four overs. Australia was disappointed when their appeal for a catch by Marcus Stoinis on Rashid's score of 18 was rejected after a review by the TV umpire showed it was not a clean catch. Stoinis initially believed he had made the catch successfully.
After recovering from the concussion he received while falling off a golf cart, Maxwell's occasional spin (one for 55) played a crucial role in dismissing Shah, who had formed an 83-run partnership with Zadran. In the following 12 overs, Afghanistan managed to hit only three boundaries, two of which were in the same over by Zampa. Their scoring rate remained below five runs per over heading into the last 10 overs, despite having seven wickets in hand. They did not hit a six until the 38th over.
The meek approach looked set to come back and haunt Afghanistan when Mitchell Starc (1-70) bowled captain Hashmatullah Shahidi to break his slow-and-steady partnership with Zadran in the 38th over.
Omarzai, who scored 22 runs in 18 balls, attempted to accelerate the innings by hitting the first two sixes of the afternoon. However, he was caught by a fielder at long off, giving Zampa his first wicket.
Nevertheless, Rashid and Zadran continued where Omarzai had left.
The report was contributed by the Australian Associated Press.
Source: theguardian.com