George Ford leads Sale to a clinical victory over Bristol in the Premiership.
Winning points leads to receiving prizes. Bristol performed well at certain points, enthusiastically passing the ball while also being strong in set pieces. However, Sale demonstrated greater precision when it mattered. The presence of England's skilled fly-half, George Ford, who scored drop goals as if he were in Marseille, only worked in their favor.
"Alex Sanderson, Sale's director of rugby, praised Ford's performance saying, 'He was smooth in his attacks, wasn't he? Really smooth.' Sanderson also highlighted the growth in that aspect of their game and Ford's desire to prove himself as one of the best. It's not just about his ability to score drop-goals from 50 metres, he can do it all, can't he?"
Ford's kick resulted in a disadvantage for the opposing team. After earning a free-kick from a scrum, the ex-Leicester player kicked a high, spiraling ball into Bristol's 22. The full-back, Rich Lane, caught it but was tackled in the air by Ben Curry, resulting in Curry receiving a yellow card.
Gabriel Ibitoye – a late inclusion for Bristol after the full-back Max Malins' withdrawal with illness – put boot to ball effectively with a pinpoint 50-22, and when Lane offered a sympathetic offload to Virimi Vakatawa, Josh Caulfield was sent loping in.
Bristol's fly-half, Callum Sheedy, had previously failed to make a penalty attempt from the halfway line, but was successful in converting the resulting play. Despite this, Bristol could only score seven points during Curry's time in the penalty box.
The home team, Sale, was able to gain momentum and score their first try by Arron Reed. Despite Ford's missed conversion, his successful drop goal put them in the lead. In the second half, a penalty against Kyle Sinckler gave the visitors a one-point lead going into halftime.
Another Sheedy penalty put Bristol into the lead straight after the break but it was short-lived. Reed was posing questions immediately at the other end with a sniping run, and a superb long pass by Ford then sent Sam James jogging over in the middle, the defence badly exposed. Sale led by five having again proved their ability to convert territory into points.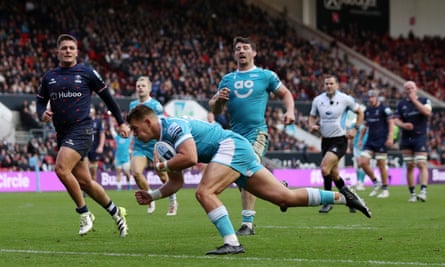 Luke Cowan-Dickie, who plays as a hooker for England, made his debut with the Sharks after being out of play due to injury since January. Agustín Creevy stepped aside for him. Sanderson commented, "He's an amazing individual and a skilled player. His energy is a driving force and he has a contagious nature."
According to evidence, Sale increased their lead when their captain, Rob du Preez, predicted a fast pass from Benhard Janse van Rensburg and easily made it to the goal line.
Cobus Wiese made a dangerous tackle on his fellow teammate Josh Beaumont while attempting to stop Sinckler's powerful carry. This resulted in a penalty, which was successfully converted by Sheedy, bringing the Bears within reach of scoring a converted try. However, Ford demonstrated his skill once again by passing the ball to Wiese, who then had plenty of room to secure the bonus point for their team.
Bristol made a strong effort to narrow the score to 27-13, but the opposing team's intense defense remained untroubled. Sanderson expressed his satisfaction with preventing the other team from earning a losing bonus point, saying, "I am more satisfied with that than I was with getting an attacking bonus. That is just my natural mindset."
Pat Lam, the rugby director of Bristol, stated: "George is an exceptional player. His performance at the World Cup was evident and he greatly impacts their team, without a doubt. However, as a whole, they are a strong team. They have the intention of asserting their dominance and limiting your opportunities."
Bristol, who travel down the road to in-form Bath on Friday, will not be the last team to fall in the face of Sale's power and precision.
Source: theguardian.com