Exeter takes the lead after Iosefa-Scott secures a bonus-point win over Bristol.
Exeter edged a gripping arm-wrestle of a match against their south-west rivals Bristol to move top of the Premiership table with three wins out of four. The visiting full-back Rich Lane scored a brilliant hat-trick – all created from the cultured boot of the Bears fly-half Callum Sheedy – but the Chiefs' power and precision ultimately proved the difference.
The most recent encounter between these two teams took place in the beginning of September, with Exeter claiming a 75-0 victory in the Premiership Rugby Cup. Bristol had a different starting lineup that day, but the possibility of another one-sided match loomed as the Chiefs effectively pushed their way to the tryline in the third minute and lock Rusi Tuima made a clever finish.
Henry Slade successfully scored a conversion for Exeter, giving them a boost of confidence as they played with speed and determination. However, a few mistakes by individual players gave the opposing team a chance to gain ground. Bristol's Sheedy closed the gap with a penalty, and then showcased his skill with a well-executed low kick that Lane was able to score on.
A powerful impact from Jacques Vermeulen on Benhard Janse van Rensburg resulted in Exeter losing a chance for a penalty kick. Immanuel Feyi-Waboso's mishandling of a kick from Gabriel Ibitoye gave the Bears an opportunity for a lineout. The Sheedy-Lane duo once again proved to be lethal as Sheedy's kick resulted in a 13-7 lead for Bristol after the conversion hit the post and bounced back.
According to Exeter's director of rugby, Rob Baxter, Slade is "training and playing like a young man." He almost scored a try when the Chiefs attempted a cross-kick, but Harvey Skinner's kick was too strong. Although the tighthead's name is Ehren Painter, there was not much finesse in the way they methodically advanced towards Bristol's 22 and eventually, the massive prop managed to score a try, with Slade successfully converting once again.
Bristol's rugby director, Pat Lam, made the decision to replace his entire front row just 30 minutes into the game. Hooker Harry Thacker, who had only been on the field for six minutes, was given a yellow card for repeated offenses as Exeter pushed for their third try. Despite this setback, Lam's team was able to hold off Exeter and the score at halftime was 14-13 in favor of Exeter.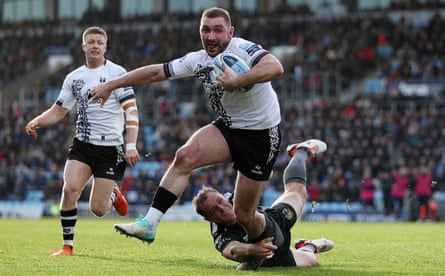 Kieran Marmion, the scrum-half for Bristol, lost possession in the middle of the field one minute into the second half. The Chiefs then passed the ball between players, with Tom Wyatt ultimately scoring a sneaky goal. Slade's successful conversion widened Exeter's lead by eight points.
However, Wyatt's mistake of being caught out of position in defense was a setback. Sheedy's precise kick landed behind the full-back and was quickly grabbed by Lane, who ran into open space to complete his third score. With Sheedy's first successful conversion, the game was brought to a one-point difference. Despite Exeter's control of the field and their strong front line, they were starting to feel the effects.
With only 13 minutes remaining, the Chiefs chose to kick towards the corner and executed a traditional catch-and-drive tactic. The maul initially collapsed, resulting in a penalty, but the referee, Hamish Smales, did not issue a yellow card. However, Exeter's substitute player, Josh Iosefa-Scott, managed to score a try, earning the team a bonus point for their aggressive offense.
Slade made a mistake with his tee shot, giving Bristol a chance to stay within reach of scoring. However, Exeter's scrum penalty and Slade's successful kick widened the gap and dashed Bristol's hope. James Williams had an opportunity to score a losing bonus point for the Bears with a simple penalty, but unfortunately missed, leaving Bristol with nothing. He could only apologize to his teammates with a sheepish hand gesture.
Regarding the missed opportunity to earn a bonus point for losing, and the team's inability to score 10 points from kicks, Lam stated: "The World Cup was won with narrow margins in the quarter-final, semi-final, and final. We are all aware of this. It's common knowledge that goal-kickers play a crucial role. However, it's also a collective effort. We missed those opportunities, but we also struggled in other aspects of the game."
Baxter expressed a positive attitude, noting the potential for great learning opportunities from the day's events. He emphasized the importance of teamwork and perseverance, stating that as a coach, the key is to instill belief in players even when things may not be going smoothly. This mindset is crucial for achieving success.
Source: theguardian.com