England's World Cup dreams, which seemed to be dead and buried, were suddenly brought back to life with a captivating victory over Pakistan. This was written by Barney Ronay.
And fade to blue. Don't look back. Do not retain for archive reasons. On a deliciously restless night in Kolkata, and no doubt to the relief of all concerned with keeping its limbs twitching away, England's tournament has finally expired.
The World Cup that kept on thrusting a hand up through the mud, coffin lid creaking, has now been exorcised, the last rites a decisive but always low-throttle defeat of Pakistan. There will be time to talk about goodbyes, time to talk about Rob Key's promised reckoning-up.
At this moment, it seemed like a mutual goodbye for both a winning team and potentially, a type of the sport. The downfall of England's performance in India is consistent with recent events. Is it worthwhile to endure the necessary challenges in order to establish yourself as a skilled and dedicated 50-over cricket player in the coming years? This life decision can be compared to preparing to be the most hardworking furnace operator on the Titanic as it sinks after departing from Queenstown.
There will be an opportunity to conduct the autopsy and deliberate on how to proceed. However, as this situation unfolded, it was difficult to ignore the sense that the true star of the night was not the players from either team, but rather Eden Gardens itself.
For all the end notes, there was something beautiful and consoling and also instructive about waving off England's zombie tournament here. This is one of the great sporting grounds, a vast throbbing ziggurat of stands, walkways, and brutal looking gates, all gusts of boiling air and sweet herbal smoke, wafts of dosa and chicken, people milling to the edge of the outfield at every break to take pictures just because it looks so spectacularly beautiful, a place that always seems to be in a state of gorgeously functional decay.
The floodlights are mesmerizing, forming a large grid of bulbs that shine down through the smoke and mist like a shower of bright white light. The game of cricket here is grand and majestic, without any intentional effort; it's ingrained in the culture, rather than a display of national pride or a backdrop for advertising.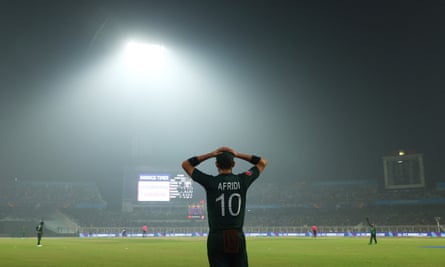 During a period where cricket appears determined to undermine its own systems and flow, Eden Gardens served as a gentle reminder of something more heartfelt – a love note from the kind and giving core of the sport.
This is simply a feeling of longing for the past. Eden Gardens is synonymous with Test cricket. It's like watching Shoaib Akhtar face off against Rahul Dravid, a Robelinda YouTube channel of a cricket field. Even at this World Cup, being here and experiencing a game feels like a traditional version of cricket as a popular spectator sport, rather than the modern digital version.
Undoubtedly, this perspective is heavily influenced by English culture. The field itself is even dedicated to Lord Auckland, who served as governor-general of India during the mid-1800s and had the surname Eden. However, he was also responsible for overseeing some horrific events during his time in power. To idealize this location may also be to glorify a nostalgic image of a privileged, Anglicized past.
Preferring the past over the present is typically incorrect and ultimately pointless. India will determine its own path in this sport, and rightfully so, given their passion and enthusiasm for the game. The flashy stadiums and the feeling of being part of an Indian crowd rather than just a cricket crowd all contribute to the energy and excitement surrounding this event, which represents their future. However, the past can also hold value. As English cricket resumes the familiar task of defining itself in the 21st century, it must consider both past and present.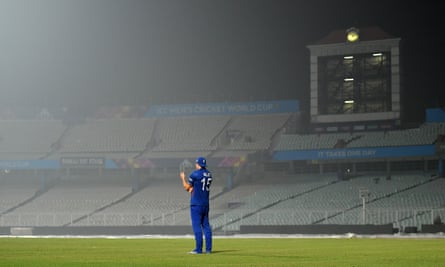 The match ended swiftly as England won the toss and chose to bat first, greatly diminishing Pakistan's chances of making it to the semi-finals. The crowd erupted in cheers as the Pakistan flag was raised on the field, in a city where a more tolerant government has allowed for India's neighboring teams to participate.
Jonny Bairstow hit a quick 50 runs at the beginning of the game. Ben Stokes played well once more and even recreated a memorable moment at Headingley with a fantastic reverse-pirouette sweep into the boundary. David Willey also made some strong hits as he bid farewell.
The England team showed a strong performance in their batting, which is an improvement on its own. Pakistan did not appear to be capable of successfully chasing down 337 runs. The most impressive batting came from Haris Rauf with his aggressive hits towards the end.
Regarding evaluation, it is not difficult. England must maintain a sense of consistency and a strong connection to the T20 World Cup next year. However, the team's performance justifies making some changes; even though there is uncertainty as to why Matthew Mott, who oversaw the decline of a once dominant team, has been guaranteed job security.
Stokes and Dawid Malan have met the necessary expectations. Joe Root and Jos Buttler have the potential to improve further. Harry Brook should be prioritized for investment instead of being undermined in a clumsy manner. The remaining positions are open for competition. Players who should be removed include: Bairstow (due to fitness and declining performance), Moeen Ali (content with it), Willey (retired), Liam Livingstone (comparable to Michael Yardy with stronger arms), and Sam Curran, who is currently not progressing in the right direction.
It appears that a more careful revolution is on the horizon. Currently, England has reached a stopping point in this oddly uneventful tournament defense, with Kolkata providing a beautiful backdrop to bid farewell to it all.
Source: theguardian.com