England, humiliated by Sri Lanka, is on track to be eliminated from the Cricket World Cup sooner than expected.
After their disappointing start to the World Cup, England aimed to improve their performance in this game. However, they ended up setting a new low as they lost their fourth consecutive match since arriving in India. Their confidence, reputation, and rationale seem to have been completely lost. In a venue known for its batting-friendly conditions, England won the toss and chose to bat, but were quickly dismissed for a mere 156 runs, the lowest score ever recorded at this ground in a one-day international match. This paved the way for Sri Lanka's easy victory, their second of the tournament.
After two weeks of continuous decline, it was expected that this would be the moment when England's bungee cord would tighten and they would begin to rise. However, it became apparent that there were still deeper depths to explore, and with a match against India coming up on Sunday, they may still have a long way to go before reaching the lowest point.
There were three alterations made to the team for last Saturday's defeat against South Africa, and an additional three changes were made for this match. The intention was to strengthen their batting, but looking back it seems foolish. This was the first time in over 100 years that England selected a team without any players under the age of 30, in both ODIs and any other format. It appears that they had come to the conclusion, similarly to Mike Pence's recent comments about Vivek Ramaswamy, that now is not the appropriate time for learning on the job. Alternatively, they may have decided to safeguard those players who still have potential for future World Cups from any further setbacks.
The team's performance is not solely due to their lack of skill, but rather due to internal issues. It is difficult to explain why they went from a strong start of 45 runs without losing any wickets to a weak position of 85 runs with five wickets lost, and continued to decline from there. This was especially disappointing as experienced players, who were mentally prepared and aware of their team's situation, gave up without a fight.
This is not to belittle Sri Lanka, but it certainly helps when your opponents are so willing to beat themselves. Many of those who won the title in 2019 are still in the side but England's world champions are no more. They have ceased to be. They have not been officially eliminated, but it is only a matter of time and the really painful part of their World Cup starts here, with a period of prolonged and perhaps literally pointless torture. After they had lost three of their first four games the format of this tournament seemed bizarrely charitable, contriving to offer them hope of still qualifying for the semi-finals. After four defeats from five it seems unfathomably cruel, forcing this hollow shell of a team to continue parading around India for another two and a half weeks.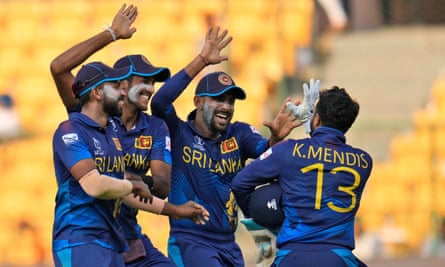 The match against South Africa started off positively, but things quickly took a turn for the worse. In the sixth over, Reece Topley injured his finger, causing his team's morale to plummet. This time, it only took one ball for the optimism to fade as Dawid Malan was dismissed by Angelo Mathews' third delivery, putting an end to a promising partnership with Jonny Bairstow. At one point, the pair had scored six fours in just 10 balls and seemed to be enjoying themselves. However, Malan's thin edge resulted in his departure, marking his first ODI dismissal in three and a half years.
Surprisingly, the situation could have been even more unfavorable. On the first ball of the day, Bairstow hit the ball down the ground for three runs. However, it was later revealed that the ball had touched his pad before hitting the bat. Sri Lanka discussed a review but ultimately rejected it. The review would have resulted in Bairstow being clearly out. Ben Stokes also had a close call early on in his innings when he was yet to score. He was almost caught by a brilliant fielding effort at backward square leg when he was on 12. He was then given out lbw on 13 but was saved by the slightest touch of the ball on his bat. Stokes went on to top-score for England with 43 runs off 73 balls.
England had a poor performance, losing all 10 wickets for only 111 runs. Some of the dismissals were particularly disappointing. Joe Root got himself out while trying to score a run that didn't exist. Bairstow hit a terrible shot straight to mid-on. Moeen Ali and Stokes also gave easy catches to the fielders. However, it was Adil Rashid's run out that best encapsulated the team's day. He was not attempting a run, yet still managed to get run out at the non-striker's end from a wide delivery.
Harry Brook, who was not chosen for this match, has scored fewer runs in this World Cup than only two other Englishmen. In contrast, Liam Livingstone, who took his place and scored a single run in this game, has scored more runs than eleven other players in the tournament. However, Livingstone only has a total of 31 runs in four innings, and appears to be struggling with his form. Jos Buttler, who was caught out by Kusal Mendis off the outside edge, has an average of 19 and has only scored 10 runs more than Mark Wood, who is England's No 11.
England's only chance of defending their total was to get a few quick wickets and hope that Sri Lanka would also struggle with collapses. Although David Willey managed to dismiss Kusal Perera and Mendis for four and 11 runs, Sri Lanka did not fulfill their part. Pathum Nissanka and Sadeera Samarawickrama joined forces when their team needed 134 runs at a rate of three per over. They easily achieved this goal, with both players scoring fifty runs and leading their team to victory with eight wickets and 146 balls to spare.
Source: theguardian.com